John J. Cerilli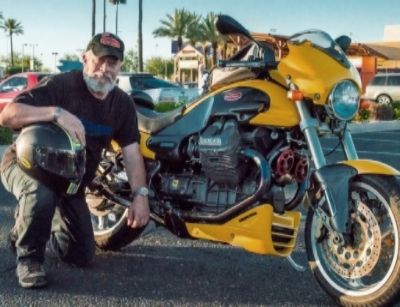 Moto-Journalist / Photographer
John J. Cerilli has been an active motorcycle enthusiast and rider for over 45 years. He has owned and ridden over thrity-three motorcycles including: Japanese, Italian, German, British, and several Big Twin Harleys. He currently uses a naked 1978 Honda GL1000 Gold Wing, a 1998 Moto Guzzi V10 Centauro GT, and a 2014 Victory Vision in his stable.

John has ridden throughout the continental United States, Mexico, Canada, and Europe. In 1982, with two other friends, on a 1976 BMW R75/6, he completed the infamous "Great Escape Tour", covering 22,000 miles of the USA and Canada in 9 months. In 2004-2005, John lived, worked in Aachen, Germany, and rode a 1993 Triumph Trident 900 throughout the beautiful North Rhineland Westphalia region, including Belgium and the Netherlands.

In total, John estimates that he has ridden well over 300,000 miles during his forty-years riding experience. He has completed Keith Code's California Superbike School twice, at Laguna Seca Raceway in Monterey, California and Firebird International Raceway in Phoenix, Arizona. He has also completed the Motorcycle Safety Foundation's (MSF) Experience Rider Course four times and was asked to be a professional instructor.

Since early 1990's and to the present, John has worked as a free-lance moto-journalist and photographer. His first published article was featured in Motorcycle Collector magazine, now part of RIDER magazine. The article, entitled "Rebirth of a Commando", October 1992, was on the restoration of his 1975 Norton Commando Interstate MK III. His Norton later went on to become a National Show Winner at the Norton Red Rock Rally in Utah.

During this time, and for the next several years, he free-lanced for Motorcycle Shopper magazine as their US Southwest Correspondent. Many of his articles are still published on this magazines website article archive at www.motorcycleshopper.com/

In addition, John's motorcycle related articles and photographs have appeared in Easy Rider magazine, the BMWMOA News, the Norton News, and The Moto Guzzi National Owners newsletter, Quick Throttle magazine and many other publications.

From 2001-2007, he contributed as a free-lance Staff Writer / Photographer for Moto-Euro magazine, a quarterly, international publication dedicated to riders, collectors, and enthusiasts of European and British motorcycles.

John is a current member of The Antique Motorcycle Club of America (AMCA), the Vintage Japanese Motorcycle Club (VJMC), and a LIFE Member of the Harley Owners Group (HOG), a LIFE Member of the American Motorcyclists Association (AMA), and a LIFE Member of the Moto Guzzi National Owners Club (MGNOC).

John currently lives in Scottsdale Arizona with wife Karen, and their three spoiled cats: Miss Pinky, Sebastian, and Felina

Contact John at: john.cerilli@vintagemotorcyclesonline.com
***
Nolan Woodbury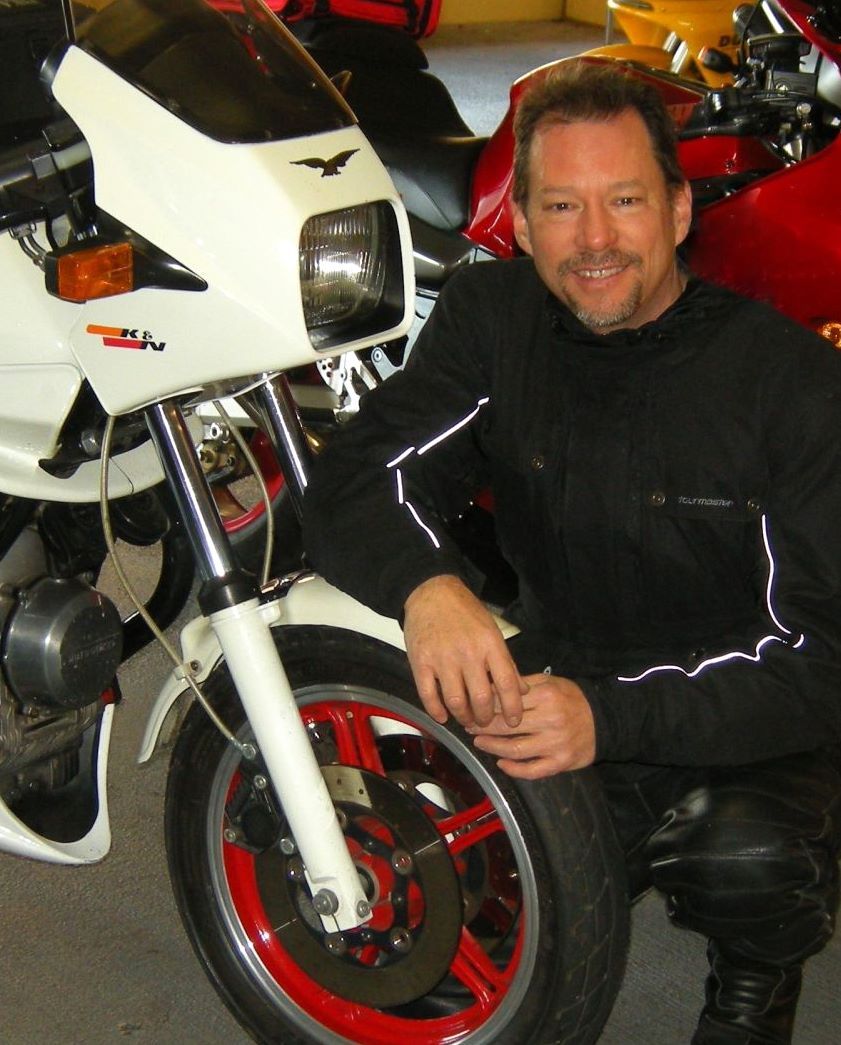 Nolan Woodbury began his motorcycling journey in 1977, when at the age of 17 he purchased from a family friend a 1969 Moto Guzzi V700. Since then, Woodbury has owned a succession of European, Japanese and British-made motorcycles. The youngest member of an active motorcycling family, Nolan followed his father and three older brothers; Neil, Nick and Nathan down a lifelong two-wheeled path.

Born in Cherokee, Iowa, Leo and Joy Woodbury moved Nolan and the other boys from the Midwest to Arizona in January of 1966, where they established Cherokee Tool Company three years later. Nolan grew to appreciate and admire all things mechanical, and just as ex-racers make ideal road test pilots, his background in the machine tool industry gives Nolan a perspective from 'the other side of the coin'.

An avid reader and magazine collector from a young age, Nolan began his journalism career in 1990. Upset by what he judged as unfair bias to outright ignorance regarding many of Europe's uncommon brands, Nolan's first work was published by Frank Wedge; co-founder and chairman of the Moto Guzzi National Owners Club, Nolan's large and comprehensive motorcycle-related archive of magazines, books and literature dates back many decades. The collection continues to grow.

Despite non-conventional training, in the mid-90s Nolan branched out as a freelance journalist. His writing has been published in US-based titles like Cycle World and Sport Rider. More of Nolan's articles have appeared in UK titles like Moto Retro and Motorcycle International, but currently he's working with the fine crew at RoalClassic and Classic Bike Guide. Nolan's been published in Holland, Japan and Italy too, and his photographs featured in books of varying subjects. With publisher Larry Williams, Nolan helped establish Moto-Euro Magazine in 2001 where he served as senior writer until 2007. While at M-E, Woodbury penned several acclaimed stories in addition to the fortune of a lifelong friendship with VMOL partner John Cerilli.

Inside the Woodbury Brother's workshop live machines from Germany, Japan, Italy and England. An unabashed Moto Guzzi devotee, Nolan's other interests include classic ocean liners and adventure fiction from Clive Cussler, Wilbur Smith and Lee Child. Four children and one granddaughter inspire him, and Nolan hopes to someday roam with sweetheart (and BFF) Merry Moreno-Lucero.

Contact Nolan at: nolan.woodbury@vintagemotorcyclesonline.com
***************************************************************************************************************
John J. Cerilli Founder
Nolan Woodbury Co-Founder
Karen Cerilli Editing
Merry Moreno-Lucero Editing and video producer (http://www.merryvideoproductions.com/about-us.html)
Ivar de Gier / A.Herl Inc. Consultant
Scott Yu Web design/marketing  (scott.yu@gmail.com)
Vintage Motorcycles Online (All Rights Reserved)
Federal Tax I.D. # 39-2076115