Traditional style for the modern rider


Motorcycle apparel is as vast and different as the people it's designed to fit, which is one reason there's so much of it available. For some, fashion reigns supreme with hip and trendy winning out over quality or function. Others have traditional tastes, holding fast to the seemingly endless virtues of cowhide, dearskin or even horsehide. For the majority of riders now however, a mixture of price, protection and quality all factor when choosing new riding gear. For that segment of the riding population, the products from Tour Master will impress.

Admitting my bias towards their line of textile jackets and pants, it's important to understand that this preference was won with honest virtue. My first exposure to the line came during my tour of duty at Moto-Euro Magazine. Buried with product, M-E's staff was literally testing new gear on every ride. Most of it rated at good or better, but after visiting with Richard Kimes, his staff, then viewing their comprehensive presentation at the Helmet House facility in Southern California, I departed the left coast with a far better understanding of the motorcycle apparel industry. The clincher came when their offerings were put into use on the open highway, where the construction, quality, performance and protection was challenged only by Tour Master's budget friendly retail pricing.

A recent addition to the Tour Master line, the Rincon is patterned after Belstaff's legendary waxed cotton Trialmaster.
As such, it shares many of its attributes. Made of a nylon/polyester blend the Rincon is robust and logical, clearly engineered for sustained road work. Using the basic sizing guide, the jacket's dual, three-position sleeve adjustments and waist straps secure the armor and give a snug, almost tailor-made fit that resists flapping. This important at-speed quality is best realized with the liner installed, allowing the filled-out Rincon to slip through even the strongest gale unfettered. The front zipper is covered by a velcro-sealed storm flap, and the collar and cuffs feature a soft microfiber lining that prevents chaffing. For riders that prefer low or clip-on handlebars, the Rincon's below-the-beltline length is ideal.  

Upon arrival I couldn't help comparing the Rincon to the Tour Master Transition I've been wearing for six years, (see 'My Transition' below) immediately noting the stark contrast in design between the two. The Rincon's black-tie, Peter Sellers vibe sidesteps the overdone, splash-graphic motif that I thought would have run its course by now. What seems to be a lack of reflective material is actually black Phoslite reflective piping that's joined by Tour Master's signature 'laser-beam' rear triangle out back. Inside, there is removable CE approved armor at the elbows, shoulders, and a triple density spine protector. More technical filler, the liner's 'Z.O.Q.' designation stands for Zip-Out-Quilted and uses 100 grams of polyfill insulation. It's the same liner that's used in the Transition, and that's a good thing.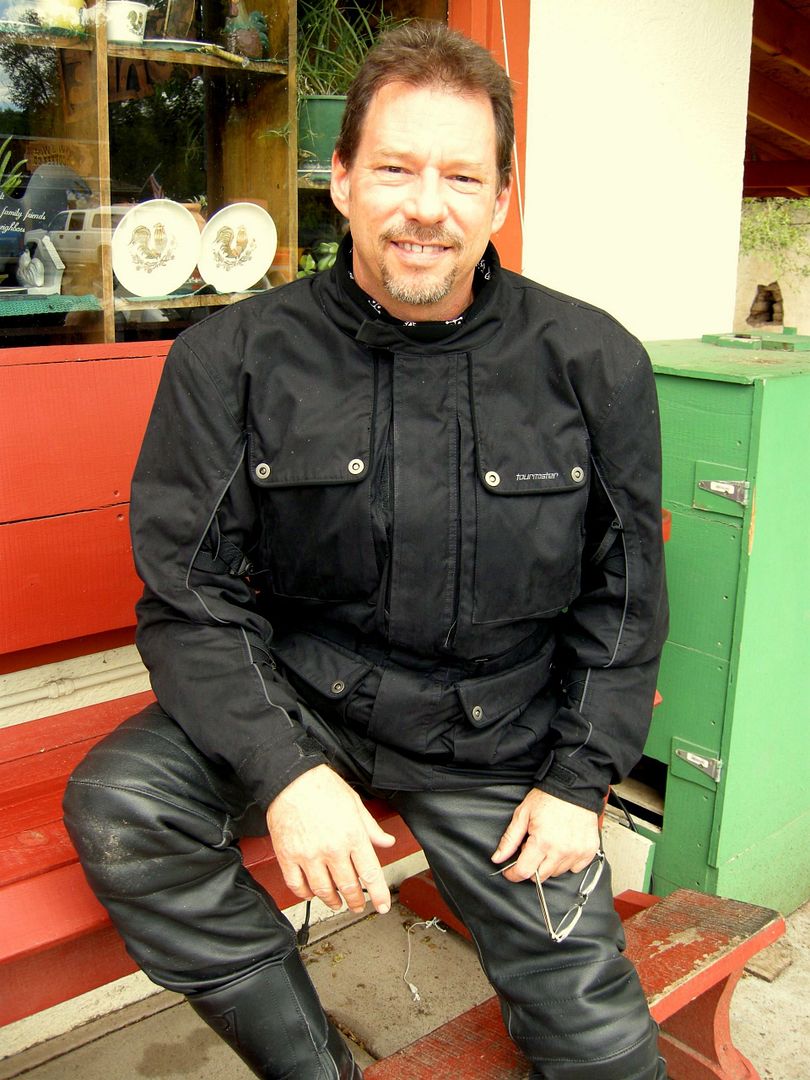 I found the Rincon's versatile, no frills approach to my liking. Delivered just as summer's heat was approaching, the vertical front and rear horizontal vents were opened early and often. The vents do provide useful air flow but the Rincon, like the Transition, is clearly geared towards cool to cold weather riding. There, it excels like few other jackets on the market. Per Tour Master practice, the liner's main body is zippered in and the sleeves are secured by color-coded snap loops. If you like pockets, you'll love the Rincon; it features two vertical zippered chest map pockets (that double as the front vents)  two zippered hand warmers, four front bellows, four internal pockets and a dual zippered fanny pack that stores the removed liner. To my knowledge, this is a feature unique to Tour Master.

All that's left to consider is the jacket's long-term durability. Considering the experience I've had with other products from Tour Master, it's a good bet the ruggedly constructed Rincon will serve faithfully for many years. For riders who value versatility, fit, comfort and performance, the Rincon is a outstanding choice for serious, year-round motorcyclists with miles on their minds. Nolan Woodbury

For helmets, boots, gloves and all forms of apparel visit:
http://www.helmethouse.com/

***

View From The Pillion
Summer/Fall 2010


Now that's what I call a road test! 750 miles, two-up on a Moto Guzzi 1100 Sport. No, the road test was not for me (I knew I would pass) or the bike (it had seen this trip before), it was for the two new Tour Master Rincon Jackets we wore en route to New Mexico for the Datil Well Moto Guzzi rally.

When Nolan announced two new matching jackets were coming for test I was excited. The jackets were sort of a replacement for another Tour Master coat he had reviewed several years ago. "Retro" styled  and patterned to resemble an oiled cotton fabric, at the onset I pictured sleek and sexy. When they arrived, I immediately noted the Rincon was much more about function, safety and practicality than trendy design. Not available in male/female cuts, at first try-on the Rincon felt a little bulky...more Oompa-Loompa than highway diva. But start cinching up the adjustable take-ups at the waist, sleeves and wrists and some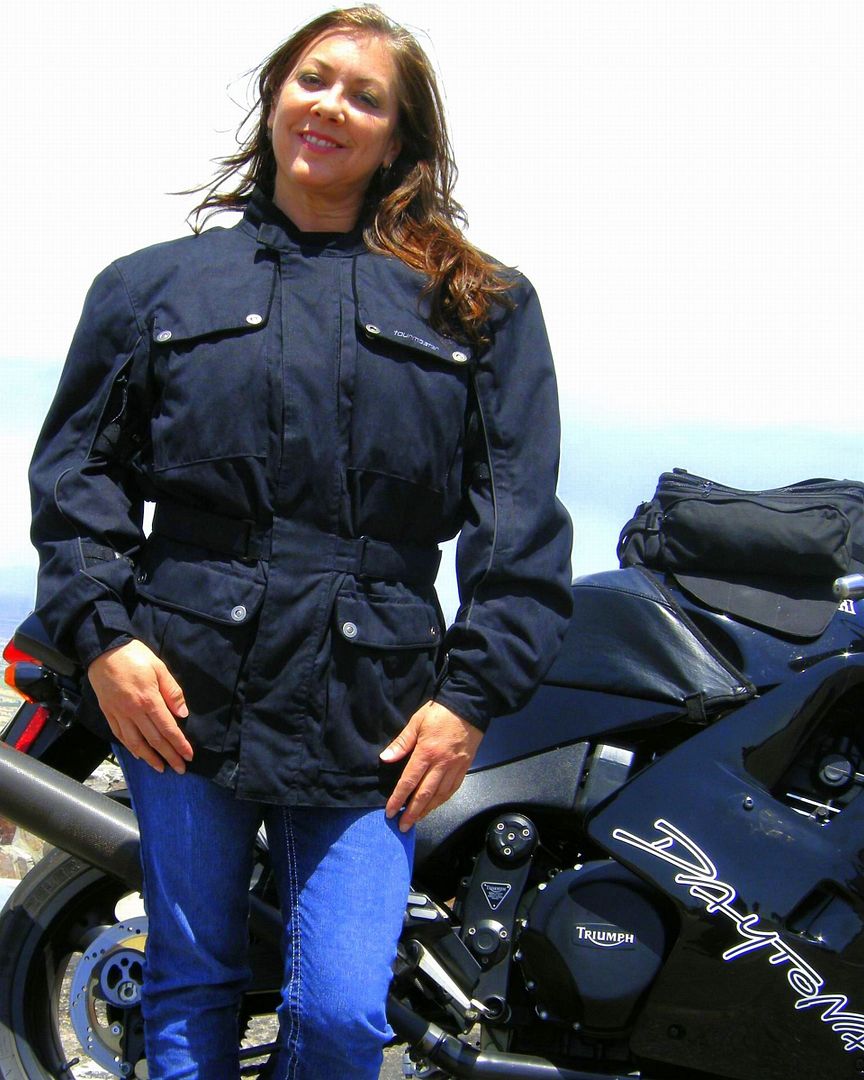 shape appears. Better for style, but I later discovered these adjustments are engineered-in as important safety and comfort features. Positioned properly, they brilliantly reduce flap, especially crucial when you are the 'two' of the two-up party, and conscious of the aerodynamic drag you are constantly causing on a sleek machine hanging onto a skilled driver.

We received the jackets in June; at the onset of summer. In Phoenix there is normally not much of a spring season, so we took the jackets on a short test run up South Mountain State Park. The day happened to be interesting weather-wise; not sweltering but dry, hot and windy with a threatening monsoon. Up to the top the jacket felt comfortable, but I was really wishing I had opened the vents.  Heading down for some lunch at an eatery called The Farm at South Mountain, the sun was shining, but like the unpredictable weather we have in the Valley of the Sun, a light rain began to mist down on us. That shower lasted about 10 minutes and was done before we headed home. That was the first little test for the Rincon, and it did great; nothing soaked through and we remained comfortable at speed.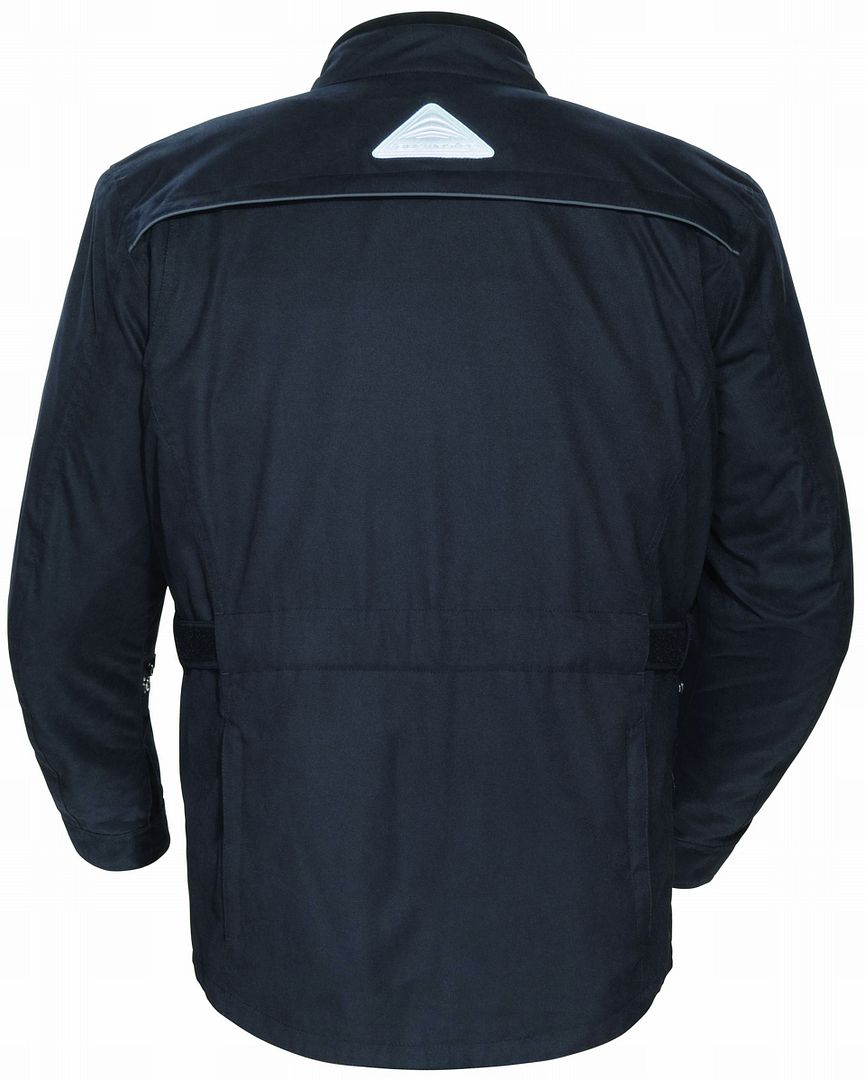 For the real test, we waited a couple of months. The temperature was a moderate, mid-August 108º as we left Phoenix and headed east.  We removed the Rincon's zip-out quilted liners for this trip. Safety always for our long journey ahead, the removable, CI approved armor in the elbows, shoulders and the triple density back protector stayed put in the jackets. Thankfully the chest, sleeve and rear exit vents provided air to flow through and ventilated the jackets. We hit Globe, AZ in what seemed like minutes. The temp. there was at least 15 degrees cooler than Phoenix but we were still pretty soaked under the jackets.  We stopped for water and opened our collars and cuffs as fast as we could with no fuss, thankful for the collar anchor keeping it open and out of the way on the short break.

Riding on, although rainclouds were precariously close and we saw five-different rainbows along the way, we stayed dry on the road and didn't get to test the waterproof Rainguard fabric. Holding on across the highways and hanging on through the Salt River Canyon, I really appreciated the jacket's ¾ length, secure that it would not ride up across my back—or backside. I never felt constricted or trussed in by the cut or fabric. Into the evening and the high country, the signature Tourmaster reflective piping and rear triangle helped to give us visibility as the sky grew dusky. Much
cooler—mid 60s in 7500-ft. Alpine, AZ, the jackets even kept us warm and cozy as we walked from our lodge to get some dinner.   

The next morning was cool and clear. Crossing into New Mexico, I began to feel that the jackets and my tush were both getting a good breaking in.  It was a great rally in NM and I met some terrific people that I hope to see again. The next morning we got up and headed home towards the heat of the desert, where it was going to be even hotter than when we left. The last leg of the trip almost roasted us. You can work up quite a sweat at 110º on the freeway. The jacket design allows body heat and perspiration to escape. We were pretty darn sweaty, but we made it and the Sport and the jackets did great.  Next trip, maybe we will head north and get to test out the Rainguard technology. I'd be up for that. Merry L.
With stints at CBS in Los Angeles and KAET 8 in Phoenix, Merry Moreno-Lucero is an accredited, award-winning producer and journalist with experience on both sides of the camera. She currently heads the Media Department at the Southwest Institute of Healing Arts in Tempe, Arizona and has recently launched her newest endeavor, 'yourlovestoryvideo.com.' She joined the VMOL staff in March 2010.

Specs: (Suggested retail $199.99)
• Three quarter length, 320 Denier nylon/polyester blend with an oiled cotton feel
• A waterproof and breathable Rainguard® barrier allows dryness without perspiration buildup
• Collar anchor eliminates flapping while collar is open
• Vertical zippered chest map pockets with mesh backing double as vents
• Chest vents combine with sleeve vents and a rear exit vent to provide flow-through ventilation
• Durable main zipper closure with dual wind flap seals out the elements
• Phoslite® black reflective piping and reflective rear triangle for increased nighttime visibility
• Comfortable, Microfiber lined collar and cuffs
• Adjustable sleeve take-up straps to help secure elbow armor and material
• Two map pockets, hand pockets, four bellows and four internal pockets. Dual zipper fanny pack
• Removable, CE approved armor at the elbow and shoulder. Triple density back protector
• Tour Master Z.O.Q. Liner. 100 gram polyfill insulation
• Includes a jacket/pant zipper attachment with the pant side included
***

My Transition
A nice place to hang out.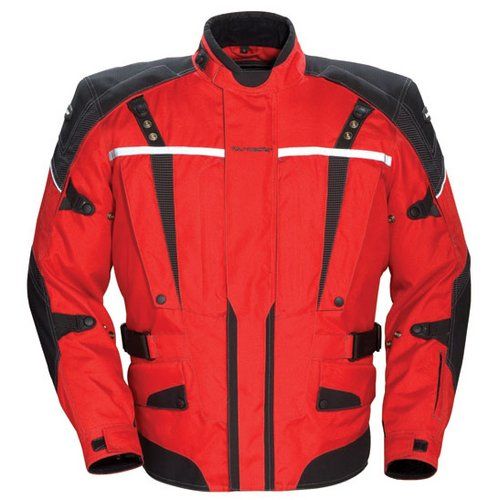 Stubbornly refusing change, I managed to resist the textile trend that descended upon motorcycling in the 1980s. That stuff, along with System III flip helmets, wheat germ and protein shakes was for GS riders; not a dyed-in-the-hide leather lover. It wasn't just the feel and fit of genuine leather, it was something deeper...a caveman-like instinct perhaps, that required wrapping my body in genuine animal hide. Textile was man made. Inferior. 

Then came the Transition.

When Richard Kimes and the crew at Helmet House introduced me to the Transition, it was brand new to the market. I expressed an interest in the design largely because it reminded me of my favored, somewhat threadbare Hein Gericke Dakar. Heavy as a house, I'd grown accustomed to the big German's ¾ length and for riding of any distance the Dakar was my first choice. After measuring, my new Transition (and a pair of matching over-pants) arrived a week later and despite that old cowhide bias, it simply fit better than anything I'd previously tried. It wasn't stiff and unrelenting like the other nylon-poly jackets I'd tested, and with the sleeve, waist and cuff straps adjusted, didn't flap and flutter like the Dakar did after its leather began to weaken. I'd never realized how physically draining that flapping was and before long, the Transition had earned the start on my personal garment lineup.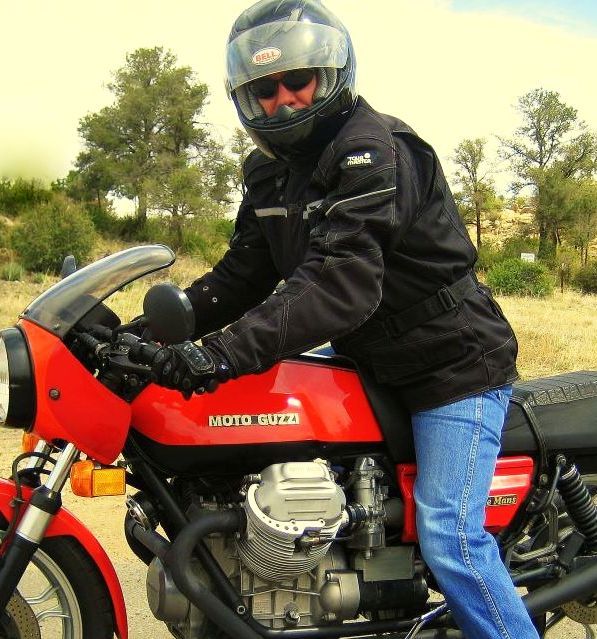 Returning a test machine to LA on a chilly midnight run, the Transition earned my deepest respect. I was simply amazed at the jacket's cold weather performance as I blasted through the 35-degree night air. I suspect the Rainguard treatment plays a part, but most of the credit should probably go to the Transition's polyfill liner and sealed zippers. I'm happy to report no crash test, although the feedback I've seen suggest that both the armor (encased in a Ballistic Polyester shell) and outer shell hold together and do their job. Yeah, all those pockets are handy too, including the little one on the left sleeve; the perfect spot for your ignition key.  

Years after the fact and easily 100.000 miles later, the Transition remains ready on the hanger. It isn't pretty, but considering the cycle of baking, soaking, wadding and peppering with the innards of countless insects, that's understandable. There are no exposed threads, loose seams, frayed velcro or broken zippers. I'd buy another, but why? The Tour Master Transition. It's a bargain at twice the price. Nolan Woodbury
http://www.tourmaster.com/xcart/catalog/Transition-Series-2-Jacket-p-240_3.html