Performance Evolution: V7 Sport racer
While the principles of physics apply to all motorcycles and the internal combustion engines that power them, it's how they react against these natural laws that separates one design from another. Like every technology, motorcycling has, and continues to pass through phases as applied engineering wages war with the forces that serve to interrupt its function. Like a vicious circle, the solving of one problem often exposes three more, complicating the matter. Mirroring life itself, true greatness is measured in the ability to first recognize, then apply simple solutions.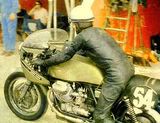 For those of you who don't know the history, a highly edited version tells the tale of a struggling Moto Guzzi in the mid-60s. Fighting to remain soluble in a market impacted severely by the economy car, Moto Guzzi recognized just in time the need to adjust focus from utility transportation to more personalized road burners. When Italian military and 'polizia' forces expressed their desire to replace the aging Falcone single -a Guzzi-corporate kingpin- with something more powerful, Guzzi entered into a government backed national competition for this lucrative contract. The subsequent Carcano/Todero designed V700 twin sealed the deal, and despite falling into state-controlled receivership the V7 boosted Guzzi towards a bright future.


Using Ing. Lino Tonti's 1971 Imola 200 racers as inspiration, David McMillan's rapid v-twin is based on a production-spec V7 Sport, uprated substantially now from axle to axle. Tonti, fresh from building his own race bikes and ones for Aermacchi used the old dash for cash formula by transforming a trio of Carcano's stodgy V7's into endurance record breakers. Recognizing the sporting limitations of Carcano's utilitarian chassis, his 'Tonti' frame tightly wraps the driveline with sections of straight tubing from steering head to swingarm pivot, drastically altered the personality of the machine and making it all at once smaller, lighter and stronger. Pushing for production, Tonti's design needed to prove itself, and it did. With engine development carried on by both factory tuners and Holland's Jan Kampen, Tonti and Guzzi developed the striking V7 Sport into the finest all-around production sport motorcycle of its day.


Taking a path followed by many before and after, McMillan decided ten-years ago to return his Sport to its racing roots with an eye cast towards competing in the S.C.R.M.C (Scottish Classic Racing Motorcycle Club). "The regulations stipulate standard frames and swingarms of the period," states David. "Wheels must be 18" wire with period brakes, tele forks, carbs and must maintain appearance of the period. Engine and gearbox should appear externally as they were originally (such as correct head finning and gearbox crossover tube) but internally are free for development."


With 30-years of tuning R&D to draw from, no question this established formula aided McMillan. "I took advantage of the easily accessible 'off the shelf' tuning parts, wanting initially to build reliability, not a hand grenade. The restrictions placed by the governing board actually helped keep costs reasonable, and the bike's tuning is fairly mild. The outcome you see here is the result of much research into the specs of Guzzi racers." With a diverse and plentiful aftermarket to pick through, David didn't limit his search to just parts hunting. Seeking and taking advice from many sources, McMillan points out the helpful advice offered by American Guzzi racer Charley Cole. Putting normal life and function into hiatus for seven years, Cole's experience and direction is the subject of the sidebar found by scrolling to the bottom of this page.

Upping the Sport's original 748 cc to a 992 was accomplished by fitting a 'fanatically polished, lightened and dynamically balanced" stroker crank that ups the throw 8mm to 78mm. On the other side of the engine Carrillo rods connect high compression 11.1, 90 mm JE pistons (up from 82.5) that slide in new Gilardoni barrels, treated with a diamond-honed Nikasil. Stock, Guzzi treated the bore with a hard chrome plating that was actually promoted as an upscale feature for wear resistance and heat dissipation, but these are prone to flaking in time. Incidently, the Sport's current bore and stroke measurements mirror that used by Guzzi on the 4v Daytona; a model McMillan also enjoys, but fitment of the larger pistons required machining the Sport's crankcase. Finishing the details on the engine's bottom end, McMillan reports he enlarged the sump oilways  11 mm (from 8) and matched an upgraded oil pump, which has 16.5mm gears (up from the original 14 mm) to fit. An 1100 Sport oil filter was adopted for its increased capacity and less restrictive flow, all housed by a ventilated sump spacer that helps reduce crankcase pressure. Inside, a horizontal plate prevents the crank rotating in oil when leaned hard, cutting resistance and oil foaming, and the aftermaket Agostini breather also helps eliminate froth from the pressurized oil.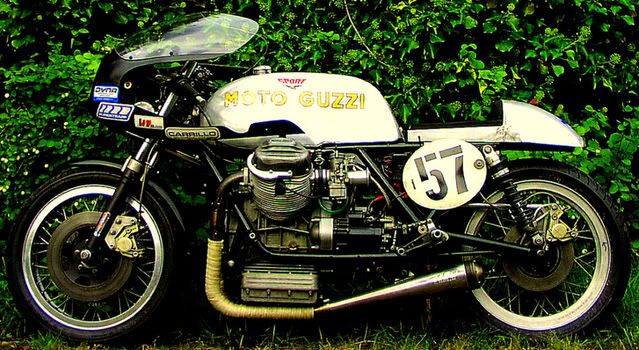 Many owners realize substantial power gains without peeking into the engine's bottom end, emphasizing the cylinder heads as a critical component. Evolution is the game here for McMillan, who for a time ran a carb/valve combination similar to what Guzzi offered in the 850 Le Mans factory race kit. Currently, the machine uses a pair of Mike Rich massaged heads, fitted with Le Mans 1000-spec valve diameters (47/40 mm inlet and exhaust) with beefed springs. Titanium pushrods work between a Megacycle cam and stock Guzzi rockers, driven by a standard chain and spring tensioner. McMillan did install the popular gear drive into the twin's timing chest, only to discover a binding problem due to improper factory machining. The heads are dual plugged, fired by a Dyna III ignition with Dyna three-ohm dual lead coils. The 2-into-2 exhaust is owner designed with a slip-fit feature and twin Supertrapp cans. A quarter-turn Tommaselli 2c throttle acts upon the 40 mm PHM Dell'Orto pumpers, attached to straight intakes. These are similar McMillan reports, to the PHB instruments on the 1972 Imola Ducatis.
Suspension and engine technology has scaled dramatically since the 1969 CB 750 Honda. And while it is true that many important discoveries and methods were realized well before that, few of those ideas actually reached production. Compared to like-displacement Japanese offerings, the V7 Sport (along with the Commando, Laverda's SF 750 twins and others) displayed far superior handling and maneuverability simply because those firms weren't trying to stuff heavy, multi-cylinder engines high in mild-steel frames supported by sub-standard chassis components.

McMillan's Sport follows Tonti's original application closely, but modernized. A fully adjustable Marzocchi M1R fork is mated with a wider, stronger set of trees from the touring California 1100i with the Sport's factory stem pressed in. Inside, Hyperpro progressive fork springs and a White Power steering dampener draw high praise from the owner, who squeezed a beefy ergal fork brace between the tubes to keep the forks true with the custom stainless steel spindle. Before the pinch bolts were tightened, David dropped the forks with the bike unladen until the sump was parallel with the ground; stabilizing the bike during rapid turn-ins and lowering center of gravity. David has run a variety of drilled and undrilled cast-iron rotors, the bike pictured with the latter and Goodridge hoses routed to Guzzi's patented linked system.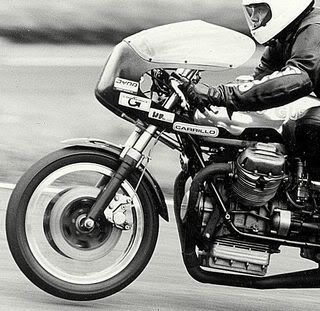 With its heavy bevel box and driveshaft equipment, it is surprising Tonti Guzzis don't display more ill-handling characteristics. McMillan's braced and notched (for the 3.00" rear rim) swingarm features a slightly longer (13.25", designed for use on the Le Mans 1000's longer arm) pair of White Power shocks, 13.25 inches long that drop the nose a bit more without stressing the u-joint excessively. A stock (most V7S' came with a rear drum) rear brake caliper plate is modified, now fixed to the centerstand tab via a dural tension rod with floating ends that allow it to rotate and drop the weight below the spindle. For gearing options, David uses three different pinion ratios in separate differential housings that take power from a gearbox modified with a Sport 1100 three-dog cluster and spur gears. Another example of updating with factory parts, McMillan reports the massaged transmission dramatically reduces inertia, controls the tendency for the rear wheel to lock up on downshifts, and smooths change-ups. Finishing the driveline details, David's Sport spins a lightweight RAM ergal alloy flywheel that transmits power via a single plate diaphragm clutch. The wheels are from Akront, laced with galvanized spokes and wrapped with Avon AM23 130/70 rear and AM22 110/80 front VB260 sprint compound tires.


When compared to this picture, one can clearly see there's little left of the Sport's original trim. The beautiful alloy fuel cell and seat structure stand out brightly, highlighting the machine's carved for speed lines. Purpose built, David's Sport takes on the motif demanded by its environment, yet not cut to the degree where the stock trim could not be reinstalled. In fact, McMillan says the bike is currently being re-tooled for a return to the street with an oil cooler, a new sump and a pair of 'asymmetric' lamps pirated from a BMW 1100 GS. Can't wait to see it! Just because we know you want more, click HERE and again RIGHT HERE for more portraits of David's Sport.
The uninformed may ask why anyone would spend the time and energy David has invested in his Moto Guzzi when more power and acceleration can be found from a showroom fresh 600. The key to answering that is found in the passion and camaraderie one experiences by the involvement, along with paying homage to those who encourage and inspire. And while McMillan's Sport produced a respectable 75 bhp at 7,500rpm (before Rich worked his magic on the heads) the satisfaction of building and riding a vintage speedster can't be measured on a graph. A marvel of simplistic engineering, David McMillan's Moto Guzzi -and others of similar ilk- carry their riders towards something more important than all out speed. With 40-years of passion and heritage under its wheels, its success in the race against time is a far better barometer of greatness. Nolan Woodbury

In Search of Lightness, AKA; Racing into Poverty
Charley Cole's Moto Guzzi racer

Even the expanse of the great Atlantic can't keep dedicated Guzzi owners from sharing the love. Case in point is American Moto Guzzi racer, repairman and general all around good guy Charley Cole. "No doubt Charley is a wealth of knowledge" says David McMillan, who, impressed with the construction and success of Cole's 1972 V7 Sport racer fired off an westbound email. "I worked with David for several years to help him develop his bike," said Cole from his workshop at Zydeco Racing in Long Island. "Originally it was a dual purpose machine. He used it both as a street bike and a racer, which of course limits the amount of development you can do in the direction of racing. David had found his way to my web site and contacted me in hopes of developing his bike further. It really didn't take much convincing for him to decide to make his machine a dedicated race bike." Cole and his partner/girlfriend Loretta started Zydeco Racing in 1999, experiencing the many ups and downs one can expect from a life of full time racing.

"David and I had extensive conversations regarding pretty much every aspect of a race bike, but probably concentrated on suspension, weight reduction and engine development. I encouraged him to contact Mike Rich to help him with engine development, which he did. Mike consistently gets amazing results out of any brand of engine that he works on. David had Mike do his heads and some custom JE pistons modeled after those that Mike and I did for my racer. All racers are, in part, inspired by others and all of us need help and advice from time to time. David has been really good about crediting me as his inspiration. He's a real gentleman."

These days, Cole spends most of his time repairing the rebuilding Moto Guzzi transmissions and bevel drive boxes. A limited source of income you say? "I've been backed up since winter," says Cole, laughing. "They just keep coming in." A positive and encouraging soul, Cole's enthusiasm touches everyone he meets; a good thing when you're centered on racing Guzzi twins! "We have had many successes and grew to be one of the best sponsored teams in Vintage Racing."

Look for a full feature on Cole and his incredible V7 Sport soon on your favorite vintage motorcycle website. Until then, visit Charley at: http://www.zydecoracing.com/home.html