MV Agusta/Corona 1000S
VMOL looks at the Corona 1000S and preceding MV Fours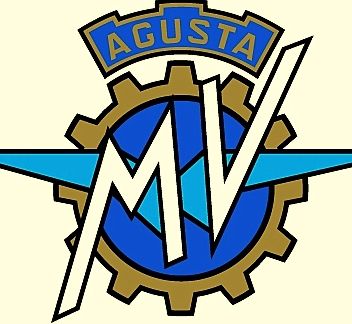 If there was ever a rolling contradiction, it has to be MV's line of production fours. Understated and refraining from the bold, they nonetheless come across as aggressive; confident. Finished in pale grey like the legendary Works racers that inspired them, the MV's DOHC sand cast multi grabs you by virtue of its intricate sophistication. Promoted (and inscribed) with the promise of championship glory, Count Agusta, the factory's archetypical kingpin, saw to it that his production wares left the gates detuned and fitted with shaft drive. Yet, the MV exudes its aura from the inside out, allowing even those with limited scope to sense a very real difference.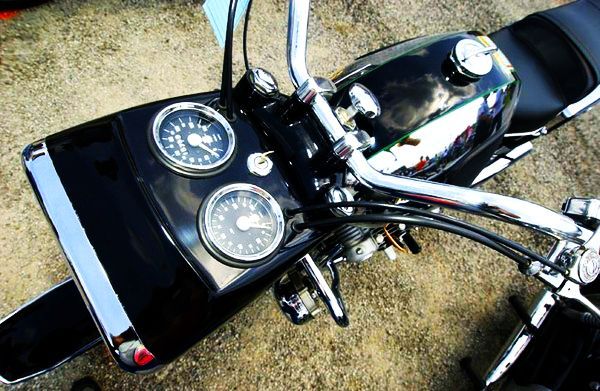 As the very cornerstone of MV's place in motorcycling, no summary of the company would be complete without mentioning its racing exploits. Using a succession of bevel-drive (or gear train) four stroke singles, threes and fours of varying displacements, MV's reign spanned from Cecil Stanford's 125-cc Championship in 1952 to Phil Read's swansong 500 cc cup ride in 1974. In between, some of the sport's most recognizable names contributed; Ubbiall, Surtees, Hocking, Mike Hailwood and MV Agusta's proudest son; Giacomo "Ago"Agostini. Ago's incredible reign of dominance began in 1966 when he claimed both rider and manufacture 500-cc titles. He would snare the next six in both the 350 and 500-cc classes, finally bowing to Read's 500cc in 1973. Though the majority of this period race manager Arturo Magni led the way as MV captured 38 individual world titles, 37 manufacture's awards and over 4000 race wins. When the (prototype) street fours were introduced in 1963, they boasted a heritage like no other.
By 1963 MV Agusta was entrenched as a national treasure. Not only was the racing program entering its zenith, the aviation branch was enjoying a steady growth of its own. A contract with US Bell helicopters had boasted the ledger and inspired Agusta to develop his own design. Additionally, large transport aircraft was also in production and the factory enjoyed the strength afforded by a thriving military export business. However, the motivation behind the unveiling of MV's first street-production four at 1965's Milan motor show remains clouded. Perhaps the Count felt his clientele had waited long enough? Or did he (accurately) read the market and determine MV's inclusion in the soon-to-be-soaring big bike market? Whatever the reason, the reaction to the 600 Four (above right) was mixed; and while MV fans certainly fancied a design more closely resembling the Works racers, the response wasn't as negative as many have suggested.
But if the 600 Four wasn't exactly what riders wanted, the 750S (< left) introduced at the 1969 Milan Show was. Contrived with clear sporting intent the colorful 750S, due to its high price tag and limited-production status, remained a dream for most
riders. Gaining momentum by the month, the foundation of MV Agusta's motorcycle division took a crumbling hit when Count Agusta passed away in February of 1971. His position was assumed by youngest brother Corrado, who never had the direction and total control enjoyed by his effervescent elder. Still, Corrado and MV waged on with continued racetrack dominance and several key hirings; including Fredmano Spairani, formerly of Ducati. With the decision making process spread out and the Japanese inching closer, MV's direction was volleyed about by committee and boardroom warriors, all of whom were intent on casting a watchful eye towards the money-sapping motorcycle division. No doubt, this practice would not have been tolerated during Count Domenico Agusta's watch.
When MV Agusta stopped motorcycle production sometime in 1978, the action was barely noticed. Caught in the torrent stirred by Japan's ever expanding brace of new hardware, market watchers could hardly be faulted for the oversight. The age of the commonplace motorcycle was hardly a proper environment for proud concern like MV anyway, but the era of 'cheap and easy' would only obscure the MV magic for a time.
The 750S America
Conceived by MV's US importer Chris Garville of Commerce Overseas Cooperation, his hand picked tuner Jim Cotherman and engineer Fredmono Spairani, the America evolved in a shockingly short amount of time. Spairani, critical in turning Fabio Taglioni's bevel twin from dream into production reality was the perfect fit; taking the lengthy list of improvements suggested by Garville and Cotherman and melding them into steel and alloy. The result was a street MV like no other. The America's lines were lifted directly from the Works machines and covered in the exact same shade of red. Still badged as a 750, the bore was enlarged 2 mm, giving the America 790 cc. The combustion chamber was reshaped with hotter cams and larger (26 mm) Dell'Orto carburetors. A beefy 38 mm Ceriani fork joined to either Borrani spoke or cast aluminum wheel, replete with twin 280 mm iron rotors and Scarab (later Brembo) calipers. Making 75-hp, general heftiness kept the America from fame as a sprinter, but a performance comparison conducted by Cycle magazine was revealing. "Past 80-mph the 750S America –still in second gear- slipped past our favorite Kawasaki Z1-B and continued on to its top speed of 130-mph plus."
Many thanks to enthusiast Clive Adams who provided the photographs of this stunning red roadster. Titled as a 1980, it is one of twelve specials built by German MV import firm Hansen GmbH of Baden-Baden. Enlarged in displacement the Corona (which was also the code name of Ago's liter-sized Works machine of 1978) was one several unique lines of America-based specials produced by the company after production ceased. Joining similar projects released by Arturo Magni, David Kay and Albert Bold, the Corona was a labor of love. Motivated by desire and with a belief that the design had continued merit, what Hanson's big inch specials lacked in overall reliability was more than compensated by the lofty specification. Among the Hanson builds it's safe to say the Corona 1000S was the most sorted, simply because the MV's antiquated envelope was slightly less pushed.
"I've owned this bike since 1996" says Adams, "It came up at auction when the Fuji Motor Museum in Japan closed." Purchased new by a Japanese industrialist named Hayashi (who also owned a Hansen 1100 Grand Prix) Adams carefully repaired (not restored) various areas of the machine before reaching its present condition. Since sold, the Corona's 954cc engine uses the same crankshaft as the Hansen 1000 Ago and 1100 Grand Prix, making it good for 106bhp at 9,500rpm, according the Fuji Motor Museum.
Through the course of study, we sometime forget that behind every motorcycle are men, and that critical aspect is usually what separates them. And while the current Cagiva-backed range caused some real excitement and novelty in the market, the magic found in the original build eluded them. That can be explained in several dramatic and dynamic ways, the most fundamentally important being the exclusion of the machine's namesake. This finds no fault with MV modern, for their effort was and is grand in many ways. Even so, greatness cannot turn back the technological tide that has swept in since.
Regardless, MV's place in history is secure. Like it's brethren in classic motorcycling's upper echelon, ownership of a classic MV Agusta Four takes on all the aspects of any weighty financial decision. Thankfully just enough of them remain in reach and thus, are used as proper Italian thoroughbreds. Loud, fast and red, the MV's colors will never fade. Nolan Woodbury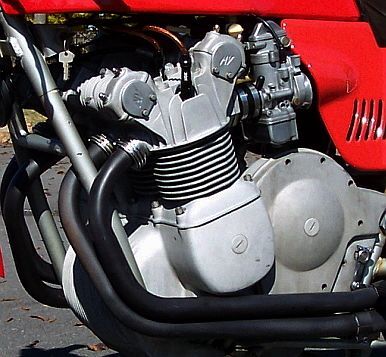 Various MV four specs:
750S America: 789 cc, 67.0 x 56.0, 75.1 BP @ 8500 rpm
850 Monza: 837 cc, 69.0 x 56.0, 81.8 BP @ 9000 rpm
Hanson 1000S: 954 cc, 70.0 x 62.0
GP 1100: 1067cc 74.0 x 62.0 118 BP