The Little Guzzi That Could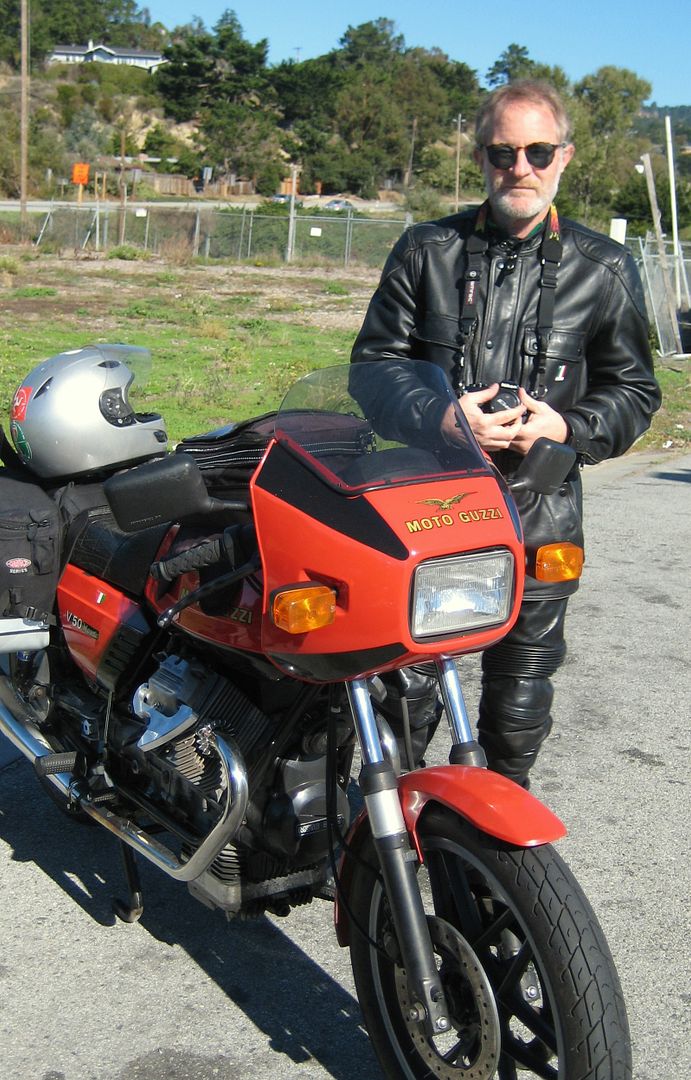 This editorial is dedicated to all those V-twin Moto Guzzi enthusiasts who've dared to be a little different. By that, I mean riding a smaller displacement motorcycle, as in 500cc! In a vast world of 1,000cc liter-plus", whatever happened to the cost effective, middle-weight bikes of the past?When most people think of sporty Guzzi V-Twins, they often look to the 750cc V7 Sport series and the legendary 850cc Le Mans, but Lino Tonti also designed a smaller V-twin which was introduced in 1976 as a 500cc. He also made an even smaller 350cc version as well.

The model we will feature is called the "V50" and these engines were also housed in a double cradle frame, where the engine was an integral part. They also came with the famous Guzzi integrated brake system. A little known fact that these V50 small blocks were the basis of the later 650cc and 750cc versions which resulted in smaller, lighter bikes with performance superior to that of the relatively primitive V7s.

Several of my local Guzzisti buddies in NORCAL ride these small blocks, both in standard V50 and Monza trim. More on those later models later. On the back roads of the East Bay, I can attest while riding behind one of these models at speed that they are light, nimble and
sprint right along without any problems at all!
On the busy California freeways, they will run at 70-75 mph, but beyond that, they understandably get strained, so these are most at home on the twisty, lonely backroads. About a year ago, two V50 Monzas that I rode with completed a 400 miles rounds trip coastal trip without any trouble whatsoever!

On another recent 100+ mile ride through the Oakland Hills and surrounding back roads, I followed a one of the same guys on his little red V 50 Monza and marveled at the ease of how he negotiated and rode through the twisties! Secondary back roads are where these bikes really shine! Best of all, you can still buy these bikes reasonably,
and parts are still readily available worldwide. They are easy and simple to maintain and work on.

Speaking of other "light and nimble" bikes, probably the closest ones I personally owned and rode on the street that would be comparable to a V50 would be a '74 Yamaha TX500A, 500cc 8-valve parallel twin and a 1977 Yamaha
RD400. Although these were good bikes in their own right, in all fairness their engines are very different from the little V50, which has much more torque and soul, in this writer's humble opinion.
The V50 was introduced in 1977, followed by the V 50 II (1979) and the V 50 III (1981), and then the V 50 Monza (1980-1984). The Monza is easily identified by its rectangular headlight, bikini fairing, (it looks just like a mini-850 Le Mans-III) and streamlined tail- piece. The compression was higher (10.43:1), the carbs were 28 mm rather than 24mm, and they had bigger valves and re-designed intake / exhaust inlets to match. Thus, the Monza engine was a little hotter, or as one NORCAL owner states: "The Monza is just in a higher state of tune."

The engines were built at the Innocenti works at Milan, which was part of the DeTomaso group, thus, these benefited from being produced on highly automated and more cost effective and efficient production lines, therefore, the quality was reportedly a little better.

In 1981, their list price was high for the time (about $3,249) and Curtis Harper of HARPER'S Moto Guzzi in Greenwood Missouri estimates that no more than 100 V 50s came to US dealers before it was dropped from the market. It never
sold well due to the high price. So, in VMOL's opinion, this is the model to look for on the collectibility scale. They can be purchased for $2,500 - $4,500+ depending on condition and originality.

Toward the end, (1981) there were several cruiser versions, (which looked like all the other bad factory choppers of the period), and a dual-sport model in 1981 called the V50 TS or "Tuttostrada."

Again, in VMOL's humble opinion, the standard V50, (later series II and III), or the stylish Monza are the two desirable models to look for. These models do come up occasionally on eBay, craigslist, and also on the MGNOC (Moto Guzzi National Owners Club) classifieds. There are several owners on the www.wildguzzi.com forum that continually rave about their little V 50s! They have a very passionate following among worldwide Guzzisti.

Another little buying tip from my experience: If you happen to connect with a Moto Guzzi rider / enthusiast, your chances of getting a good bike and treated fairly are somewhat increased. Moto Guzzi people are good people and true, passionate riders.

As a general rule, and especially in the "vintage" motorcycle category, most "true" motorcycle enthusiasts usually take very good care of their bikes.
* 490cc, push rod 90-degree V-twin,with Heron heads
* 45 HP @ 7500 rpm
* 24 mm Dell'Orto carbs
* Electronic ignition / electric starter
* 5-speed
* 18 inch tires front and rear
* 152 kgs (335+ pounds)
* Top speed 165 kph (97+ mph)

So in closing, here's a big toast to all the Guzzi V50 owners and enthusiasts out there who ride and maintain these little gems. May your little small blocks continue to bring you satisfaction, reliability on your riding adventures, and most of all happiness wherever you travel!

Until next time, RIDE SAFE and keep those vintage motorcycles on the road! JJ Cerilli

Sources:
Moto Guzzi, The Complete History from 1921, by Mari Colombo, pp. 299-304
Read more:
http://www.motorcycleclassics.com/Motorcycle-Reviews/September-
October-2008/Moto-Guzzi-V50-Monza.aspx?page=3#ixzz1C0PFwx5k