Page 3 of 4
Moto Guzzi 750 S3
: The 750S3 is here because it's a favorite, but in reality Guzzi's last 750 Sport represents all of the sporting Tonti-framed Guzzis, starting with the 1972 V7 Sport and reaching deep into the pool of the Le Mans; produced until the early 1990s. And while there's a wide variance of value in that group, desirability is measured in many ways.  
Focusing on just the European classics, there are clear preferences in enthusiast circles. Books can (and have) been written about the history and appeal of MV Agusta, Laverda, Benelli, Moto Morini and many other deserving brands, but we must be realistic and acknowledge the overwhelming fact that BMW, Ducati and Moto Guzzi exist alone as Europe's most successful motorcycle makers, even if judged by export numbers alone.
That established, followers of BMW will proudly point out the twin's Teutonic excellence; its precision
engineering returning sustained reliability and longevity. Beautifully appointed, BMW is also remembered for first establishing the motorcycle as a reliable, fuss free, over the road traveler and nothing will ever change that. As a result, many of its older, cornerstone models are and will remain in high demand. Italian-made Ducati rests on a recent record of racing dominance that has cemented the 916's place in motorcycling history, but the truth is Ducati has traditionally handled better than anything else. That fact has been borne out time and again since the twins were released in the early 1970s. Anyone who has had the pleasure of bend-swinging a sorted, bevel-drive 900SS will not tell you otherwise. Fussy by nature and demanding exact originality,
Ducatisti
do not suffer fools under inspection.
Blending the BMW's air-cooled, shaft-drive engineering with Italian sporting heritage, the true appeal of the Moto Guzzi is revealed. Very much a European consortium, this was not accomplished by accident and was in fact, a strong selling point when the touring twins were released in 1968. Toss in the V7's Harley-ish, fat-fendered vibe and it's no clear to see why the Guzzi has remained in the public's conscience. Despite a high level of owner involvement, things have progressed to where wholesale mods to otherwise original V7 Sport/850 Le Mans models is probably unwise. But for the remainder of the range, select engine and suspension upgrades are common and even expected -as long as they're carried out with care and experience. Solid, endearing and very well supported, Moto Guzzi remains the best choice for the vintage biker seeking value, performance and reliability. In this regard, the Moto Guzzi has no peer.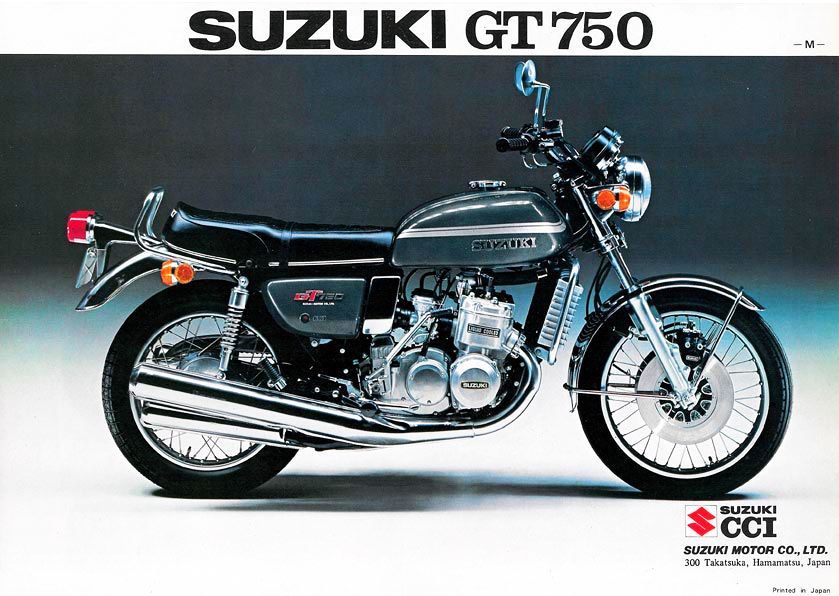 Suzuki GT 750:
Not included in the UJM category above, the Suzuki is a unique, stand alone example of early Japanese big-bore technology. Now rapidly gaining in popularity, the GT 750 has appeared on more magazine covers than Brooklyn Decker. A sign of the afflicted, I have no information to offer on the supermodel, but my files on the big triple are growing.
Very much a response to Honda's CB 750 four, Suzuki used its experience building two-stroke engines then upped the ante with liquid-cooling and automatic oil injection. Marketed as a road-burning super bike the
GT 750 (badged 'LeMans' in the USA) appeared for the first time in 1972 as the 'J' model; fitted with drum brakes and layered in bright pastel colors. As the scene evolved (or more precisely, when the Kawasaki 903cc Z1 was released) the Kettle was revealed as being down on horsepower and acceleration, shifting the focus to a pure touring role. As such, it sold well, rewarding its owners with reliable performance due in large part to its friendly, reliable nature and quality build. Knowing it would have two similar, large displacement bikes vying for the same customer, when Suzuki released the rotary-powered RE5 luxury tourer in 1975  the GT 750 was re-engineered. In 'M' tune the big triple featured enlarged/repositioned ports, larger (40mm) carbs, more compression and a host of other changes that bumped it back into the super bike forum. The result made a great motorcycle even better and the Kettle continued as a strong seller, modernized yearly until it was replaced by the four-stroke GS line in 1978.