Revisited: Jimbo's Classic Sidecar
B
ack in 2008, I visited Jim Bryant at his shop, Jimbo's Classic Sidecars, just outside of Beijing. I wrote a brief article for VMOL about Jim and his quest to install modern BMW airhead drivelines into the frames of the Chinese (Chang Jiang) CJ-750s.  I thought the concept was interesting and still do.  
Fast forward to 2011, and Jim was nice enough to host me at his new, larger shop; a little further out from the first one, but still very accessible from the Beijing International Airport.  The new location is about 40 minutes north of Beijing with several complimentary shops on the premises. These include a restaurant/bar/custom air-brush painting for cars and motorcycles, and the results of his expansion into the world of aftermarket Harley parts; plus service and accessories. A very cool riding destination, even for China!
To date, Jim has now completed and sold more that 120 "conversions" as he calls them, and these are frame-up restorations. Jim points out that it isn't just an engine swap, but rather a proprietary frame with seat, wiring-harness, speedometer and other neat features installed for a true make-over. You can see this clearly in the photos.  
The cost for one of Jim's conversions is about $10,000 USD, plus roughly $1,500-$2,000 to crate and safely ship to the USA or Europe. Jim has several donor bikes and parts to choose from, but seeing as how the Chang Jiang factory stopped making these CJ-750's twelve years ago, the number of available machines more than demonstrates just how popular they were. When I asked Jim to compare the modern airhead BMW engine to the original CJ-750 flathead he said (and I quote):
"It's the difference between chicken soup and chicken shit!"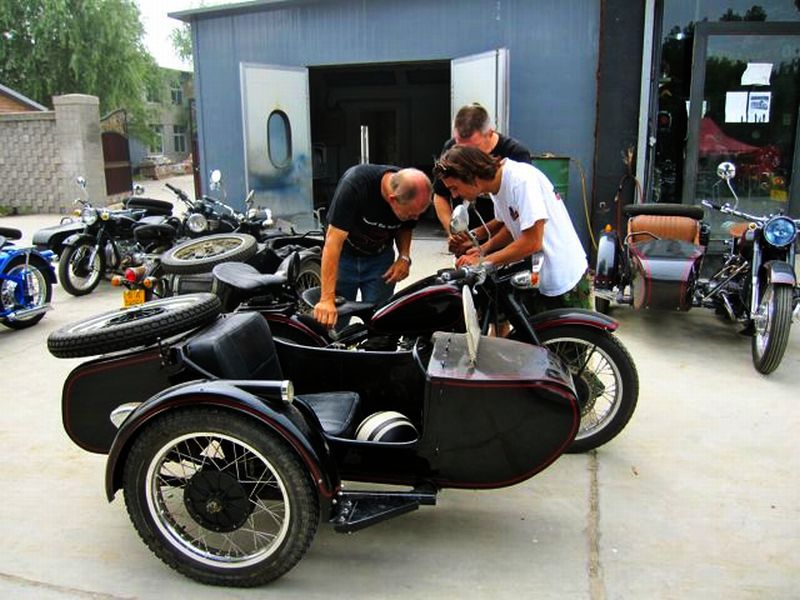 Jim reports that about 75% of his creations are exported worldwide, but mostly to Europe, the USA and Australia. The remaining 25% are purchased and ridden by ex-pats living and working in Beijing. Jim currently has six full-time employees under his wing, and he usually works 9:00 am to 9:00 pm, seven-days a week to fill the demand.  
I was visiting on a Saturday and witnessed a steady stream of customers coming in for service or repairs. Some were interested in additional modifications, while others were happy to hang out for coffee, breakfast or lunch at the cafe. Jim reports that from 2008, his business has been going up steadily. More than amazing in this economy!
During my visit, I met talked with motorcycle enthusiasts and riders from: Germany, France, the USA, Australia, Turkey and Canada.  Everyone was friendly, enthusiastic and courteous to me, which made for a very pleasant visit. More proof that the love of motorcycles is a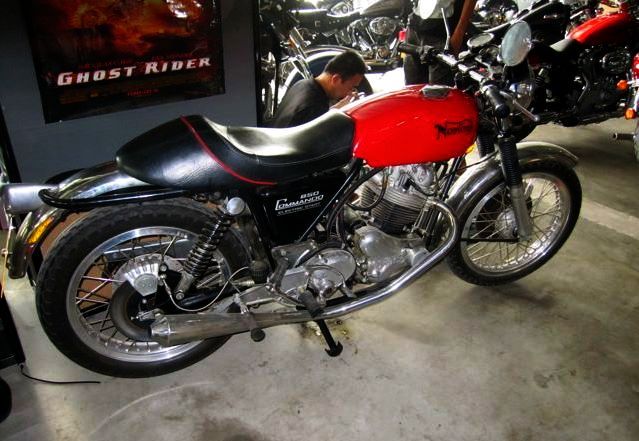 universal passion. Inside the shop I saw many custom Harleys, including a very expensive Confederate Wraith and even a vintage Norton Commando.
A interesting motorcycle fact I learned while I was there; legally, one cannot bring a "used bike" into China. Also, one cannot buy a
bike without an existing license plate (meaning, already registered in China).  New, imported motorcycles for sale in China include, Harley-Davidson, Ducati, BMW, and some Suzuki's, and there are currently dealers in Beijing for HD, Ducati, and BMW.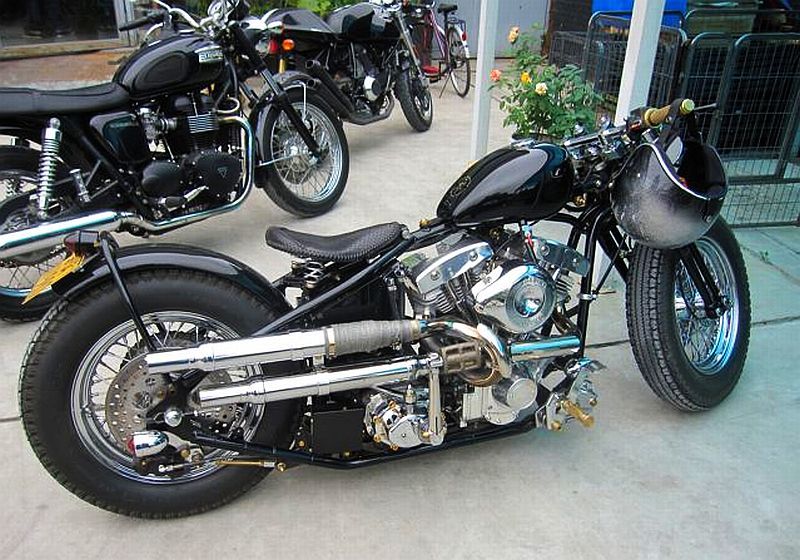 Jim bought and imported in the first Bloor Triumph into Beijing. He told me he would like to establish a Triumph dealership in Beijing also in the near future. With regards to Harleys, they are wildly popular in China (as are most things "western") and the local HD dealer in Beijing is selling a lot of the American V-twins.
If you ever get to Beijing for business or pleasure, do make a point to stop in and say hello to Jim and his crew. You will be impressed with his excellent workmanship and the camaraderie among the global motorcycle riders that you are likely to meet on any given day.  
Until next time; RIDE SAFE and RIDE OFTEN!
JJ Cerilli
Jimbo's Classic Sidecars
Jim Bryant
6 Tian Bei Road, Shunyi
Beijing, China
(86) 10-8048-3036
www.bmwsidecar.com