Although scaled down, this single cylinder, 90cc motorcycle is a full size motorcycle with a separate clutch, front and rear brakes and a 4-speed transmission. I remember these cute little two-strokes very well, as my very first motorcycle back in 1967 was a black and chrome 1965 Yamaha YG1-K 80cc Rotary Jet. (<<) Like one's first love, every motorcycle enthusiast will always remember his or her first motorcycle.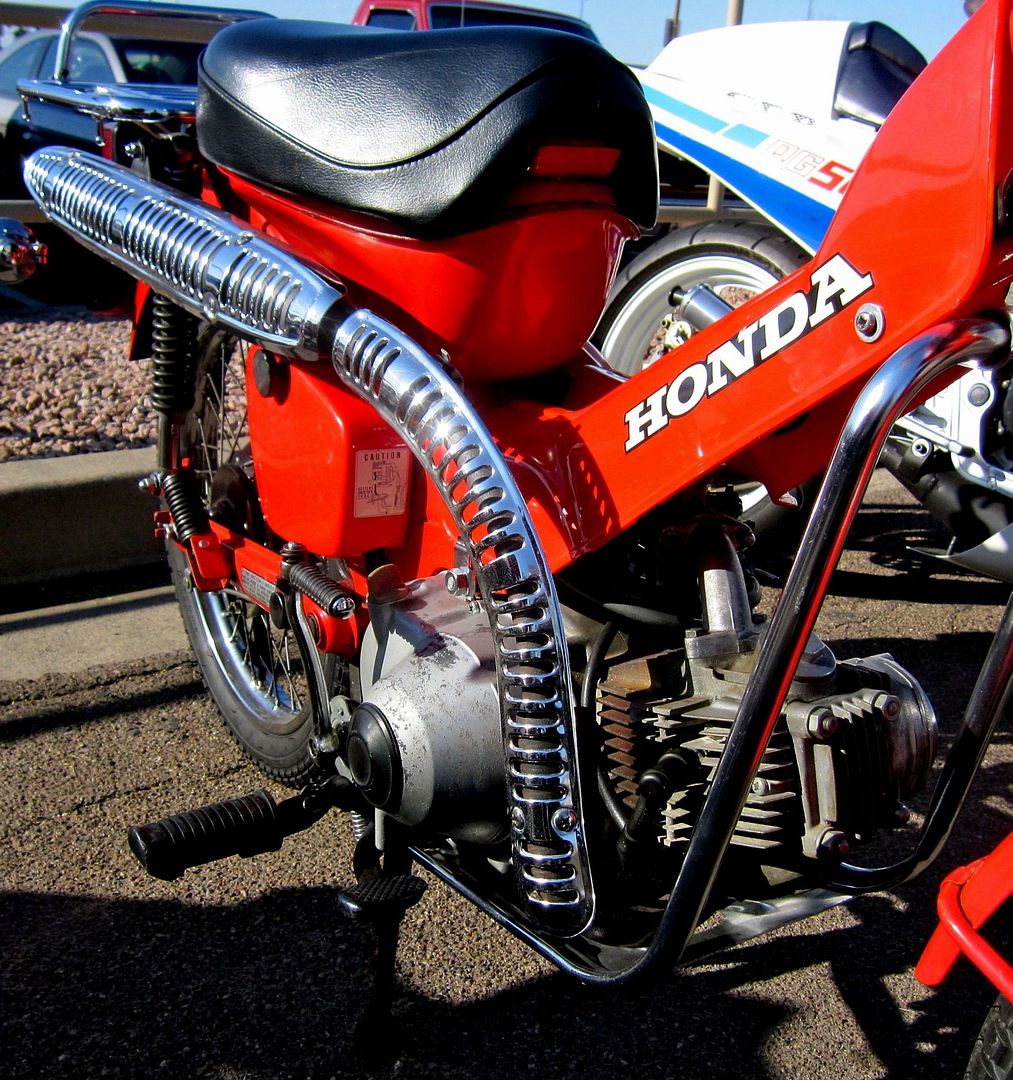 Soon after, another rider showed up on a red Honda Trail 90 (>>) all original and running, complete with solo seat, extra gas tank (which looks like a canteen!) and a huge chrome luggage rack on the rear. How many of you remember these little gems? It seems as I get older, I'm starting to think more about all the 100cc or smaller motorcycles that were made and marketed by various manufacturers around the world.   


As a skinny teenager in upstate New York, I had two in my career. The little Yamaha 80 I mentioned and a 1967 Honda S-90 (<<). After the Honda, I graduated to a larger bike, a late 1960's 175cc Kawasaki F4 single street bike, and then a brand new 1971 Yamaha RT1-B 360cc Enduro. The rest, as they say, is history and I never went back to a small displacement bike. Each motorcycle got progressively bigger as I became older and more experienced, the need for more speed and bigger bikes so I could ride faster and further seems to be the norm for many riders.

About 10 years ago, the little-bike-bug bit me again. I happened upon an original, 1959 Cushman Eagle, running, with a clear title and I thought that would make a fun project. Over the next six-months, and with the help of my neighbor, "Cranky-Gary" who is a retired machinist and metal fabricator, we stripped the little Cushman down to the frame and began the restoration process. I painted it fire-engine red instead of the original black, and was able to get all the OEM and reproduction parts from an east coast Cushman specialist, Dennis Carpenter. The bike had a foot kick start, a foot clutch and a two-speed tank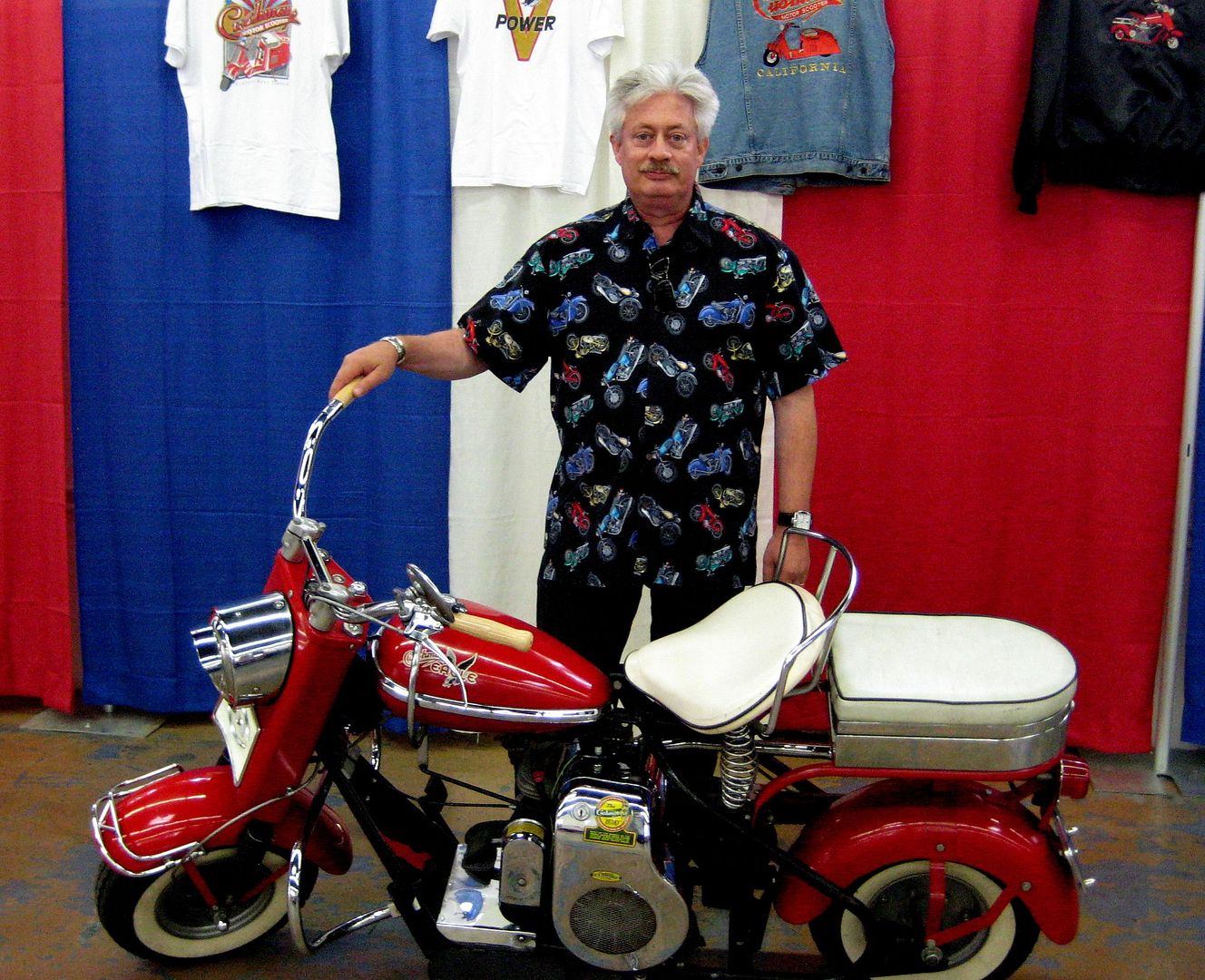 shift, Low and High, At a quick glance, it looked just like an old Harley of the period, and that it was it was designed to resemble. The market for those bikes were 14-15 year old boys who had paper routes in their communities. It had an 8HP lawn mower engine, and was capable of maybe 35 mph, downhill, with a tail wind. I had an Arizona antique plate on it, so it was road legal, but again, I stayed within the confines of "The Hood." However. what a blast it was to putt around the neighborhood and down to the local tavern! Almost everyone leaving the tavern always did a double-take and asked what kind of bike it was, and my standard response was: "Why, it's a miniature Harley!"  I had a lot of fun with that little bike, and eventually sold it to a passionate Cushman collector for the tidy sum of $4,000!  I had it about a year and a half, enjoyed the heck out of it, and made a $1,300 profit in the end!

I
n Europe of course, these little 50cc-100cc bikes were much more common, as gas was expensive, and very few people had money to buy an expensive car, especially after WW II. We could dedicate an entire article on scooters, like Vespa for example, but I am focusing on the little bikes that had all the features of a full size motorcycle, only small in stature.  

Along with the famous Big Four from Japan, marqees like Benelli, NSU, Kreidler, even BSA and Triumph made small displacement motorcycles. Another famous brand from Japan was the Hodaka (PABACTO) Ace 90 and Ace 100. With their red frames and
chrome gas tanks, they were easily identified and today are cult classic favorites with vintage Japanese collectors. These were fast and very reliable, and made excellent trail bikes, scrambles and/or motocross racing bikes s as well.

The other advantage today, is thanks to eBay, craigslist, speciality forums on the Internet, and organizations like the VJMC, parts and resources to restore and enjoy these little bikes are readily available. In addition, there are examples of your favorite little bike for sale, in running, original condition, but I have to tell you, because I have been researching, prices are going up. Long gone are the days when one could buy a little bike as described for $100, ride it around for a year or two and sell it for $100. That same 1965 Yamaha 80, in original, running condition now costs about $1,500-$2,000 - if you can find one.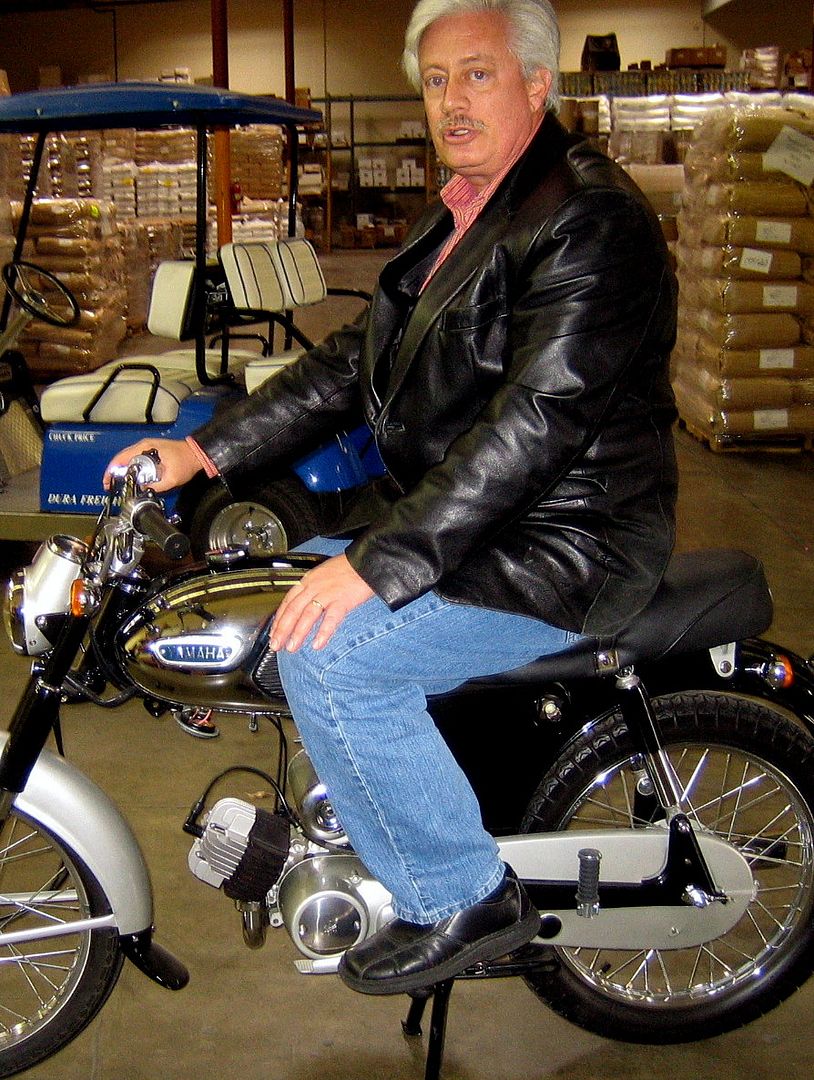 Just before I bought the Cushman, I flew to Orange County and looked at a frame off, nut and bolt restoration of the exact same YamahaYG1 that I had. It was meticulously restored inside and out and was flawless. The price? The owner said he would let it go for $6,000 - which really meant - it was not for sale. That was about $3,000 over current market value. See for yourself, the next time you're bored; just visualize your favorite little bike and search for it on eBay or craigslist. I think you would be surprised at the asking prices for these little gems.

It's a pretty natural thing to feel nostalgic and pine for the bikes we remember from our innocent youth.  I have a cousin back in upstate New York whose about my age and as a fellow enthusiast. We often talk about what we'll do when we realize that we're both too old to ride on the streets anymore. Relegated to the confines of the trailer park or retirement community somewhere in the Sunbelt, that little Cushman Eagle or similar little bike might start to look pretty good again...JJ Cerilli
SOURCES:
VMOL photography files
Dennis Carpenter Cushman Restoration Part and Service