Traveling with a purpose on a big, fast, no frills two-wheeled athlete is what I envision. A motorcycle with enough capacity to carry its rider comfortably and enough displacement to hyper-drive across the landscape without breaking a mechanical sweat. For that, you need a purpose-built machine. You need a heavyweight hauler.

Exhorting the virtues of big-bore heavies might seem a counter point to JJ's recent 'Little Bikes' editorials, but I've had it in mind to write this moto-senerio for some time. With an eye towards accomplishing journalistic duties via two fast wheels, my mind's eye sees a professional-type rig and  professionals need tools. Consider this editorial an exercise featuring the ultimate road riding tool.  


With years of asphalt pounding to my credit, these ideas have been hashed and rehashed over the long haul. Way back when, I accomplished those duties on a Moto Guzzi CX100, stuffing its tank bag and soft luggage with photo gear, a small Compaq notebook, and a change of clothes. Traveling coast-to-coast on the Guzzi quickly taught me its strengths...and exposed my weaknesses. Ten-years later it was replaced with a K100, but what the smooth, steady Beemer gave in some ways, it took away in others.

It was during this period that I began to mentally piece together my ideal road machine. A focused, utilitarian device, it would need to remain stable and composed at a good clip on roads like the 101 north of San Francisco and therefore, not encumbered with the usual touring fluff. A large and angular standard it has a main stand, locking toolboxes and engineered luggage. It's across-the-frame four, five or six-cylinder engine would measure at least 2500cc and connect to a eight-speed transmission, with an eight-gallon fuel cell on top of that. Heavy, a low center of gravity would offset its considerable wet-weight, and I'd be willing to trade a low seat for some real ground clearance...as long as it remained narrow at the flank to allow a good push. Other necessary items would include searchlight-strong illumination, heated grips, and more heat extending to its generous saddle. The rider would be positioned behind a ten-inch tall, handlebar-wide blast deflector/fully uplinked display console that is switchable to show normal motorcycle-spec clocks. Shaft drive. Eight-spoke wheels. Painted black.

Pure mental bloviation? Maybe. Yet, a little study proves the concept isn't exactly original, or as far fetched as it might seem. In fact, history shows several vintage builds that come amazing close to what I've described. Worth looking into, I present three dedicated road warriors; one each from Germany, Japan and the U.K. Each similar, but different. Each meeting the Heavyweight Hauler criteria.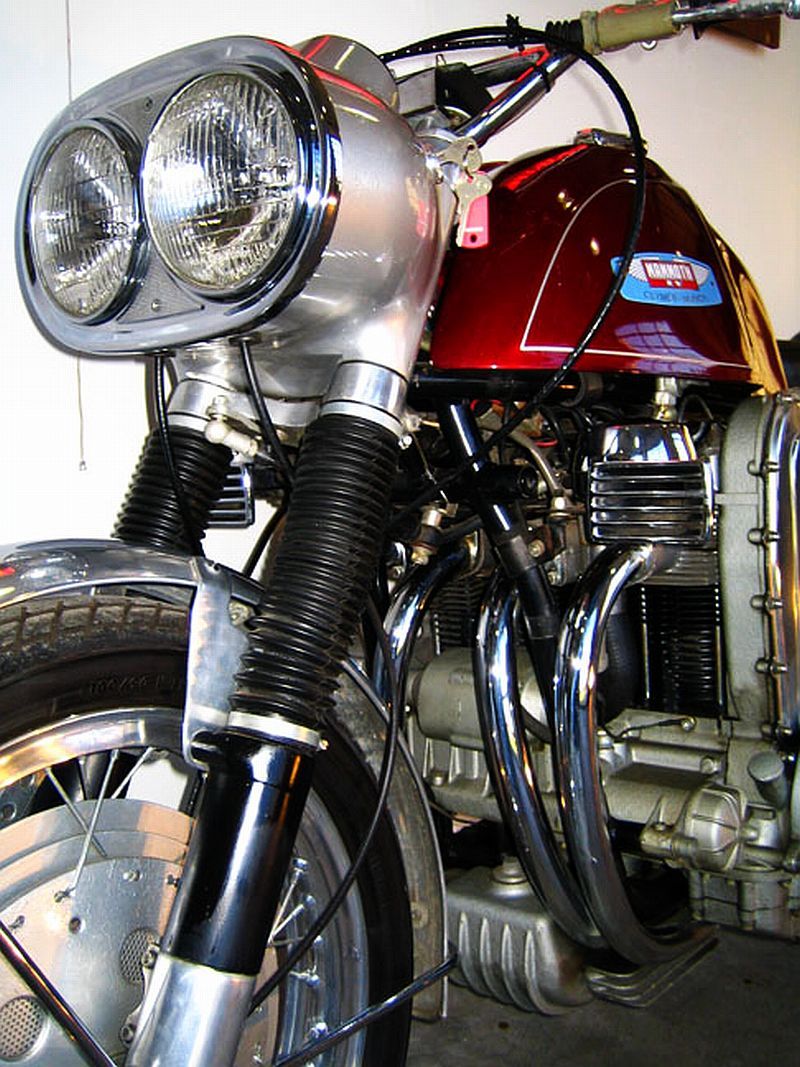 Munch Mammut
A true visionary of the heavyweight hauler theme, when Friedl Munch's TTS 'Mammoth' broke onto the scene in the late 1960s it met with shock and amazement. Looking to build the ultimate road smasher, Munch's decision to power his chassis with an NSU automobile engine was brilliant; for if he had chosen to build his own engine it's fair to say the machine never would have materialized.

A fascinating mixture of German precision and Yankee ingenuity, Munch's first prototypes were no fun as the large, air-cooled four quickly overtaxed the chassis. Mounted across the frame and connecting a Horex gearbox, by 1966 Munch had sufficiently sorted the gremlins to ship the bike for international exposure and testing, with most versions using either a Ceriani or Rickman fork and massive DLS-drum brakes. Overwhelmingly imposing, Munch used liberal amounts of cast magnesium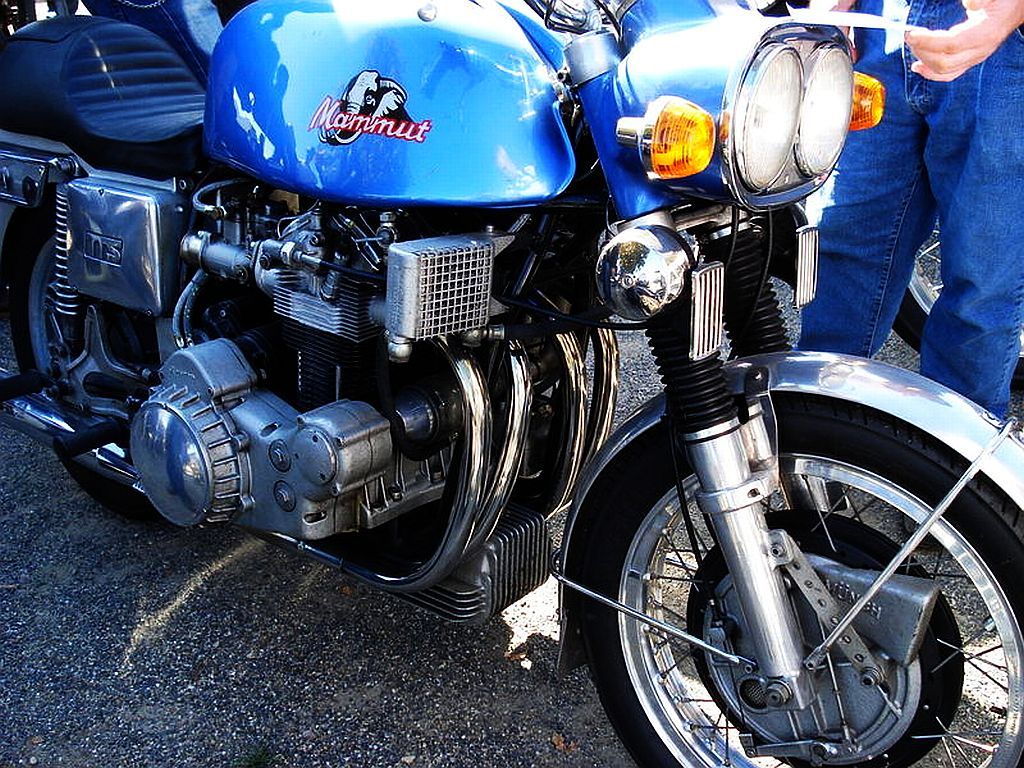 to keep the weight within reason, but even mildly tuned versions of the 1200cc four gave the Mammut an impressive power-to-weight ratio and previously unheard of amounts of arm-yanking torque. If for some reason that wasn't enough, Munch's friends at NSU were more than happy to supply high comp pistons, performance cams, massaged heads, fuel injection and versions bored to give 1400cc or more.

Ahead of its time, Munch's efforts were paying off handsomely until the untimely death of importer Floyd Clymer in 1970. The loss sent Munch into a tailspin, but examples continued to trickle from his workshop for nearly a decade, each progressively better. Once motorcycling's most imposing machine, the Mammut is now recognized as a critical development of large displacement motorcycles.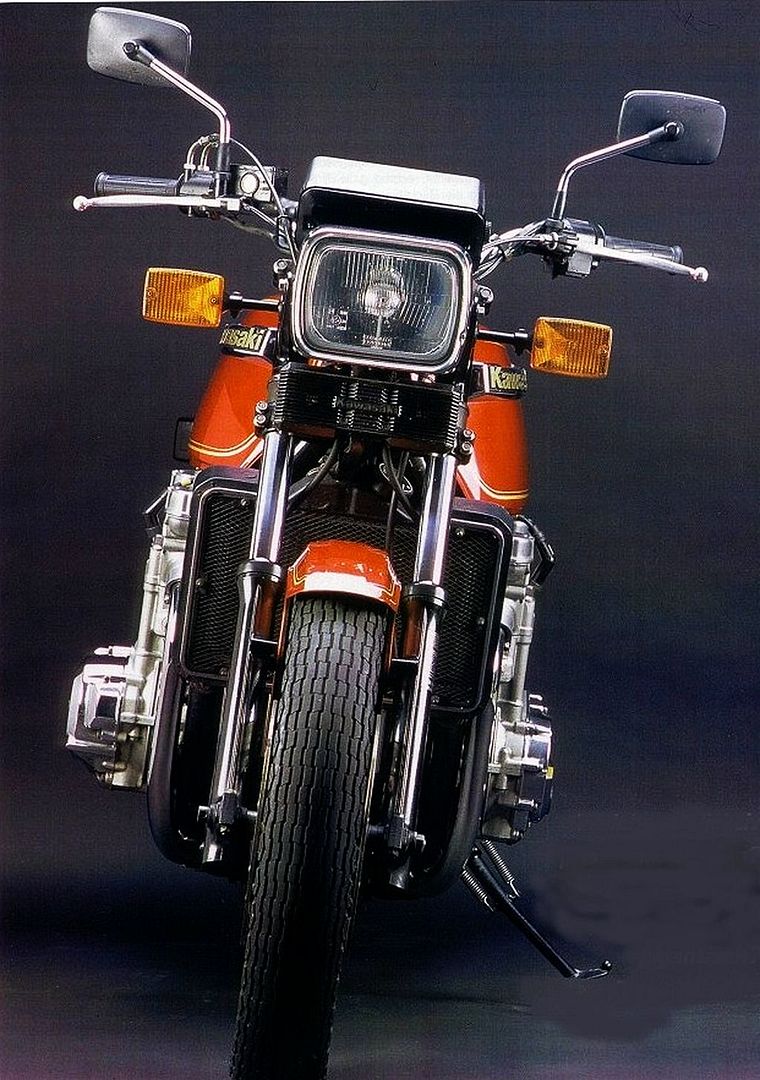 Kawasaki KZ1300
You've got to hand it to Kawasaki for pushing buttons and breaking boundaries. In 1979, 1200cc was Harley Davidson territory and loud were the cries of excessive engineering from critics of the "UJM". Unfazed, Kawasaki cocked the hammer, pulled the Thirteen's trigger and let the chips fall where they may. When the dust settled, even the harshest naysayer had to admit the big six's panache and charm.

Already kicking ass with its 903cc Z1, Kawasaki began working on a newer, bigger hyper bike in 1972. The parameters were a liquid-cooled inline six measuring 1200cc, shaft drive (fearing a chain would not be stout enough) and a stable chassis capable of making the Z13 an exceptional GT machine. As production grew nearer, motorcycling's landscape had changed more than even Kawasaki had imagined, so capacity was upped to 1286cc. In 1979 the KZ 1300 debuted as the biggest, most powerful production motorcycle ever. Is it any wonder Kawasaki claims so many faithful admirers?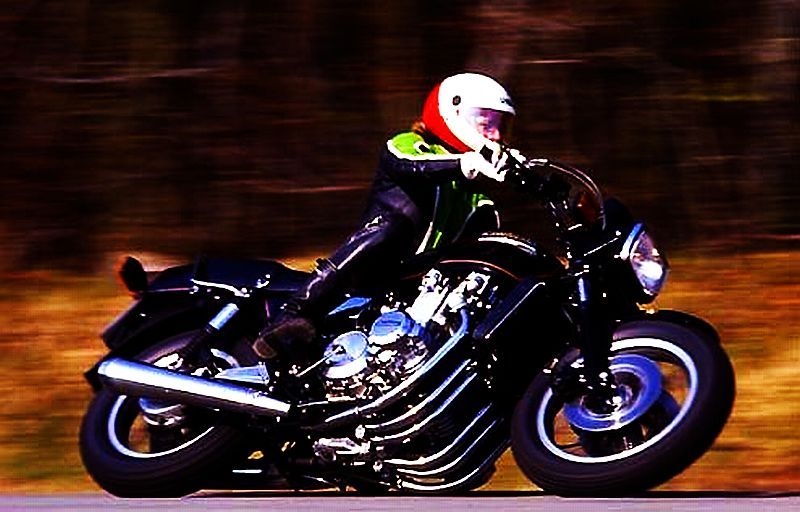 Undersquare (62 x 71mm) to reduce engine width, Kawasaki compacted the KZ1300 further by fitting three, 32mm Mikuni two-barrel carbs. Compact or not, there was no hiding the big sixes girth, width and weight. Adding mass to carry it, the K13 used a heavy frame, 41mm forks, hefty seven-spoke cast wheels and triple discs. Although capable of sub 12-second ¼ mile times, the 13's forte' was fast, effortless road work and humiliating (to its competition) roll-on power. More popular in Europe than in the US, the big six was eventually restyled into the Voyager tourer until being discontinued in 1989.

Weighing 710-lb (wet) and making 120 horsepower, it is uncanny just how closely the KZ1300 fits my mental image of the ultimate road bike. Styled ideally for my tastes with its angular lines, full fenders and dominating, yet understated presence, I wouldn't object if Kawasaki introduced an updated version with more of everything. As it sits, the big six, much like the Munch that came before it, was an idea that didn't quite catch on with the mainstream. Just the same, the KZ1300 proved just how enjoyable -and effective- an ultra-large standard could perform on the open road. Encore Kawasaki! Encore!!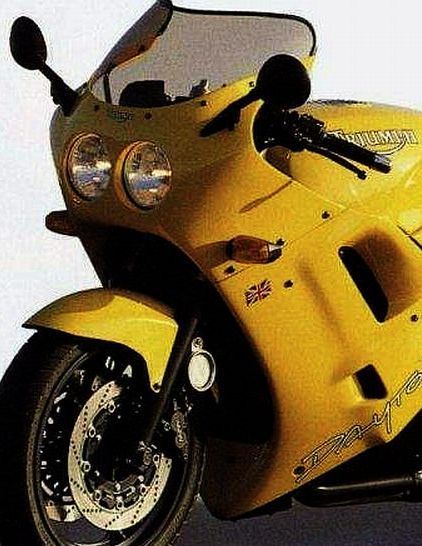 Triumph Daytona 1200
Introduced in 1995 in the face of Europe's (non-mandated) 100-hp limit, the 147-hp Daytona 1200 exists as John Bloor's response at being told what to build. Europe's horsepower king for many moons, the Daytona differs from the Mammut and K13 by virtue of its full coverage fairing, but don't let the Daytona's sporty lines fool you. It's a fast tourer, first and foremost, and for that it need not apologize.

The Daytona's specifications reflect Bloor's approach to his newly reformed Triumph. Looking to erase the public memory of leaky old twins that may, or may not run, the 12's wet-weight of nearly 600-lb can be traced to its massively overbuilt/under stressed nature. Those range from the large, Egli-style steel backbone, burly engine castings (note the Chevrolet-sized clutch basket) and other robust castings dotting the Triumph's chassis. Even the Daytona's
bodywork is heavier and thicker than it really needed to be, finished well above usual standards and emphasizing Bloor's quest for reliability and quality.

But what really places the Daytona 1200 in the Heavyweight Hall of Fame is that engine. Smooth and geared tall, the machine's ability to lure its rider with deceptive speed became a real issue when the Daytona 1200 was first released. Capable of speeds approaching 160-mph, the 16v, DOHC four might not own the roarty, Lav-like growl owners of the triples enjoy, but the "12" owns the last laugh when the throttles are opened at 100-mph. Handsome in a way only the English seem to be capable of producing, the big Triumph is Peterbuilt durable, well supported, and more affordable than many other modern classics.  Forged into reality with guts and skill, the Daytona 1200 is a Hinckley homer that's still in the air. Nolan Woodbury

Honorable Mention: Laverda 1200, Honda GL1000, Ducati Apollo