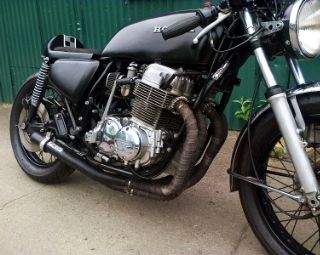 Like you I'm sure, I've heard the cafe' racer movement is losing steam. Now pinned by many as a refuge for sneaker-wearing, neck-beard hipsters blasting flat-black Honda SOHCs between plates of kale caesar and hits on the Hookah, the line of validity is drawn again; just as it was when the Mods and Rockers were at odds. Personally, I'm not interested in jumping on the pile because for the last decade or more, the cafe' movement has carried motorcycling's aftermarket on its back. In case you haven't noticed, our beloved economy continues to embrace the suck, and the powers that be seem unwilling or unable to do anything about it. For the would-be gearhead just starting out, the low cost alternative of flipping a bargain scrapper into his or her personal expression takes us back to the very roots of the cafe' movement. I find that difficult to criticize but like it or not, divisions are part of society, meaning they're part of motorcycling too. It wasn't such a big deal before, but everyone is so sensitive now.

Successful at keeping the spam out (we weren't) when I'm in the mood to forum, I steer my browser to  Adventure Rider (http://www.advrider.com) to see what the two-wheel population is up to lately. One of the internet's largest landing spots for riders all over the world, advrider's "Old's Cool" appeals for obvious reasons. Not surprisingly, one of the longest running topics is the Cafe Racer tribute thread, and I'll admit to borrowing a few images for VMOL's own (modestly successful) Facebook fan page. Happily tossing about the posts admiring an amazing array of fenderless road-wreckers, I began to see things that simply did not belong there. An 850 Le Mans? Bevel Super Sports? MV Fours?? Reaching for the mouse in righteous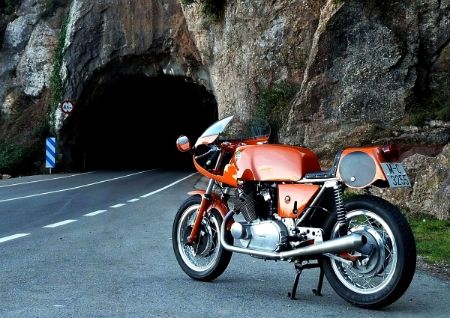 moto-motivated indignation my impulse is to scorn, berate, educate and steadfastly not tolerate the depiction of the famous factory super bikes so near and dear to endure this unjust classification.       

Question: How many of you have: A) Been stupid enough to engage in an online debate, or 2) been stupid enough to think you'd actually change anyone's mind by doing so? Naturally, I was and I did and the results were predictable. Still, I maintain the distinction between the traditional cafe' and factory sport bikes is as clear as the line separating an open class motocrosser from JJ Cerilli's new Victory Warship. This position, you must know, stems from my definition as history defines it. Am I right?           

Maybe. Freelance writer Wallace Wyss' 1973 report that 'cafe' racer' was originally a derogatory term has been floating around for awhile, but there's just enough hyperbole to make it believable. Carving up punter side valves, small bore singles, commuter-twins and other mundane chuffers to resemble the Works racers ridden by their heroes, the Rocker grew at his craft to inspire high-end hardware like Degens' Dresdas, Dunstall Nortons, and a entire host of aftermarket mold-makers that shot out fairings and seat kits like M&Ms. It isn't a stretch to call Fritz Egli's first Vincents cafe' bikes, but few attach that label. Can we credit BSA, Norton, Velo and Triumph for crafting the clip-on, rear-set, full race template later applied to street use? I believe we can. Cafe's are copies, not the other way around.


So while I proclaim that well-defined line to support my position, I must in all fairness admit that the factories have taken a dirty eraser to it by releasing a gaggle of assembly-line cafe' models in their never ending effort to turn a buck. Besides the Triton and CB-SOHC classics, there exists no more famous cafe' than Harley's late-70s XLCR. See, as a purist I'd love to hate the blacked-out beast, but as the best looking Harley ever spun together, I can't. Toss in modern Bonnies, Guzzi V7s and the like and it all becomes a hopeless mess...especially to someone new to the scene. But to those interested in knowing, I'd like to politely point out that period superbikes such as the Ducati SS Desmo, 850 Le Mans, Laverda SFC and even the R90S were period production speedsters that achieved success in highly competitive, factory-backed arenas like the IOM TT, Daytona, Imola, and other sanctioned events. We cherish and admire them because they were the best motorcycles the best motorcyclists in the world could produce. Not homemade, not owner-crafted, but engineered by engineers paid to produce what couldn't be made elsewhere. In my opinion, this argument cannot be made redundant because both feature low bars, rear-sets, trimmed fenders, long tanks and swoopy exhausts. Or can it?                                                        

I consider myself a fairly reasonable person, and, after giving it some thought, I was forced to endure the unsavory task of pulling ones head from ones ass. The reality is I've come dangerously close to breaking my self-imposed rule of presenting the facts and allowing you, the reader to decide. It's better to know how to think then be told what to think, and your opinion is no less valid than mine. That said, if someone wants to call an MV Agusta 750S a cafe' racer, what's it to me?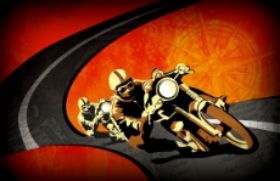 Character is often defined by silence. And since I've never respected those who are full of themselves, if it takes a plate of humble-pie to keep that from happening, then serve it up and forget the silverware. I'll use my hands.

Now that I've gotten that off my hard drive, it's important that you to know the motivation behind this rant is my deep appreciation for the talent and my attraction to the breed, regardless of which we're discussing. Perhaps a bit over-exposed of late, the cafe' racer movement has drifted in and out of the limelight for over forty-years. After all that time, it's clear there will always be a segment of the moto-population involved and promoting the style. Personally, I can't get enough of them and list the building of my own as a must-do before hanging up the old pudding bowl for good. Feeling it deeply, I cite the distinction between cafe' racers and vintage sport bikes because they incite different emotions but the life of me, I don't know why. Given time, maybe I'll figure that out too. Nolan Woodbury