Freedom and Information Act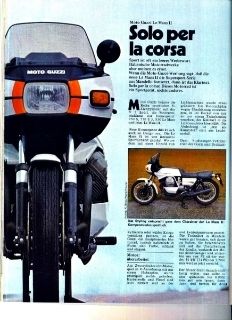 The motivation for this editorial comes in the form of eighteen new (to me) binders plus a tall stack of loose vintage motorcycle magazines recently purchased at the Arizona Antique Motorcycle Enthusiasts annual spring show. Hiding in the picked through remains of the swap meet offerings early that afternoon, these musty little treasures fill some gaping holes in a collection I find useful in my writing research. Dating from the late 70s and all through the 1980s, the haul consists mostly of mainstream titles from the US and England, and that's why I bought them. Books and new magazines are great, but only these time-warp tidbits deliver the accuracy promised by period tests and adverts. This guaranteed originality –not just the nostalgia- is the treasure, and I learn much comparing the new to old.

It's probably easy for you to understand the trap these new goodies create, and that's ironic. Often overpowering my will to focus on paying writing gigs, I justify this distraction as a jump start on future research, exposing my habit of starting a new project before the old ptoject is finished. But look! There's a rare Behn Monoshock (you'll see it next month) a Fritz Egli interview and Suzuki's tasty Euro-spec GSX 1100. These are offset somewhat by the buzzkill generated from the non-stop metric cruiser coverage we endured in the mid-80s. Were they really that popular?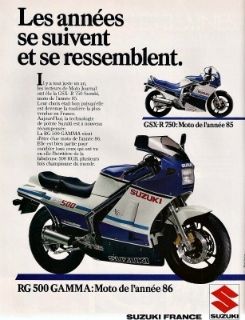 Naturally drawn to the exotics, the samples displayed from motorcycling's transition from standard into specialization usually featured machines not available in the USA. I'm not sure what I would have done differently, there's a good chance my moto-history would be revised had some of these been available on this side of the pond. A long running complaint of period US editors sick of being cheated from the trick stuff, local emissions standards were often pinpointed as cause, but I've learned there was much more to it than that. The truth? Most foreign manufactures looked to kingpin Harley as a judge of American tastes. The worst part? They were probably correct, at least on percentages. One need to look no farther than Yamaha's Euro-flavored XJ920 twin or Seca 650 to witness the forgotten ripples caused by these one-year wonders, but that doesn't explain the enduring draw Moto Guzzi and BMW enjoyed during the era. Confused? I still am. Plainly, riders trusted certain brands to deliver certain things, but that's always been the case. There remains today some models not available here, but the reasons have everything to do with money and marketing. Not emissions. Best said, the issue was and is a mixed bag.    

For various reasons we got Eliminator-style muscle cruisers and they got screaming, 500cc two-stroke Gammas. The high compression, high output Guzzi Le Mans 850II (^top, left) got full coverage bodywork for 1979, but because demand here insisted on 1000cc, Guzzi dropped the SP's snoozy, 949cc touring engine into the 850II's nifty duds and sent the CX100 to America. "We wanted the bigger engine," importer Michael Berliner is quoted as saying. "Blame Guzzi for not making it faster". Honda sold the endurance inspired CB1100R in Europe and the UK for years before we saw that engine, making due with 750 and 900cc versions until the 1100F made a one year appearance in 1983. See,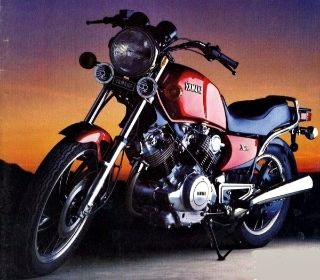 American's like the bikini bikes. The beach. The muscle. Show them the engine. Make it big. They simply wouldn't be interested in this.

Would they?

The Big Four's mid 80s barrage of Interceptor, GPz and GSX-R mixed with Ducati's 851 Superbike to prove that we were, but it's even more interesting to note the social and economic changes that ran parallel. That great techno leap of the 90s really did change everything, and as the world became smaller, information was easier to get. We can truly thank the internet for solving a whole handbag of mysteries, and as the rules and regulations were made public they evened out, making specialized versions a thing of the past. Moto Guzzi's 'World Market' 949cc twin is a perfect example of this, lifting from Guzzi and other factories the financial burden of meeting numerous and different national standards. Translation? Modern technology is (at least) partially responsible for keeping motorcycling afloat and pricing competitive.

Thanks to progressive US titles like Cycle Guide and Neilson/Shilling's Cycle, we knew then what we weren't getting, and the only response available was to fume or tread international waters with fistfulls of money. These days, a click of the mouse (and a hefty bank transfer...)
is all that's needed to send that rare and elusive NR750 from its perch in Switzerland straight to your driveway…provided our dear friends at Customs are satisfied. Even if you're not able to afford it, some consolation is gained in the knowledge of knowing where to look if you someday can. The best thing for motorcycling since pneumatic tires, going online to search has become as natural as pulling on your gloves.

Happily, some things never change and for me, that includes sitting down with a yellowed pile of old motorcycle magazines. The times and the machines were simpler then, but 2015 proves simple isn't always better. Like many of you, I seriously doubt I'll ever become a fan of modern motorcycles, but those who truly understand realize it has nothing to do with the hardware. Life is better than ever when the need to catch up with the past presents itself. What I don't have on the shelf can probably be found in the microns pulsing atop my desk. I wonder if Mick and the boys would write a sing about that? If they did, it'd be no problem finding it online somewhere. Nolan Woodbury
Click to enlarge>