When temperatures in the wettest desert on earth (A.K.A: Valley of the Sun) are 115 degrees and higher, steep elevations and cooler temperatures are an easy sell. Situated among high plains Datil is near the Continental Divide at over 7000 feet, so daytime temps are often as much as thirty-degrees cooler. Smack dab in the middle of monsoon season it always raining somewhere by late afternoon, and the skies on display embarrass any portrait or painting done by man. That rain serves to cool things off even more…another perk welcomed by the overcooked desert rat.

The New Mexico Guzzi rally has been sponsored by GRIN (for Guzzi Riders in New Mexico) which is a branch of the national US Guzzi club led by Kansas enthusiast Frank Wedge. Held without fail since the very early 90s, this year's rally was dedicated to one of its founders; Cynthia Standlee. Passing away earlier this year, Cynthia and her husband Dan quickly grew the rally as an event not to be missed, routinely drawing riders from both the west coast and mid-western states. Food and Cynthia's hospitality were the main draw, both given in abundance even after Dan's passing. Also honored was the patriarchal Guzzisti, JN Smythe, who recently rode into the sunset at ninety-two. He rode to the event from Oklahoma just last year. Long time New Mexico rally goers are indeed extended family, including current host Matt Forslund. "Matt might be one of the nicest people I've ever met" says VMOL's Nolan Woodbury. "The rally is better than ever." The grounds have a store, a motel, gas and thanks to Matt, a service bay. Did I mention that for the second year in the row a complete, running Moto Guzzi was given away?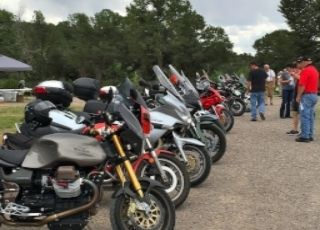 Many people ask what one does at a Moto Guzzi Rally? As with most motorcycle adventures the rally is usually anticlimactic, at least to me. It's the ride itself I enjoy most, and this one I especially enjoy. Why Datil? There's really not much to see at the Eagles Nest Guest Ranch…a few gas pumps, a general store, a restaurant, saloon, and about eight motel rooms. There's shade to camp under out back, and most of the riders gather there. The rooms usually sell out, so some travel east and west to nearby towns with names like Quemado and Magadalena. Guzzi riders are still coming from everywhere; Arizona, Texas, Colorado, Missouri, Utah, and of course, New Mexico. At eighty-years young, a man identified only as "George" rode his new Moto Guzzi V7-II all the way from Seattle Washington; more than 2200 miles away! That's dedication, and as you might rightfully expect, George won both the long distance and the oldest rider awards.

As you also might expect, there's a lot of tire kicking and tall stories, but mostly folks are, kicking back and reminiscing with old friends. There is a dinner, a raffle with goodies / prizes from and for everyone, a 50-50 drawing, and as I mentioned before, a motorcycle given away. This year's 1977 Convert 1000 was clean, ready to ride motorcycle sprayed in a dullish shade of white, but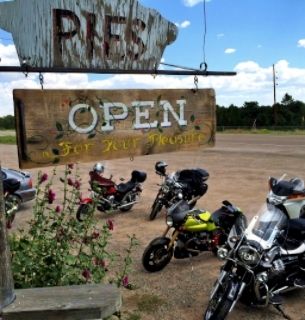 Matt had thoroughly seen to it. The bike went to a very excited gentleman from Missouri. The Saturday night dinner is Italian with salad, and that, along with huge slabs of chocolate cake is prepped by the local kitchen staff. Other food and cold drinks provided for the masses. In general, no one leaves hungry and everyone enjoys the nice weather, the clean air, and the escape from the drudgery and daily grind of everyday living. It's a magical place. Really.

Up the road from Datil is Pie Town, with its small cafe that is world famous for their pie, which some claim are the best on the planet. We have sampled these are they are indeed delicious and this year we got smart and had a trailing vehicle, so we were able to bring some of those thirty-five dollar (yes, $35.00) pies back for the wives. Down the road due east is the Karl G. Jansky very large array, which is part of the NRAO (National Research Astronomy Observatory). This is definitely worth a stop and was where the movie Contact with Jodie Foster was filmed.

I believe there were about seventy-five motorcycles counted, the most naturally being Guzzis but anything and everything will and has shown up. Again, one does not need a Moto Guzzi to attend a Moto Guzzi Rally, but something was lacking taking it in on my Victory tourer. Matt Forlsland and his crew put on a great rally, and it brings enthusiasts back year after year.


From this riders perspective, the natural beauty all along US 60 towards Soccoro, including the Gallo Mountains, the Datil Mountains, the Gallinas Mountains and the Plains of San Augustin are all examples of why New Mexico is called "The Land of Enchantment." The blue skies, wild sunflowers along the highway and the wide open spaces all beckon back to another time. A time of pioneers and cattle ranchers, both of whom settled this area in the 19th century. The ride up from Phoenix is very nice once you cleat the valley. Choses the route through Payson or through the winding twisties of the Salt River Canyon. This ride always makes me feel alive again.

So next August, when you are "silly hot" and wondering how and why people can even live in the Sonoran Desert, join us for a road trip to historic and beautiful Datil, New Mexico. I guarantee it will cleanse your soul. Until next time, ride safe I'll see you down the road. JJ Cerilli
Photos: JJ Cerilli and Nolan Woodbury