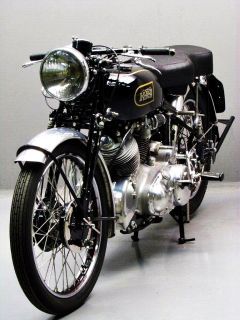 1950s: Vincent Rapide

Manufactured in England from 1936-1955, the first ised an air-cooled, 47.5 degree, 998cc V-twin with OHV for 45 HP @ 5200 RPM. It had a wheelbase of 55.5 inches and one of the first cantilever rear suspensions; featured on all later model Vincents. The "Girdraulic" front forks, although spindly looking, were relatively stable at high speeds and resisted twist from brake force. The machine had a fuel capacity of 3.75 gallons, a four-speed foot-shift gearbox, a sidestand and wonderful mainstand, all innovative back in the mid-30s and still when the revised Rapide gained widespread post-war exposure.

Other noteworthy features of the period included a dual seat and quick detachable wheels without tools, making tired changes easier...good thing, as punctures were prevalent in the earl;y days of touring. With a reversible rear wheel/sprocket, it was possible to change final-drive ratios on the road. The gear shift and brake were also adjustable to suit individual's foot sizes. Of course, everyone knows of the famous Black Shadow and Black Lightning Series C Vincents and all the records to follow, but a Series B Rapide is the bike that redefined touring, and in proper tune would easily run 100 mph in stock trim.

The Vincent Owners Club is quite alive and active, hosting rallies regularly where owners ship their Vincents in from all over the world for large touring events. Parts are available if you know where to look, probably easier in the UK than the USA. Expensive to own and maintain, the Vincent is considered by many to be the ultimate two-wheel experience; the Holy Grail of vintage motorcycling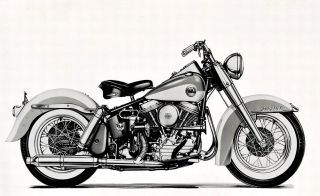 Honorable Mention - Harley Davidson FL Duo-Glide

In 1958, Harley-Davidson introduced the FL Duo-Glide.  This was the first Big Twin with hydraulic rear brakes and a new suspension, aka, a modern swing arm with coil over springs. This replaced the rigid-frame and sprung seat HD had employed for decades. There were two models available at the time; the lower compression FL, which was easier to kick over and targeted at the touring market, and the high-compression FLH, made mostly for around town. It was 1200cc (74 cubic inches) rated at about 53-55 HP for the FL and 58-60 HP on the FLH. At 600 pounds, it was a smooth ride for the time.   Vintage and OEM parts are available at autojumbles and from specialty manufacturers throughout the USA and the world. Aftermarket HD service shops also are widespread in most of the fifty US states.


1960s: BMW R50/R60/R69S

These legendary German air-cooled Boxer twins with their shaft drive were early forerunners in the touring market. Well built and solid, they stand the test of time, even by today's standards. The R5 and R6 had a 12-volt electrical system and electric starters, as well as a kick starter for back-up. Telescopic forks meant improved handling and upgraded brakes proved that BMW was evolving from a model primarily built to haul a sidecar, like the R2. The R6 motorcycle only weighed about 463 pounds and the R5 was 452 pounds; mostly due to the use of non-metallic parts and plastic. The 498cc R5 produced 32 HP with a top speed of about 87mph. The 599cc R6 made 40HP with a top speed of about 99mph.  Both were excellent touring bikes of their day.

The R69 primarily used the same specifications as the R6, but (in R69S form) was designed as a relatively high powered, high compression sport bike, although they still had Earles leading link front forks which were meant for the stability of a sidecar. I liked these quotes from Cycle World magazine in 1962; "Ask any motorcyclist what he considers to be the two-wheeled equivalent of the Rolls-Royce and you will almost certainly be told BMW. Whatever the BMW's merits in a contest of speed, it is still the smoothest, best finished, quietest and cleanest motorcycle it has ever been our pleasure to ride."  Having owned four BMW airhead twins and logging 100,000 on machines in my time, I would wholeheartedly agree.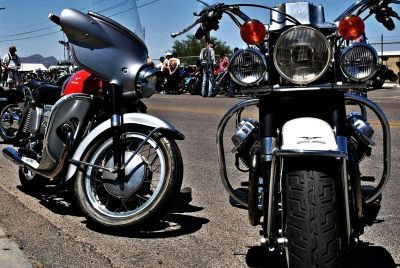 Honorable Mention - Moto Guzzi V700

Established at Mandello del Lario in 1921, Moto Guzzi is an Italian motorcycle manufacturer and the oldest European manufacturer in continuous motorcycle production. Famous for their 90-degree V-twin engine with a longitudinal crankshaft orientation, where the cylinder heads are traverse and featured prominently on either side of the motorcycle. In 1969, the all-alloy 703cc twin produced about 50-HP at the crank and weighed about 502 pounds dry. The frame was tubular steel cradle with front/rear drum brakes.  No speedster, top speed was a just over 100-mph but rugged, durable and forgiving, they are excellent touring machines. My VMOL partner Nolan Woodbury sums it up best in a previous article: "For modern riders, the V7 offer a hearty doses of fat-fendered, real steel fun."

Authors note: Having also owned four Moto Guzzis in my time, there is just something about these machines that is unlike any other motorcycle. Soulful and satisfying, I will own another someday in the near future.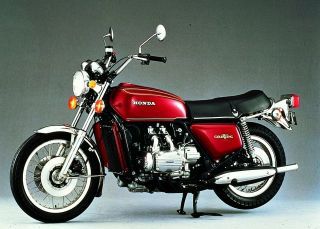 1970s - Honda GL1000

The story goes that Soichiro Honda was his development team to come with a bike to compete with the Big Twin Harley of the period. Only, he envisioned his bike to be smooth, quiet and with a shaft drive.  Thus, the 1975 Honda GL1000 was born. With it's liquid-cooled, 999cc, SOHC, 8v big flat four, the Honda had a low center of gravity (akin to the popular BMW, which many feel Honda patterned the GL1000 after) and could cruise effortlessly at 80mph. At 638 pounds, it was not meant to be a sport bike but it's five-speed transmission and shaft-drive made it a competent cruiser and commuter too.

Cycle magazine's test quote from 1975 stated: "Here is a tourer, unblurred and brilliantly focused for those who want nothing to intrude on their feeling of the road and who want to intrude on no one else as they enjoy it." If one looks at a modern six-cylinder 1800cc Gold Wing manufactured today, it is interesting to look back and see how this fine motorcycle evolved. By 1980, Honda had sold 200,000  GL1000s worldwide and in the process redefined the touring machine from the pattern formed by Harley Davidson, Brough and Vincent. That's an impact machine, as the original remains viable today.  

Author's note:  I currently own an original 1978 GL1000 and I can attest it is a fine machine, well engineered, and way ahead of it's time. OEM and aftermarket parts are still readily available. It is reliable, smooth, fast, and a lot of fun to ride for a 36-year old motorcycle. It is also now classified by the Antique Motorcycle Club of America (35 years or older) as "an antique" but it doesn't feel like one.


Honorable Mention - Suzuki GT750

The brochure for the 1972 Suzuki GT750J touted this liquid-coiled two-stroke traverse triple as a "long range tourer" and I would say it fits that description nicely. Measuring 738cc the big ring-dinger delivers 67HP and weighs only 524 pounds wet. With a crisp five-speed gearbox and a 4.5 gallon tank, it was ready for the open road. Unlike the Honda GL1000, it handled very well (as did the R5 Rotary) with excellent suspension. The brakes also matched the suspension nicely, but the discs were better.  

In this author's opinion, Suzuki has always been the most cost effective of the Big Four from Japan, and they were underrated by the press and the public in general. They are excellent motorcycles, like several Suzuki models from the 70s, the GT750 is highly collectible and desirable today among Japanese collectors and enthusiasts. Cycle World commented in 1971: "Big, heavy, comfortable, economical and extremely smooth, the GT750 is capable of high 13-second standing start quarter-miles, effortless high speed cruising, hairline steering and tremendous braking.  It is a Superbike in every sense of the word."


Honarable Mention: Norton 850 Commando Interstate MK III (<750 Commando shown)

Known as the "Unapproachable Norton" for its many years of race wins and first place finishes at the Isle of Man TT, not many other motorcycle brands can evoke such passion. The 1975 version with the six-gallon steel tank was arguably the best of the breed. the 828cc sloped twin is still regarded today as a fabulous vintage bike from the UK. With its 51-HP OHV four-stroke twin engine, four-speed and only 485 pounds, the Interstate was light, nimble, and had great cornering ability. The patented Isolastic engine mounting greatly reducing engine vibration transmitted to the rider. Again, there are ample parts available today, both OEM and aftermarket, and many upgrades to make this bike a suitable vintage touring mount.

Author's note: In the 90s I owned a 1975 Interstate, restored from a pile of parts found at a garage sale. I had a lot of fun with this bike, but it does require regular maintenance to keep it in tip-top running condition. The sound is very distinctive and it was a joy to ride around town and on the back roads on a sunny Sunday afternoon.  I miss that bike and actually would love to own another someday.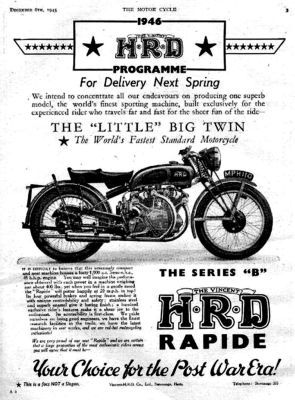 In closing, if I had a blank sheet of paper and someone said, "choose one" for vintage touring, that would be a very difficult decision for me, but here goes. Although fabulous, the Vincent is way out of my league financially. The Harley would be fun, but I have owned four modern Big Twin Harleys in my time and a modern Road King has the look (almost) with all the modern amenities. The same for the BMW, as I have owned four airheads which again are great vintage bikes and easy to live with. I might consider a nice, restored R69S, as I have always like that model. For Moto Guzzi, I have also owned four of these unique and soulful twins, and will definitely own another someday...but probably not a loop frame model. As I mentioned, I already own a Honda GL1000 and am busy having fun with that for the time being. The Suzuki GT750 would be interesting and attractive indeed...I've never had one of those and the thought of a two-stroke triple is intriguing! Having owned a Norton Interstate, I would like to have another one, but there is the old story of time and money...and of course, a bigger garage! In the end, my two choices would be either the Suzuki GT750 and or the BMW R69S.
While one could not go wrong with ANY of the motorcycles listed here, the newness and variety of a proper GT750 or R69S strikes me as a happy medium of reliability, style, individuality, and outright fun. Until next time, RIDE SAFE and I hope to see you on the road. JJ Cerilli


SOURCES: VMOL files, the Internet, Cycle World magazine (1962, 1975), CYCLE magazine (1975), Superbikes of the Seventies, Roland Brown, 2002, pp 120-125, and pp 42-45.