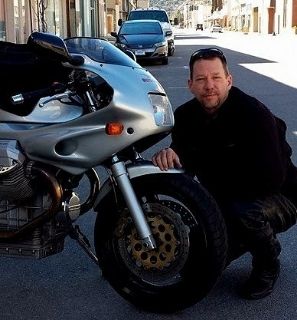 Heading the list was the train wreck that once existed as my tool box. Shamed out of denial by son Alex, I had to come clean when he revealed over half the drawers were filled with junk that orphaned many of the tools previously residing there on the workbench, under the workbench or scattered to parts unknown. Two hours and one gigantic rolling trashcan full later, the box was restored to working order. Out went the mountain of old bills, receipts and enough loose change to buy a pretty nice pair of  new gloves, but kept nearby was a tall pile of old motorcycle magazines, stacked in no particular order.

Grabbing the one on top and trotting off for what I'll call a breather, flipping through the pages of the May, 2001 issue of Cycle World, thrust me back to a time I remember well. A brand new title starting from scratch, both JJ and I were busy with our duties as staffers at Moto-Euro magazine. Entrenched in a massive catch up course after focusing on European classics for years, I was nearly overwhelmed absorbing the new technology and terminology while coming to grips with just how good the new motorcycles I was riding were. Everything was so fast! So effortless. Amazingly, to me anyway, this issue featured numerous motorcycles I spent time with in 2001. Like you, the events of 9/11 branded the year into my memory banks, but that's another conversation for another time.

Emphasizing exactly what VMOL is all about, this walk down memory lane takes a look at the not-to-distant past by focusing on five brands and seven motorcycles worth talking about. Generally old and worthless by 'new' industry standards, the following machines offer the enthusiast looking to get in with little risk a clean path to success. Great hardware, mostly forgotten. Each are old enough to buy at discount, yet new enough to provide a reasonable amount of techo-cred. No hardcore nuts and bolts analysis in this write up (one more spec-sheet this week and I'll trip a breaker) but instead a friendly little overview served as food for thought. The intro over, here's my thoughts on a handful from 2001:                        

Aprilia RST Futura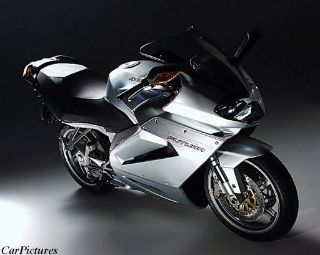 Aprilia's angular Futura was the first test hack we received at the magazine. Having established a good relationship with Aprilia/Moto Guzzi (then connected) the two Italian firms got lots of coverage in M-E's first issues. I rode the Futura a bunch of miles but less than staffer Dave Chrone, who wrote the test.

Bounding over the mountain pass separating my home from the office, the Futura's lazerbeam cut through the desert dark with the candlepower of a searchlight. Funny the things one remembers about certain motorcycles. I'm usually the type to park a bike somewhere and walk around it, looking for the best angle to photograph, but with the sport touring Futura, most of my memories are from the saddle.


Incredibly comfortable and well engineered, many testers harped on the bike's large seat, but I liked the Futura's sharp, angled lines, chiseled openings and satin finish. Pulling the large, watertight luggage and its perimeter alloy frame, single-sided swingarm and USD fork allowed an easy transformation into pure sportbike mode, even if its 60-degree, injected Rotax twin and brakes were a notch down from the full-on RSV superbike. Oversquare and feeling compact, the engine's ability to spool quickly was amazing to experience, and with ample torque and zip, I never felt like I was in the wrong gear. The reliability and toughness of the Rotax lump rate near the top of the scale. Truly an amazing machine.

Nearly fifteen years on, the Futura looks as modern now as it did when released. A quick check reveals clean examples available in the $4-5000 range, and for that money you get a excellent return on your investment. I'm forced to admit I do not research motorcycles as modern as the Futura very often, so I'm a little unsure about parts availability and service items. I do know the engine is a long-term deal and given proper care, should return many thousands of uninterpreted miles. Book this as a solid pick.
Special mention: Mille RSV

I thought the Futura was a speedy Aprilia until I rode the RSV. A more focused weapon designed to generate speed and lots of it, my fondest memory is a fast trip to Las Vegas for the vintage bike auction with the Usual Suspects. My decision to allow the bike to be passed around meant I didn't get it back until we reached the Phoenix border, spending my time watching the rapid RSV fly by while humming along on borrowed Harleys and Honda Valkyries. Much fun was had at a Nevada trackday where the RSV made me look faster than I really was. More money and less comfy than the Futura, but worth it.            

Moto Guzzi V11 Sport

This was an easy assignment, and highly anticipated too. I'd wanted an 1100 Sport since its debut in 1994, but six-years later (and another management change) the V11 Sport temporarily erased that machine from my mind. 1064cc, fuel injection, Dr, John's spine frame, a new six-speed transmission and dressed in classic Telaio Rosso red and green? Where do I sign? More than any other Moto Guzzi of recent memory including the Daytona, the V11's promise to the Guzzisti of being superior to the V7 Sport, the 1100 Sport, or the first 850 Le Mans almost made it an instant classic before it was released.  

But that didn't happen.

Initially testing very well, warts began to appear as owners racked up the miles and modifications. Revisions to the chassis that included decreasing rake angle (as compared to the 1100 Sport, which the V11 was based on) combined with the Sport's over-sprung rear monoshock produced some very un-Guzzi like behavior for many during high speed passes. Complaints ranging from a slight vagueness or feeling 'nervous' through the bars to reports of outright wobble were in direct contrast to the planted, can't-move-it stability of the original spiny. In 2004, rake was increased and things improved, but it's generally accepted the later V11s are better 'all arounders' that lack the 1100 Sport's at limit stability. Naturally, given all that's known now prices are reasonable, but with that time comes the knowledge on available fixes and upgrades to transform the bike into what it was intended to be. It's worth doing.                    

Special mention: V11 Le Mans

Personally, I liked the LeMon a lot more than the naked V11 and still do, despite the former having issues with black engine paint flaking and early versions suffering ECU issues. I reasoned it felt more composed due to the fairing's downforce that masked many of the Sport's handling flaws. I also favored the styling, but never liked Guzzi's use of plastic fuel tanks. In my 2002 test I called the V11 Le Mans the best of the breed and in many ways it is. The six-speed and FI gave the bike a tractable, rider friendly personality that lots of riders preferred over the raw-boned Tonti, and it was faster through the gears. But experience gained since then shows the V11 off the mark for ultimate stability when compared to the earlier 1100 Sport/Daytona RS, and despite all the plastic, the V11s are quite a bit heavier too.   

Triumph TT600

Triumph was making news in 2001, and the TT600 was a prime reason. Taking on the Japanese in its most competitive class took a lot of stones, and despite some early glitches, the TT600 was a fine first effort from a firm that basically remade itself not ten-years earlier. The TT's twin spar alloy frame drew considerable praise with adjustable Kayaba suspensions, light wheels and powerful Nissin brakes. Developed on the track, TT600 was in its element at race speeds, but its fuel-injection mapping was an ongoing project that frustrated many owners. Credit Triumph's perseverance for making the 2002 version a truly splendid bike but sadly, the damage had been done and the TT's reputation suffered.


Spotting the TT600 while attending my first International Motorcycle Show in Milan, I was bowled over by its tiny size and flashy yellow/black fogged paint. Try as I might, I didn't get a ride on one when the bike was new, but maybe that's a good thing. A few years later I finally got my chance on a well sorted 2001 and ever since, the TT600 has remained my dream trackday bike. It's howling 600cc four is a joy to experience and the Trump's deep luster doesn't get the credit it deserves. Then again, since re-entering the market, Triumph has made a living embarrassing many 'high-end' makers by offering better engineered quality for less cabbage. My advice? Find one ASAP and pray I don't find it first.  

Cagiva Grand Canyon
Until I caught a ride on a very early 1098 import in 2006, the Grand Canyon (simply called 'Canyon' in other markets) was my favorite modern Ducati. The occasion for our introduction came at Jim's Ducati in Kansas City, Kansas, where the owner graciously offered us his entire inventory of demos to ride, test and evaluate. Seeing as how we had not signed or secured
their advertising account, the chance to test and publish information on new Ducatis was welcomed and eventually led to bigger and better things.

Truth be told and having no interest in the rapidly growing 'adventure' market, I didn't give the big GC a second look and repeatedly begged off when the bike was offered to me. Coming out of the cafe after lunch and noting the Pantah-based Italian as the only bike without a rider on board, I was forced to swing a leg over and take my turn. I wasn't into the second or third corner before realizing the bike was -by far- the best thing I had ridden that day, being quite a bit more responsive and far more comfortable than the Super Sports and Monsters I'd tried earlier. With its wide-bar and punchy 900SS belt-drive engine, I shot past the others in our group and marveled how something so ugly could work so well. Later, viewing the bike without bias, the concept grew on me and I had learned another lesson.

Never a big seller, used Grand Canyons aren't exactly cheap nor are they easy to find, but they are out there and for far less than what what's needed to buy a new GS or a compatible trailie. Make sure the service has been kept up and -like any Ducati- be prepared to spend more per mile than other makes. Still, considering the bike's almost magical handling, its punchy acceleration and weeks-long comfort, I'm betting the decision to buy won't be one you regret. If there's an unsung hero from 2001, this is it.        

BMW R1150R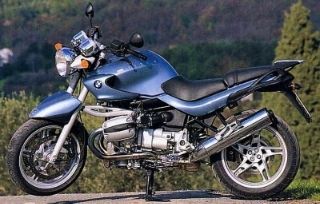 My time with the R1150R extended way beyond 2001, but that's when I got my first ride. Little did I know then that the big twin and I would share some amazing adventures together. And while I'm not sure exactly how many different R1150Rs I rode, nor the total mileage traveled, I can say that somehow, someway, no matter were I was in the world, it seemed I was riding the Roadster while there. "You'll like this. No, you'll love it" said the late Marty Cohen of Iron Horse Motorcycles in Tucson. Basically giving me his demo to keep for as long as I had use for it, Marty was instrumental in fostering the relationship between the magazine and BMWNA. And he was right; I did love it. Still do.

Easy to ride, ride fast and live with, the oil/air cooled R1150R didn't replace the R1100 Roadster, it eclipsed it. I never tired of the comfortable seating, even sitting nearly vertical and without a screen the R's headlight, clocks and tank with integral oil coolers directed the blast away from the rider, snuggled down in its perch. The wide bar gives tons of great leverage, allowing true hooligan antics that were always forgiven by the machine's outstanding stressed member frame and Telelever/Paralever suspensions. The fork in particular was a revelation, demonstrating that during this era, BMW was kicking serious ass with its suspension technology. Heated grips. I remember they all had them and they were all used, whether racing through the rain near Mandello Del Lario Italy in the dead of night or blasting racing across barren stretches of Canadian wilderness. Never touted for its power, the dual-cam twin never seemed lacking. Tough, friendly and fun, the R1150R is the best bike I never owned.

All said, 2001 is a great year for finding affordable excellence. Like all of the machine's I've listed here, the 1150R is pennies on the dollar compared to new or newer, and while many will say otherwise, I dare say you'll not find a better motorcycle. Faster, or flashier? Perhaps, but for 90% of riders looking to travel on two, the 1150R and its brothers from 2001 will deliver much more than you can use. Nolan Woodbury