The new bike that looks like an old bike has always been a small market segment, but it's growing. Like Detroit's nuevo supercar trend, these modern retros look to cash on a classic theme. Those just happen to be my favorite, so for this wind-up we'll insist that the definition of modern retro be an extinct, but popular vintage model now re-made for a new rider segment. Visually, it must strongly resemble the original or very close to it. Still, that's the point, right? The best will mix the best of today's technology with classic style.

Triumph Bonneville T120R/T100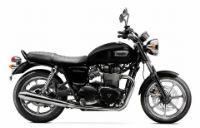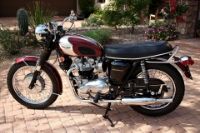 650cc. Twin Amal carbs. Light and fast in its day with superb handling, the Bonneville was one of the most beautifully designed motorcycle ever. It has, of course legendary status among enthusiasts and was named after its success on the Utah Salt Flats of the same name. That name remains among the most popular in motorcycle history and in opinion, the best of the breed was from 1967 through 1970.

In the early 1990s, John Bloor resurrected the brand with a line up of inline triples and fours. Once established, the company felt secure enough in its place in the market to re-introduce a long gone classic. Seen for the first time at Munich in September 2000, the 790cc retro was an instant success. Desiring period correct styling and layout cues, engineers took a stock 1970 Bonneville and used this as a template; eventually producing the modern, fuel-injected Bonneville you see on the streets today. The great aspect is that upon first glance, the new Bonnie LOOKS just like a vintage Bonnie, and thus the attraction and charm. More than any mechanical success (it was) without that style, the bike would have probably failed. Once again Triumph got it right, but they've made a habit of that since the start.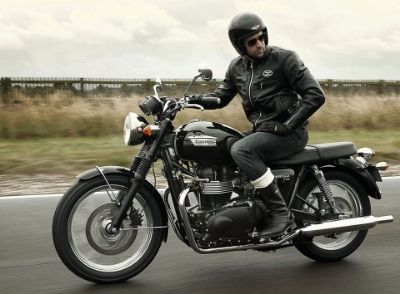 The specifications for the 1970 version: air-cooled, 650cc OHV parallel twin with twin Amal carbs. 49-hp and a four-speed tranny were good enough to push its 423 pounds to nearly 110-mph. Compare those specs with the 2014 T100: DOHC 865cc, 4v, FI, five-speed and 495 pounds. Making 69-hp, top speed is 120 mph.
Twenty horsepower is a lot, but the other specs are fairly close. Having personally owned a vintage 1970 Triumph Trophy 500 and modern 2002 Triumph Bonneville (carb version), I can say they are both fun to ride and own, but the latter requires much less maintenance and is easier to live with. Modern suspension and tires adds to the ease of riding pleasure and ownership. MSRP for a new T100 is about $9K. For that money, one could  also find a nice vintage T120R, so hoose the one that floats your boat as both motorcycles are inspiring machines. The new Bonnie is a great all around bike, a good value for the money, and one of our favorite modern retro bikes here at VMOL.

Royal Enfield Continental GT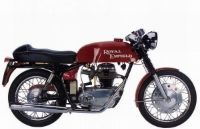 When it arrived on the scene in 1965 it was nicknamed the "Redditch Firecracker" sporting factory fitted clip-ons, rear sets, a sleek, red fiberglass tank, a humped racing seat and a cool little fly screen. It was only a 250cc 4-stroke pushrod OHV single with about 21 HP, but with its five-speed transmission, and weighing in at only 330 pounds, racer John Cooper was able to average 73 mph at the famous Silverstone circuit in the UK.  It was once claimed as "Britain's Fastest 250."  It screamed cafe' racer all the way and is one way cool little vintage bike. The Continental GT is highly collectible today.

Fast forward to 2014. Re-introduced by the Royal Enfield company in India, the new Continental GT is styled very similar to the old one. However, now one gets a 535cc air-cooled single with about 29 HP but still through a five-speed gearbox. Tuning features features Keihin EFI, electric and kick start, digital ignition, Brembo brakes and dual Paioli gas-charged piggyback rear shocks. With a weight of only 405 pounds the modernization of the GT make it an attractive proposition for around town stuff.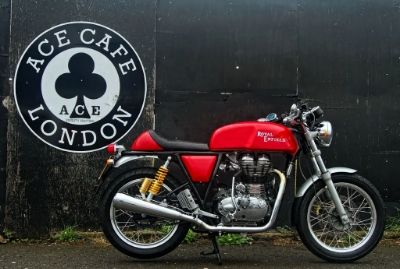 I've seen the bike in person and tossed a leg over it at the dealership. The fit and finish is very nice and at first glance it's very desirable. Unfortunately, since Royal Enfield began importing here we've learned modern RE has a (justified) reputation of poor quality control, uninspired performance and poor warranty support from the factory. I'm hearing the situation at the Enfield factory has improved of late, but it is still not up to the standards of the Big Four or Triumph. Only time will, but RE need to address the issue if they want to keep selling bikes in fast lane USA. Frankly, most riders want more.

I have talked to several local RE owners who have verified this. At a recent vintage motorcycle show I talked to a rider who recently test rode one. His comment? "Nice little bike, but anemic above 70mph."  That's a bit unfair really, because this new model was not designed to be a speed demon, but rather just a cool little Bike Night ride or a coffee shop weekend bike. I haven't seen one of these on the road yet, but they definitely look just like the original, and again, there lies the allure. MSRP for a new Continental GT is about $6K and again, one could probably find a the genuine 250 for the same money.  I really like the look and feel of the retro version, but the jury is still out on long-term reliability.

Honda CB750 and CB1100
Upon its ground-braking introduction in 1969, Cycle magazine called it: "The most sophisticated production motorcycle ever." Making the cover of every bike publication in the world, Cycle World added: "A masterpiece, highlighting Honda's painstaking durability testing, the bike's 120-mph top speed, the fade-free performance of the braking, the comfortable ride and excellent instrumentation."
Enough said, and if you were fortunate to be around in 1969, you heard the buzz. I was in high school at the time and I remember one of my friends had a new 1969 Harley Davidson XLCH Sportster. He was the envy of all. Another dude showed up on his new Honda CB750. One parking lot demonstration of the rear tire smoking at high revs was all it took. Like I have often said: "That bike changed everything..." Not that we need much reminding, the 736cc, SOHC inline four made about 67-hp at 8000 rpm. Most large displacement motorcycles at the time (namely BMW, Harley and Moto Guzzi) used four-speeds and drum brakes. The Four featured a five-speed constant mesh and a standard disc brake. With a weight of 481 pounds the chain drive game-changer was good looking, fast, reliable, and did not leak oil. Honda made about over fifty-thousand that year alone and many, many more to follow, meaning "The King of Motorcycles" will go down as one of the greatest motorcycles ever made.
Original sandcast examples from 1969 are very rare and very, VERY expensive these days. World Motorcycles in northern California (http://www.worldmotorcycles.com/Pages/restore.html) will do a nut and bolt example for you from all OEM parts for $42,750 FOB, San Francisco. His work is so flawless, Honda commissioned him to build two for their museum. That might seem high, but you'll pay one way or another for a pristine sandcast. There are still deals for later models, but for how long? We're watching it closely.


Fast forward to 2014 and the new Honda CB1100. Again, I chose this model because a quick look will cause one to do a double take. It looks hauntingly similar to the original CB750, all by design naturally.  Stop by your local Honda dealer and have a look. This is one new motorcycle you'll be impressed with. With all modern components, this re-introduced retro is quite the package. The 1140cc air and oil cooled DOHC inline-four with 4v and PGM fuel injection with four-32mm throttle bodies put the power through a six-speed and onto the ground with a #520 sealed O-ring chain. Dual four-piston calipers with full-floating 296mm discs are up front, a single 256mm rear and an option for ABS brakes. Wet weight of 540 pounds. Now branching out into other color schemes, it's smooth.

The classic CB-Four lines just work. The fit and finish is typical Honda: flawless. I've personally ridden this bike and the precision braking, handling, and overall smoothness of the engine makes it an absolute joy. Whether across town or across I-10 through Texas, just press the button and GO! With an MSRP of about $10K, it is certainly affordable and practical as well. Add $1000 for the ABS brakes.  

In summary, I rank the Triumph, the Honda and the Royal Enfield in that order, adding fun, reliability, ease of ownership and value into the criteria. In my opinion, the Triumph is the machine that most encompasses the term "Modern Retro" Again, I don't believe there are any bad bikes today, and the choices for riders go far beyond the machines featured here. The most important thing is to buy the bike that stirs your heart, then get out there and RIDE!  For the biker, nothing is better for your mental health and soul. The retro might make you feel forever young, and for that alone it might be worth it. As always, ride safe and I'll see you down the road! JJ Cerilli
SOURCES:
*VMOL files
RealClassic Magazine, October 2014, page 22,
www.bike-urious.com
www.royalenfield.com
www.linemotorcycle.com
Cycle Road Test: Honda 750cc Four, Cycle (magazine), August 1969: 33–39, 78–81,
Honda's Fabulous 750 Four; Honda Launches the Ultimate Weapon in One-Upmanship — a magnificent, Musclebound, Racer for the Road, Cycle World, January 1969: 36–39, ISSNISSN  0011-4286