Big Flat Four


The code name was AOK, but I've read some sources that list it as M1. The original design was a 1,470cc flat six, however, the prototype looked very similar to the final version of the GL1000 that was unveiled in October of 1974 at the Cologne Motorcycle Show. The flat six worked well, but the overall length was an issue so it was ultimately scaled back to the dimensions of  72 x 61.4mm with a size of 999cc. The final version was a liquid-cooled flat four with a single overhead cam (SOHC) driven by toothed rubber belts producing a factory-claimed peak of 80 HP at 7500 RPM.  

The design features four 32mm CV carbs, electric start, shaft drive, 5-speed transmission, triple disc-brakes, and a five-gallon, underseat fuel tank. Weighing 584 pounds, the original GL100 had a MSRP of $2,900. Although expensive at the time (but still cheaper than its contemporaries from Harley-Davidson and BMW) the Gold Wing marked the beginning of a new touring standard for motorcycles.

A smashing success in the world moto-press, here's what a few journalists had to say about the new GL1000:  "Honda's ultimate touring masterpiece, as the 750 Four that preceded it, will take off on a trip all its own, pioneering a sophisticated concept yet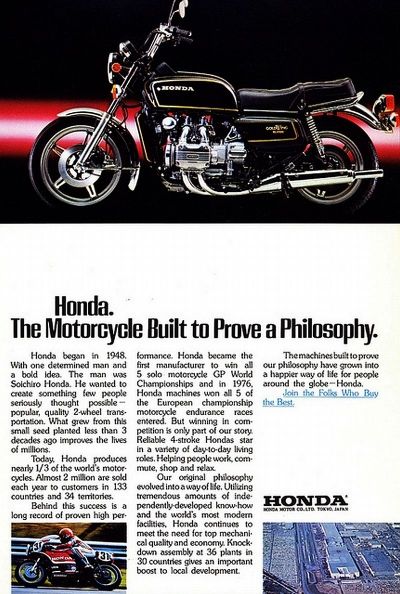 untouched, but soon to be pursued by those destined to follow the leader" That quote from a period test in Motorcyclist magazine was later picked up for use in the Gold Wing brochure. Motorcycle News, a British publication with an outstanding reputation  also praised the new Gold Standard, calling it; "A superb example of Japanese engineering, the biggest and heaviest Honda ever made is a complete breakaway from Honda's previous designs."

Finally, a little Gold Wing trivia: The Society of Automotive Engineers of Japan included the GL1000 as one of the 240 Landmarks of Japanese Technology. Gold Wings were made in Marysville, Ohio from 1980 through 2010, when production there was halted resuming at the Kumamoto Prefecture plant in 2011. Total sales of 640,000 Gold Wings were achieved, mostly in the US market. Through 2012, the Gold Wings have appeared eighteen times in Cycle World's list of "The Ten Best Bikes."

Regarding my 1978 example, it was a clean, 39K original that displayed signs of obvious care. It was reportedly a Tucson bike and when I previewed it, it fired right off but with throttle the engine sputtered and coughed more than a congressman asked about his campaign funds. I knew the carbs needed to be rebuilt and the owner agreed. I didn't realize it has a lot of rust in the tank. Minor setback.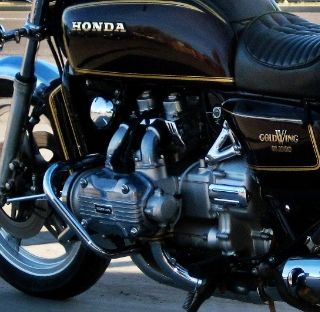 I did some research and found a local shop specializing in vintage Gold Wings. Mark DiSimone and team at D&D Discount Cycle in Tempe took on the challenge. They removed the tank, cleaned it thoroughly, dipped it, and then had the inside nickel coated. Problem solved.  Then they rebuilt and synced the carbs, tuned it, changed all the fluids and it was good to go. When I picked it up and rode it home, I could not believe how smooth the engine was at 80-85 mph. JJ was one happy camper!

For 1978, the major changes to the model line were as follows: Honda added five-star COMSTAR wheels instead of the classic spoke wheels, a three pod instrument cluster was positioned on top of the faux gas tank (including instruments for coolant temperature, fuel level and a volt meter) smaller carbs (by 1mm) were fitted and the engine's state of tune mellowed a bit, giving up some top-end punch for improved roll-on power. FVQ shocks with two stage damping were added and the kick-starter was eliminated. A fully chromed exhaust system appeared for the first time, and the price was elevated to $3,198. Dry weight was bumped to 610 pounds, and it was offered in blue, maroon and black.

In the sunlight, the maroon looks more like root beer, coining the affectionate nickname of "The Root Beer Float." The big GL is a blast to ride, even around town. It handles well and the brakes are adequate. Again, it will cruise effortlessly at 80-mph or more on the open highway. I have seen about 36-38 MPG around town on premium, and suspect it will increase to 40-42 MPG if given the chance. I am going to keep it "naked" with no fairing or bags. Looking at the photos, it displays a stately, classy set of lines for a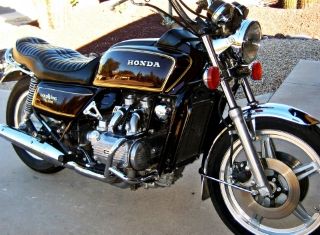 36-year old tourer. As many of of recall, after 1980 Craig Vetter said:  "Here, try this Windjammer fairing and hard bags" and the rest, as they say, is Gold Wing legend and lore.

In closing, another vintage bike back in circulation and in the wind. If you like vintage motorcycles as much as Nolan and I do, drop by and visit us on Facebook. While there, post a picture of your bike too!    

If you want to learn more about classic and antique motorcycles, please consider signing up with the AMCA (Antique Motorcycle Club of America). It's only $30 per year and we have a fabulous 100-page color magazine published six-times per year. There's various Chapters and Road Runs around the country too. Read more here and support the club that supports vintage motorcycle owners!

Until next time, RIDE SAFE and I'll see you down the road! JJ Cerilli