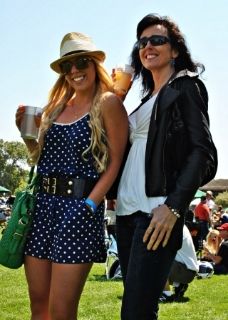 From this photographer's viewpoint there's California light, and everything else. In search of that and much more, I set off towards the Monterrey Peninsula and dropped down into the Carmel Valley for the 5th Annual Quail Vintage Motorcycle event held in early May. I'd been formally invited last year but for reasons I can't recall, I couldn't go. Still feeling the buzz from the 2012 show, I was determined not to miss it again. Thankfully, the quality and selection of available machines, not to mention the staff's great hospitality made it worth the effort. That would have held true even if I didn't have some per-arranged photo shoots planned.

Part of the Quail's "Peninsula Signature Events" series and under the direction of Gordon McCall, the show is set upon the lush greens of the concourse and surrounded by vendors, food tents, and the awards stage. Under a crisp sun, over 2000 people entered to view a wide selection of original, restored and specialty builds. And while the majority came from the Bay Area, some owners traveled a considerable distance to attend. For those interested in knowing more about the year's show, it's guests of honor or info about the lodge, please visit: http://www.wcax.com/story/21517223/quail-lodge-golf-club-announces-2013-motorsports-events-dates-appoints-gordon-mccall-as-director-of-motorsports.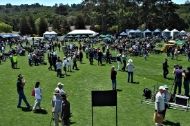 Working at my own pace while noting standouts like historian/lead judge Somer Hooker and icons such as Wayne Rainey and Kenny Roberts (who could moonlight as a stand up comedian) a new version of an old theme began to form. Knowing you can read show coverage elsewhere, this editorial features four very special motorcycles in attendance there. So without further delay and for those of you not fortunate enough to attend this year's Quail Lodge event, allow me to showcase what was memorable for me. There was more than four that stood out -many more- but seeing as this is an editorial and not a Herman Melville novel, it'll have to do.

Dunstall Commando 810 Owner: Brent Lenehan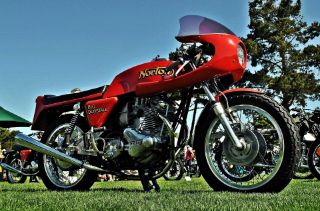 Titled, according to its owner as an authentic Paul Dunstall-built Commando 810 this machine shows many, if not most of the cataloged Dunstall aftermarket parts to validate that claim. Fitted with the correct cast 'Dunstall' inscribed 810 cylinder, the catalog would include the Dunstall cam, not confirmed but the rest checks out; 32mm Amal carbs (mounted on Dunstall finned cast manifolds) 2-into-1-into-2 exhaust with Decibal mufflers, dual nine-inch discs, Dunstall fairing, tank, dual seat, front mudguard, clip-ons, rear-set controls and Dunstall embossed mounting plates. Also checking out was the 19" Borani front and 18" WM3 rims. Unknown items include a painted, rather than a nickel-plated frame, and the cylinder head. PD's version might have included a revised valve angle on the inlet side and bronze guides. The owner also explained the machine was originally blue, but re-sprayed red.  

A rare find, but not as highly regarded as one might expect. I'm still trying to figure out why Dunstall remains a virtual unknown in today's vintage circles, given his considerable contribution. To the knowledgeable collector this Dunstall Norton exists of one of the very fastest, best handling machines of its era, Read more about Paul Dunstall and his line of high performance machines here.

Ducati 900 SS Desmo
New this year at The Quail was a For Sale corral, complete with several nice original and restored motorcycles available for purchase. Catching my eye here was a long-admired favorite; the Ducati 900 SS Desmo. Purchased new in 1977 by Lewis Harruff in Portland Oregon, the machine carried Harruff to the 1977 WMRRA open class championship, then raced extensively for years afterward. According to the documents supplied (and displayed) with the machine, it was never registered for street use.


Modified extensively and qualifying on the national level, the 900SS was fitted with Imola cams and used a variety of cylinder bore/piston configurations, all of which are included with the bike. At one time the machine was fitted with Malossi 44-mm carbs and a replica Works exhaust, still intact. On advice from Ducati legend Cook Neilson, the crankshaft, con-rods and bearings were prepped by the highly regarded Jeff Bratton.

Restored with fresh pistons, chrome and paint work, this Super Sport looks ready and willing to re-enter the vintage racing circuit. As a bonus, the package includes in the purchase price everything needed to put the Ducati back on the street, including a new Conti exhaust, wiring harness and controls. Loaded with flair and a dominating mechanical presence, The current owner is asking $25K. Email me if interested.


1967 Triton Owner: Jonnie Green:
A perfect example of how a modified, non-production machine can rise to classic acclaim, the Triumph engine/Norton chassis marriage is the foundation for the cafe' racer scene. And while many 'Ton up' Tritons have been assembled through the years, great care and experience is required to do it right.    


"The Triton is not just the first, but the ultimate cafe racer" writes Jonnie Green, "built specifically for the task in hand.  My Triton is the result of a four-year build which began in 1992. A lack of funds stretched the time needed to finish it, but that ended up being a blessing in disguise." Styled after the legendary Norton Manx,  the Slimline Featherbed is from a 1967 Atlas, while the engine is a pre-unit TR6. Now 750cc it's mostly stock, attached with owner-fabricated engine plates. The electronic ignition is a mix of Commando and Triumph parts, and the four-speed gearbox is Triumph-made.

Displaying the ideal stance for the breed, the Triton's Chronometric clocks match perfectly with a genuine alloy, 3.5 gallon Manx short track fuel tank. The front brake is a 4-LS from a 1972 Suzuki. "Affordable" says the owner, "but a lot of work to wedge between the Roadholder forks." So far, the Triton has given Green 15.000 miles of  faithful service. "It's never left me stranded. I've owned it longer than any other bike, so it has a special place in my collection." After showing its taillight doing 'The Ton' on Friday's vintage group ride, Green's Triton earned the Cycle World award on Saturday.

Magni R3 Owner: Brent Lenehan
Commissioned and built in collaboration by Magni motorcycles and California's Triple Tecs, the Magni R3 is, to my knowledge, the only factory Magni powered by a BSA Rocket 3 engine.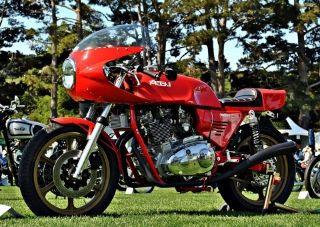 I had spotted pictures of this Magni online and learned it had been unveiled at the Quail last year. Truth be told, I was hoping Lenehan would bring it back, and I wasn't disappointed. More stunning in person, the Triple Tec built 930cc stroker fits inside a custom Magni frame, adding one more manufacturer (to date; MV Agusta, Honda, BMW and Moto Guzzi) to find life inside the MV inspired chassis. The engine features Carillo rods and Mikuni 32mm carburetors to produce a claimed 96 hp at 8500 rpm.
A 38mm Ceriani fork attaches to one end, with Gazi units on the twin-shock swingarm. A trio of cast Brembos attach to Giovanni Magni's EPM six-spoke magnesium wheels. Reminiscent of the retro-styled Magni Sfida, the fairing and hand-formed aluminum tank gives the machine a familiar line combined with the MV-works type exhaust, with the whole lot is finished in fire engine red. The frame is claimed to weigh only 24-pounds, resulting on a shockingly low dry weight of 340-lb. Riders at Friday's trackday held at nearby Laguna Seca described the R3 as

"Loud, beautiful, and incredibly fast." Nolan Woodbury