As JJ will tell attest, I stopped following mainstream motorcycling when I left the mainstream press in 2007. I knew that wasn't a completely good idea, but a realistic assessment of available time forced the focus on one segment; the vintage and classic stuff roughly dating between the 1950s through to the 80s. John's readers know he's kept abreast of the new stuff and even purchased a few of them, the last being an ivory whale that (surprisingly) didn't include a freezer and microwave as standard equipment. Jokes aside, until recently most of what I knew about modern bikes came from info John sent, the rest being quick, inattentive glances at what was being shown on Facebook. Now looking deeper and studying on my own, I pulled a mental double-take peeking at BMW's latest endeavors. Who saw transverse fours with chain drive wearing the roundel forty years ago?   

I'm more than positive my fellow post-boomers share my sediment that we live in a split-in-half world. Our memories of old school ways are vivid, and like everything in the 1960s, impossible to forget, but the electronics and communications wave that greeted the second half of our lives arrived suddenly. We're a mix of old and new and more often than not, that mix simply makes us look old. I often find myself wondering how many times technology replaced things it shouldn't have, but writing that down and reading it back illustrates the previous sentence perfectly. The question: does asking this expose me a traditionalist, or just too lazy to be trendy?      


On deck to be published in an upcoming issue of Classic Bike Guide, Larry Romestant's latest BMW K-special is an attempt to meld several iconic styles and themes together in one motorcycle using the front-to-back Brick engine and chassis as a base. A bona fide mad scientist and BMW aficionado, Larry's built an amazing reputation and business recycling unloved bits of 80s technology, and this inspired some brushing up on K-brick history. Back then, I recall well buyers holding onto their dollars until the much anticipated model arrived, and when it did the moto-press covered and smothered it with praise. When a model delivers the kind of market impact, advertising and sales-generating popularity BMW enjoyed with the K100, that success usually translates into a large following, but that hasn't happened. I've got a theory why the liquid-cooled Beemer has the drawing power of a used 8-track, but if there's a motorcycle lower on the emotional totem pole than the K100, sellers would be paying buyers to take them away.

Those of us riding and buying motorcycle magazines forty-years ago will remember when the BMW was real and true exotica; exclusive and priced for the affluent enthusiast. In the 60s BMW took on the British and won with oil-tight reliability, but as the 70s drew to a close BMW elegance was finishing behind Japanese horsepower and Italian handling. Due to the high costs of making the opposed twin the firm considered dropping out of the motorcycle business completely, but the K-four changed all that. In retrospect, the design remains an ingenious solution that both modernized and retained many important BMW traditions. The K's dated electronics are a disadvantage now, but most of them are either on the road or parted out for the cause. I could never get comfortable on my K100, but as sluggers go, it was always willing.  


Despite the K's power advantage and uprating, many loyalists reacted to the tension caused by the deletion of nearly sixty-years of opposed twin propaganda. This, in my opinion, is why the K-four isn't included among Berlin's two-wheeled elite. This uproar when the opposed twin was discontinued was palpable, and soon the twin was back. The newer oilhead and double cammers rate well with buyers, but the double-clutch did some damage. In the minds of many enthusiasts the K-bike was the reason and eventually the line was killed off. The HP4 proves at least some BMW buyers would rather see the company step in the ring against Japan's finest production hardware, even if it means mounting the engines across the frame and using chain drive. I can see the merit in that and a few of these new Bimmers, but something was lost in the transition.

BMW's wide market of redesigned twins, tourers, trailies and across-the-frame hyperbikes does not restore that late, great platform of greatness. But, like many things in the world today, BMW has changed. The new motorcycles do not stand apart as they did when the R/75 was introduced, but that has as much to do with Japan's advancement and dedication as any real failure by the German maker. For the traditionalist the twins are available and for the others, other kinds of machines. That's been more than good enough for BMW to stay in business, and I'd be lying if I said the local Beemer dealer would not be my first stop if I were new bike shopping. I wouldn't buy one (because I'd buy a ZX14R) but I'd at least let them try to talk me out of the Kawasaki.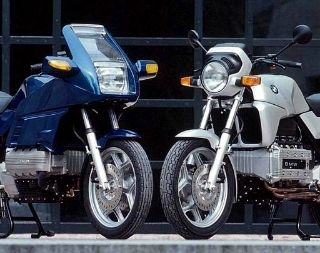 I'll admit to thinking more about getting a new bike, but the reasons have less to do with keeping up with the times as they do keeping up with the traffic. I am more than a little weary of being pressed by cell-phone chatting chicks in KIAs while stretching the throttle cables on my Le Mans, but some careful work on the old pushrod lump could restore some of the advantage. The truth of it is, for the first time my standing as a vintage motorcyclist is being tested. By technology, by unseen standards, and by a whole, crushing wave of younger, hipper people who have more energy than I do. Knowing this is true, it's hard to fault BMW for trading those teutonic traditions for some good old fashioned horsepower. I just wish more of the biking public would recognize the K-bike for what it was. As traditions go, it deserves better. Nolan Woodbury