This is my fifth Moto Guzzi, having owned two vintage Le Mans' (1978 and '83 850s) one modern V11 Le Mans and a 1993 SP1000 III. I wanted something different and secretly admired the Centauro, but stayed away because many of the Guzzi pundits (including the one editing these words…) not only said parts are rare, but the early 4v engine comes with some inherent issues. Both on the Magni trip and on my own I've had the opportunity to visit and learn about the Centauro's 4v engine from some local and not so local Guzzi tuners. Discovering the things I needed to know and how to address them gave me a lot of confidence. Then again, there comes a time when you just have to go with what floats your boat and not listen to anyone else. This was one of those times, and after 500 miles on this torque monster, I'm feeling certain the bike will meet or exceed my expectations.  

Back in 1995, Moto Guzzi hired Italian industrial designer Luigi Marabese to come up with something fresh and new for its model lineup. Fitted with the OHC 4V engine originally designed for the Daytona sportbike, the first Centauros arrived in major markets early in 1997. The torquey, 992cc twin basically follows the (revised for 1997) Daytona RS specs, except with camshafts from the original Daytona. Unlike the Daytona and Sport 1100 2v, the V10 used a non-pressurized airbox and was available in yellow and black, red/gray and all gray for 1996-1997. The 1998 versions were yellow/black, British Racing green and Italian red. The cruiser style riding position, excellent White Power inverted fork and mono-shock suspensions, crisp five-speed (and highly desirable) close ratio gearbox and beefy Brembos made a superb foundation for a machine offering both a wild top-end punch and arm-yanking torque. That's the good news. The bad news, at least for Guzzi and the people selling them, is the Centauro drew little interest. At $13,000 and with a love-it or hate-it design Guzzi rolled the dice, but there were many other interesting alternatives to choose from then, including models from Buell, Ducati and Triumph.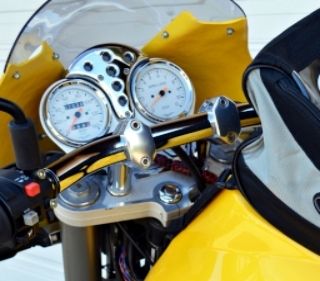 The Centauro was offered in three model trims: Standard, Sport and GT. The only real difference between them is two styles of handlebar-mounted fairings (Sport and GT) a luggage rack, and a sump fairing for the GT. Those are the only cosmetic differences, as the engine and driveline specs were identical between all versions. Amazingly, I found an original gray GT luggage rack on eBay but still need to get the mounting brackets. I'll leave it off for now and it looks cleaner without it. According to the Centauro Owners Group website, Moto Guzzi's total production for the V10 was 1.918 units between the years of 1997-2000. The breakdown via models shows 1.272 Centauros, 401 Centauro Sports and 245 Centauro GTs. From those numbers, when that total is divided between Guzzi's export stations it becomes very clear just how rare the V10 Centauro is, and especially the GT. Still, Moto Guzzi has never produced in huge numbers.   

One could write a book charting the mid-80s success of Guzzi's racing dentist Dr. John Wittner, the person credited for development of the spine frame twin. Allowing a brief history lesson, we discover that while Ing. Umberto Todero was developing the new 4v twin in Italy, Dr. John was racing and developing the spine-frame chassis on race tracks all across the USA. Three world championship later owner De Tomaso offered Wittner a position at the factory in Mandello then paired him with the ageless Tordero. The first Daytona of 1993, the Sport 1100, Daytona RS and V10 Centauro are the result of that pairing. Even after both had left Guzzi, the productive and popular V11 series served as a tribute to the work, dedication and engineering talent of both.  

Regarding current market value (or CMV) the Daytona RS, standard Daytona, Centauro and Sport 1100 remain relatively affordable, in this writer's opinion. The Daytona RS and first-issue Daytona are often advertised by private sellers for $8K-$15K, depending on condition. Clean, original low mileage Centauros can be acquired for $6K-$8K and original Sport 1100s (carb or fuel injected) are
going for $5K-$7K. In comparison, a restored V7 Sport from the early 70s are commanding fifteen to twenty-thou on eBay and at various auctions. As I mentioned, my Centauro had only 6500 original miles when I bought it. I discovered the previous owner only rode it about 600 miles in the year-and-a-half he owned it, so its been used very little. Just the same, any new (to me) bike gets a thorough servicing that includes new tires and a battery. It's just cheap insurance in the long run. I also replaced all the rubber lines including the fuel lines due to the ravages of modern petrol. I ordered a new set of camshaft belts which I will install shortly. If those break, the motor becomes an instant paperweight, so again, cheap insurance. Also, I ordered a set of steel-alloy timing gears to replace the original aluminum ones, which are prone to cracking at the drilled holes. I popped for the Will Creedon C5 chip to replace the original M16 chip, which should dramatically improve gas mileage and the annoying 4000-rpm flat spot. I haven't taken it on a long trip yet, but plan to once I get all the upgrades installed. The Centauro rides and handles superbly, and I can't wait to see how good it'll eventually be.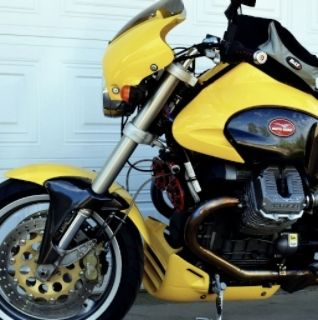 The sound and torque of the engine is what I like most. The V10 is noticeably faster than my old Le Mans 850III. It's a LOT of fun to ride and with the stock La Franconi cans, it sounds like a V8 with headers. Best of all, it's a rare, uncommonly seen on the streets model and that suits the individualist in me just fine. I'll report back here after all the upgrades are completed.

The Moto Guzzi marque is very special, and their motorcycles are an acquired taste. Once you own and ride one, they get into your blood and the global Moto Guzzi community is a very passionate group. I feel fortunate and happy at this point to be doting over another Moto Guzzi…especially this rare and iconic Centauro GT. I can't wait to plan that ride!

Until next time, ride safe and I'll see you down the road -JJ Cerilli (words and photos)

1998 Moto Guzzi Centauro GT

90° V-twin 4 stroke, air-cooled OHV, 4 valves per cylinder.
Lubrication: Gear driven pump
Bore & Stroke: 90mm x 78mm
Ignition: Weber Marelli Digital Electronic
Maximum Power: 94bhp @ 8200 rpm
Transfer: Gear primary, secondary via double u-joint cardan shaft
Transmission: Five-speed w/helical gears
Fuel: Weber Marelli Digital

Frame: Chrome moly backbone with engine as stressed member
Wheels: Brembo or Marchesini light alloy
Tires: 120/70ZR-17 and 160/60 ZR17
Weight: 471-lb (dry)
Front suspension: WhitePower inverted
Brakes: Brembo floating
Rear suspension: Chrome moly braced with WhitePower mono
Fuel Capacity: 4.7 gallon

Moto Guzzi Big Twins, Greg Field, 1998, pp. 105-125
The Moto Guzzi Story, Second Edition, Ian Falloon, 2008, pp. 167-175
Centauro Owner Group  www.centauro-owners.com