Introduced in 1976 for the 1977 model year, the Suzuki GS 750 only offered new technology to the Suzuki faithful. Still producing the (soon to be discontinued) two stroke GT 750 and fresh off punting the RE5 rotary, Suzuki's first large displacement four-stroke looked more like a Kawasaki than anything Suzuki had offered before; it's DOHC inline four making no remarkable inroads or vicarial impact...until the torch was lit and the machine was rolled onto the roadway.

Well recognized for producing affordable, reliable motorcycles with remarkable performance and upscale features, the problem for Japan Inc. in the early to mid 70s centered on handling flaws in the large-displacement arena. A stubborn plague, it was the GS 750 that broke the curse by offering the stellar high speed handling prowess that before was strictly limited to machines of European and English decent. The no wiggle, no worry GS 750 actually owed its well-behaved breeding to the aforementioned RE5; for while beset with mechanical complexity and burdensome weight, offered reassuring handling and impressive ground clearance. 

If the question remains why, the answer centers on not one, but a combination of correct decisions made by Suzuki when designing the GS 750. Addressing the engine, no question the lash-free gear primary gives the suspension and rider one less thing to worry about. And while we're there, the remainder of the GS750's mechanical specification such as its iron bores and roller crank allowed the beefy four to serve as stiff competition to the Kawasaki it was patterned after. Otherwise, credit Suzuki's use of careful fork/shock dampening, sturdy cradle frame, Bridgestone tires, rider placement and careful front/rear weight bias as contributors to the cause.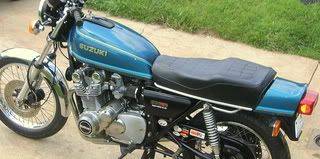 Succeeding models in 1000/1100 carried on the assault, aided by the sporting virtue of a bevy of small displacement GS-badged twins. Some slightly overjealous magazine testers mistakenly proclaimed the GS 750 as the best handling road burner available, but anyone with time on a 900 Desmo or Darmah, Guzzi Le Mans or Laverda knew the real score. However, the GS 750 closed the gap impressively, offering in addition great styling, comfort and solid workmanship in areas of fit and finish.

Etched in history, the GS 750 is remembered and honored as the first large displacement Japanese build with no excuses given, or needed.  Nolan Woodbury
(Photo credit: Michael Kiernan, Jarmo Haapamäki; Suzukicycles.org)