Ben Part Zagato Guzzi (updated 6-06-2009)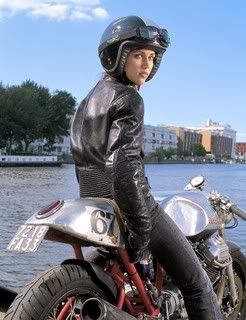 Born in the U.K. the cafe' bike movement has gone from stripped-down nessessity to pop culture. Since its birth sometime in the 1950s, the craze has spread from its humble roots of mating the best English frames and engines to wide adaptation. Now, cafe style is truly an international flavor; so popular, it's hard to imagine a make of motorcycle that hasn't been modified with clip-ons, rear-sets and cutaway fenders.
Photographer/publisher and sometime bike-builder Ben Part has his own café vision, and that manifestation has created a plusing sub-culture that's grabbed the imagination and interest of motorcyclists all over the world. "Zagato Guzzi is my take on the Brit-style cafe racer" says Part. "But with more speed and reliability." His first (right, and below) grew to global prominence as the feature prop in a Davida helmet ad. Rumor has it Davida isn't taking any more calls about the bike, being not a bit happy it is attracting more attention than the helmet...or the pretty model seated on it!
Zagato inspired? Yes, according to Part. "I got bored of people asking 'is it a Le Mans?' The Zagoto badges are hand-filed aluminium copies of the chromed steel ones found on the bonnets / wings of the special bodied Lancias, Aston Martins, etc from the late 60s. A friend lent me a four-inch thick bible on Zagato in which it mentioned briefly that there had also been motorcycle designs, but with no further info or photos. Neadless to say all that rolling aluminium was very inspirational!" A design consult/engineering firm located just outside Milan, founder Ugo Zagato's advanced techniques on everything from airplanes to passenger cars became synonymous with light weight and aggressive posture.
The name fits.
"I'm not a pro bike builder per say," continues Part, "but my mate Sean Bryant and I built a replica for Ewan McGreggor of Trainspotting & Star Wars fame. My bike has been built -funding & time permitting- over the the past 14 years of ownership. I've used one-off, second hand, vintage, plus a few high tech bits. Obviously, there's nearly nothing of the original bike left." Besides the obvious, Part's Guzzi (above) retains most of its original Tonti frame, save for a custom mono-shock swingarm purchased from a RaceCo mechanic, which Part furthar adjusted to his chassis before mating it with a Hyperpro shock. Other details include triple Discacciati brake rotors mated to Guzzi T3 hubs.
Part's Tonti-flavored original spawned "OB1" (below left) follows the original's round barrel Guzzi engine with monoshock theme, but uses an abbreviated frame section that seems to draw inspiration from both Dr. John Wittner (by using a V11S timing chest cover) and Lino Tonti's original vision. The swingarm pivot and frame "V" is pure Tonti, but grafted to a Teo Lamers mono-shock/HyperPro combination. Note attachment via the upper loop; very 1100 Sport/Daytona like. OB1 ('code' named after McGreggor's role as Obi Wan Kenobi in Star Wars) started life as a 1978 SP. "It was the first bike he bought he bought after passing his lmotorcycle licence." says Part. "I actually test-rode the original bike in London when it bellonged to a lady dispatch rider some years before he owned it. When we took delivery of it, it was in a very sorry state. McGregor has sold the bike, and it has since 'disapeared' off the radar."
Part's trimmed bevel box looks like a floating 1100 Sport unit, but isn't. As previously mentioned, the front engine mount borrows a spine-frame timing cover/mount, leaving the lower engine-block holes uncovered. Part says those paying attention will notice the rear supporting section of the 'triangle' has been cut and angled forward. Like Part's original, the Disacciati rotors screw into T3 hubs and are pinched by vintage 2p Brembos. Sinister with blacked-out wheel rims, fork sliders, frame sections and the exhaust sucked in toghtly, OB1 retains that classic alloy hue that only the greatest café racers seem to have. If bare boned, muscled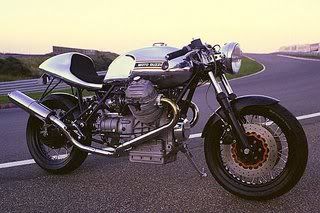 persona is your idea of café perfection, then you've found it right here.
What's next? There are a few shots of the new "OB2" floating around the web; again Guzzi powered, splashed with alloy and sporting a highboy, hotrod exhaust. Part recently contacted us here at VMOL (hence, the title update) and provided a bit of new information regarding this build; "Sean Bryant is building OB2 (I shaped the original moulds for the bodywork). The project was moth-balled for a few years but now back on the work bench. Following a natural progression in specification, OB2's gearbox and manifold are getting RaceCo UK treatment and the fork yokes are going to Nicco Bakker (in Holland). Who knows, it may even see the light of day this year!" Nolan Woodbury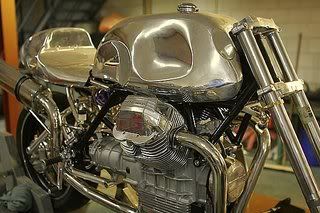 For more click
All photos copyright of Ben Part (www.sideburnmagazine.com)
Special thanks to VMOL contributor Graham Jackson (A.K.A: 'GuzziJack') in the U.K.