Randakk GL1000 Endurance Special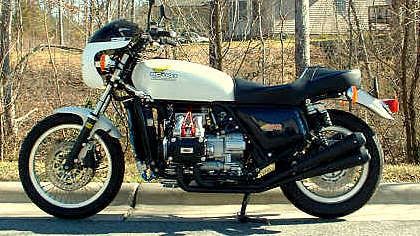 W
orking towards its ever expanding role as a technological leader, Honda's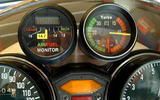 evergreen Goldwing tourer marked an important trifecta for the Japanese giant. Following two previous landmarks; the Honda 50 and the trendsetting CB 750, the GL1000 set new class precedence in terms of specification, proving important models change market perception, influence competing makers and reshape the entire aftermarket scene. The Honda GL1000 did this and more. In its first five years of production, nearly one-hundred thousand were purchased by those about to tour.
"I'm certainly not the first to put a supercharger on an Goldwing," says the owner of February's 'BOTM', fabricator Randall Washington. "My goal with this project was to build a better blown GL1000. Previous efforts that I've evaluated have had limitations that I hoped to overcome. I believe I've been successful." Washington, whose North Carolina-based Randakk's Cycle Shakk caters to owners wishing to upgrade their vintage or classic Honda four strokes uses this 1975 Goldwing as a test mule; discovering what works and what doesn't before passing the knowledge onto his customers. The machine had already been highly modified before Washington purchased it from Mike Barone, the National Director of the International CBX Owner's Association. "Mike and I share a common vision on the GL1000. This bike represents the design direction we feel Honda should have taken with the original. True to the original sporting inclinations Honda engineers pursued, this bike has it all; handling, performance and comfort. In the hands of a skilled rider..."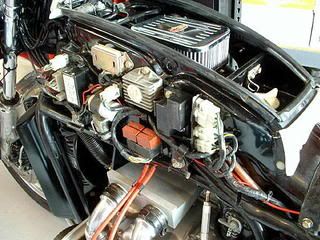 With its monestrous Weber carb jutting skyward and occupying the space formerly used by the airbox, Randall's 'Blow-Wing' is impressively tidy and straightforward; only displaying the components necessary to produce thrust and insure survival, yet utterly capable of fulfilling its original mission. "I expected to gain a 25% horsepower increase at rear wheel," Randall said, and reports he'll dyno test the bike after the fine tuning is complete. "My 'seat of the pants' assessment was right on target, the rush to redline is ferocious! There is no rev limiter so you've got to exercise great care to avoid over-revving it. In the lower gears, it will blow past redline in an instant."  That, by the way, is using pump gas and a conservative 7.5 psi of boost at its 9500 rpm redline.  
Washington reports that his supercharger is a lower displacement unit than the blowers he's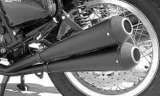 seen used on similiarly equipped 'Wings, offering a weight savings, lower thermal 'load' and less inertia for better throttle response. It is fastened to the engine with a 'parallelogram' design intake of Randall's own design. Fuel is delivered by a modified electric pump that Washington sells on his site. The stock radiator and fan were not sufficient for the additional cooled needs of the blown engine, so Randall fit a custom unit with a sealed, 650 cfm fan sourced from Italy. A modified CB900F oil cooler chips in to keep the engine's lube safe, fed by a custom Randakk oil filter assembly. Between the Honda's stock 5-speed transmission and rear wheel is a heavy duty Barnett clutch, while exhaust gasses are routed through Randakk's prototype 4-into-4 Megaphone exhaust.
Randall has done far more to this modern 'Gentleman Express' than concentrate on power gain. Proudly touted as 'The World's best handling GL1000'', Washington has fitted his Race Tech front springs, a cartridge emulator front fork upgrade, a prototype Steering Damper, Bridgestone BT-45 Battlax V-rated tires, a Superbrace fork brace and Wilber's competition rear shocks. The brake upgrade includes a pair of 296mm front rotor with dual piston calipers from Daniel Fischer at Fischer Vintage Cycle. Washington even revised the centerstand's geometry for better cornering clearance. Foot controls are slightly modified from a Honda CBR1000RR.
As much as Washington wanted to include the blower kit in Randakk's expansive catalog, he was forced to admit that it was virtually impossible to keep costs at an affordable level. "Even with a very thin profit margin, the kit would be nearly $6000," he said. "I realized that there is no market at that price, so I decided not to proceed to production." Given the Honda's popularity through the years, one has to wonder just how many owners would actually pop for the kit, but Randall theorizes "It's still an outrageous expenditure for an antique motorcycle."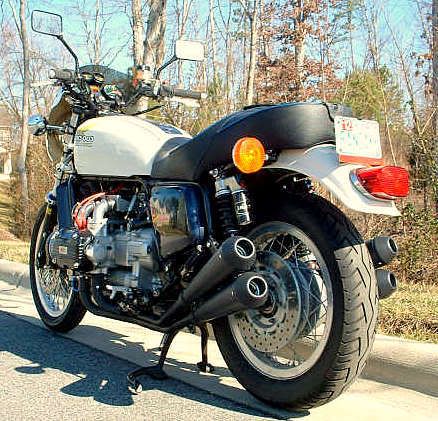 Many feel that when the vintage Japanese motorcycle market peaks, its impact will be felt for some time. If that's the case, owners around the world will be grateful for enthusiasts like Randall Washington, whose motivation is to not only keep them going, but going better than ever. One needs to look no farther than his GL 1000 endurance special to know that's possible. 
Nolan Woodbury
For detailed information on the Randakk GL1000 or to view products for other classic Hondas, please point your browser to:
http://www.randakks.com/