Marusho/Lilac: The Other Japanese Motorcycle
Even casual motorcycle admirers can rattle off the names of Japan's Big Four. Even less than astute followers able to recall some of that country's less known names; Bridgestone and Hodaka for example, but you've done your homework if Marusho/Lilac is on your list of noteworthy two-wheel accomplishments. Surging during the company's heyday in the late 1950s, Lilac enjoyed brisk sales in their homeland by offering a more than substantial line of small displacement OHV singles.
Struggling through market highs and lows, Marusho/Lilac quickly reorganized and developed a line of medium-to-large displacement twin cylinder exports, hoping to capitalize on North America's desire for the latest and greatest road burner. For this purpose, the machines were patterned -and remembered- as copies of respected European designs.

Founded by Masashi Ito, who rubbed shoulders with Soichiro Honda in his automobile repair shop before striking out on his own, successfully completed his first prototype motorcycle sometime near 1950. Later produced as the ML series, the machine was a 150cc four stroke single fashioned after a pre-war Zundapp and incorporating shaft drive; a Marusho trademark. Chosen because it was his wife's favorite flower, the Lilac name graced 31 different models of motorcycle; all but two of which were shaft-driven. A racing version of the 250cc SY single boosted the company's stock which went on to produce over 11,000 machines in 1959 alone.


Suffering under the weight of financial pressures due to expansion, the company closed for a short time and the factory used as a subliterary for Honda. Reorganized as a smaller, more focused concern Marusho Motorcycle Industrial looked to twin cylinder designs used by European luminaries such as Victoria (Bergmeister) and BMW for inspiration. Founding U.S. Marusho's California headquarters was a new staff, and by copying the honored BMW /2 500cc twin instead of designing a new engine from scratch, Marusho quickly ramped up production.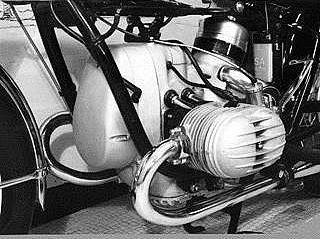 Appearing as a close copy of the BMW, few parts were actually interchangeable. Careful not to infringe on patent laws, the Marusho used dedicated ignition and electrical systems as well as a purpose built transmission and clutch; well within the grasp of a concern with fourteen years experience in building shaft drive. Most were finished in gloss black with silver trim (although a candy red was available) the ST was sporty and handsome, with 600 produced for the 1965 model year. In fact, because of demands in supplying the USA few -if any- Marusho 500s reached other markets except Australia. And while the line suffered through various mechanical gremlins that taxed both dealer's and owner's patience, the ST nonetheless sold, listing for $995.


Despite being upgraded over the next two years, Marusho folded as a motorcycle manufacturer two years later. Ironically. It was my father who introduced me to Marusho; co-signing for a 1965 ST for my brother Nick in 1968. As I recall a strong point was the ST's cush drive; something even the BMW lacked. The later Electra 500 featured an electric starter, pre-dating BMW by several years.

For more information, point your browser to http://www.marusholilac.com/ for Ralph Walker's excellent Marusho/Lilac page; by far the best online resource for these machines today. In fact, Ralph has agreed to pen some historical articles relating to specific Marusho and Lilac models for VMOL, so check back often for that. Ralph also supplied the illustrations and photos used here, which just skim the surface of what's available on his site. A worthy endeavor to be sure, to celebrate and honor the most innovative Japanese motorcycle you've never heard of. Nolan Woodbury