When the Legendary Crossbow Equipe joined the aftermarket fairing craze, history and innovation followed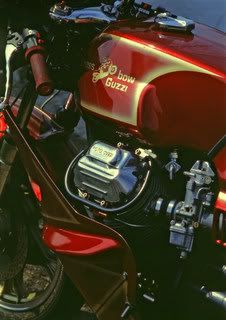 Now a integral component of moto-culture, the motorcycle fairing offers both style and purpose. Putting a
face to the machine's mechanical nature, the shape hints at its intended purpose. Unsure of the first two-wheeled application, it's a near certainty its technological roots emerged from the aviation sector where the low drag/high lift coefficient was critical for ever higher, faster and longer air flights. The same thought process was used to great effect by the auto industry, where open air cars were closed for the comfort and protection of passengers. Often overlooked, aerodynamic streamlining is the elemental fiber of all motorized transportation.

Appearing at the trailing end of the 1970s aftermarket fairing craze, Crossbow Equipe was started by John Winthrope and Graham Miles in 1979. Based at Three Cross Motorcycles in Dorset where Miles was both founder and director, the two met and became close friends while Winthrope was working for Superbike magazine, a title he had founded two years earlier. "There was a complete lack of aftermarket support for Moto Guzzi and Ducati" recalls Winthrope. "Initially, we just  produced fiberglass body parts for them, then eventually added seat units and exhaust systems."


Shortly after launching Crossbow,  it was decided the company would benefit if based nearer to London, so Miles sold his shares to Winthrope who moved the operation to Haydons Road in Wimbledon. In 1986 it was sold to Harris Performance, who had previously established its own niche by producing high-end chassis kits. Prior to this Crossbow fiberglass was manufactured at the Harris workshop in Herfordshire and the two firms collaborated often, producing some stunning specials. As Crossbow's reputation grew, they began producing fiberglass for many of the popular Japanese superbikes. Unique with its distinctive twin headlight motif, Crossbow fiberglass was used by many of the Endurance Racing teams of the time.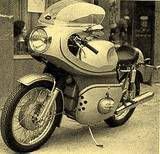 In tracing the history of the motorcycle fairing, two schools of thought appear. In the USA, Harley, Indian and others used aftermarket firms to produce simple, clear blast shields to protect the rider from airborne projectiles. In Europe, frontal formed 'Dolphin' and 'Dustbin' fairings were hammered from sheets of thin steel or aluminum, pointed and radiused with continual lines to reduce drag and increase speed. A pioneer of motorcycle aerodynamics, Guzzi's Giulio Carcano captured many world championships for the firm; not with class leading horsepower, but wind cheating slipperiness. Decades later, Norton's Peter Williams -a Carcano devotee- won the Isle of Man TT with the same tactic; beating all comers with a vastly underpowered yet aerodynamically superior design. Williams was so engrossed with the idea that even the lettering on his leathers was sewn flush.

While important discoveries were made by Carcano, the streamlined record breakers ridden by BMW's  Ernst Henne and a host of other notable European efforts, the production street motorcycle continued unadorned though most of its infancy. Ahead of its time, Vincent's Black Prince/Knight models from the mid 1950s may have been motorcycling's first production bike so equipped, but the idea didn't catch on. There are a variety of reasons why this might have occurred...at the time, large-displacement motorcycles were usually reserved for the wealthy or those of daredevil status, not to mention that during that period a 500cc motorcycle was considered a full size machine. Fed by a need for more speed and power, capacities grew and with it, everything from tire technology to new super highways simply gave the aspiring biker more opportunities to ride fast and far. A need duly recognized, the aftermarket responded.


While Crossbow filled a specific application by addressing Moto Guzzi and Ducati, they followed a string of aftermarket fairing manufactures that for well over a decade had steadily grown in number. Still a novelty in the early 1960s, makers such as Avon, based in the UK and Germany's Habermann aimed their full coverage touring designs mainly at BMW; itself a forerunner in producing reliable, road-ready motorcycles for the serious traveler. Boosted by ever increasing exposure in books, magazines, television and the explosion caused by the Japanese manufactures, motorcycling moved into its golden years during the 1970s and with it, took the aftermarket along for a thrilling ride. While makers played performance king leapfrog, visionaries such as Craig Vetter and George Kerker captured the public's imagination (and a share of their savings) by introducing products that promised to make their exciting pass time even better. Seemingly made for each other, Honda's 1975 Goldwing and Vetter's wedge shaped 'Windjammer' became the industry standard of excellence by being copied many times over.


Recalling the aforementioned Vincent, manufactures seemed content to allow the aftermarket suppliers free rein to provide accessory fairings. Some, such as Pacifico were color matched and sold in Yamaha dealerships in the late 1970s. The dam began to crack when BMW released the R90S in 1973, complete with its color matched bikini fairing that included a onboard clock and voltmeter. It burst wide open less than three years later with the introduction of the R100RS.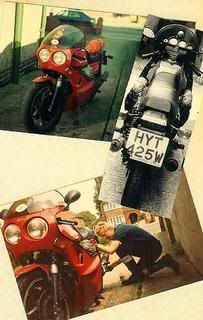 While the aftermarket was strong enough to deal with low production models like the RS and Guzzi's SP1000, when Honda released the Goldwing Interstate in 1980 the handwriting was on the wall. Before the end of the 1980s, OEM fairings were not only common, but clearly defined between sport and tour. When Crossbow's John Winthorpe sold his interest in the firm, he moved on to produce motorcycle-themed calendars. An idea inspired to promote fiberglass sales, Winthorpe's racy Crossbow calendar soared in popularity and remains so today, nearly 25 years later. A victim of their own ingenuity, the aftermarket tried to push the envelope by producing avant garde designs like the Vetter Mystery Ship. They were met with a lukewarm response.

For the vintage enthusiast, there remains plenty of avenues for customization. Airtech (www.airtech.com) offers a myriad of shapes and designs for owners looking to produce a certain style. With patience, real vintage fiberglass can be found on eBay and Craigslist, and the restoration of these is the subject of various entertaining and insightful webpages. Barry Hutchinson, whose passion for Paul Dunstall café racers lead him to purchase the molds and rights to manufacture Crossbow fiberglass is currently investigating the viability of producing another run for modern applications. For the record, Hutchinson owns the Dunstall molds too.

Regardless, as long as motorcycling has individuals who seek to distance themselves and their machines from the crowd, aftermarket suppliers will continue to find a willing customer base. In the case of motorcycle accessories we've not only learned what can happen when an idea becomes a little too good, we are reminded what can be accomplished when need coexists with the ingenious mind. A timeless pursuit, greatness often follows when desire meets passion.  

The Crossbow Guzzi: Mandello meets Madison Avenue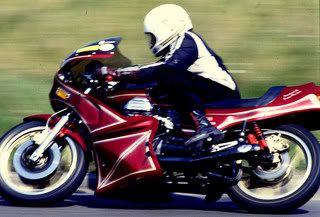 Perhaps the highpoint of the aftermarket fairing craze, Crossbow Equipe fiberglass offered in no subtle way what many riders were looking for: style and performance. "The bike was my personal 1977 Le Mans 850" said the founder, who graciously took the time to dig these old 35mm transparencies from his files to give VMOL a stunning exclusive. "The motorcycle was on the road often, used as a rolling testbed and to promote our products." Captivated by the Crossbow Guzzi's smashing looks and detail, I checked my email daily to see what tidbit John would sent next. When these photos arrived I was hooked. Line and sinker.
Forced to not only compete with his peers in the aftermarket but also the OEM designs, Winthrope looked to distance Crossbow from its rivals; mixing cutting technology with a double dose of flair. "Pictured is the last fairing I designed" recalls the Crossbow founder. "I think this was late 1984, early '85. It features small spoilers on each side, just below the cylinders and a removable lower half for engine access. But, with this version, I also re-designed the fitting kit so that you could remove the lower half and just use the top half of the fairing alone. The lower half of the fitting kit which held the bottom in place also acted as a crash bar around the engine; handy if you came off!" Note the stock, steel Guzzi Le Mans tank is grafted into the scheme, the surrounding fiberglass looking as if the factory molded it in the Mandello wind tunnel. "The laws had changed so we had to do away with the fiberglass petrol tank. We shortened the original section to become a seat unit which butted up to the standard cell. The seat hump featured a small storage box for tools, etcetera, and the seat had the Guzzi logo embossed on it."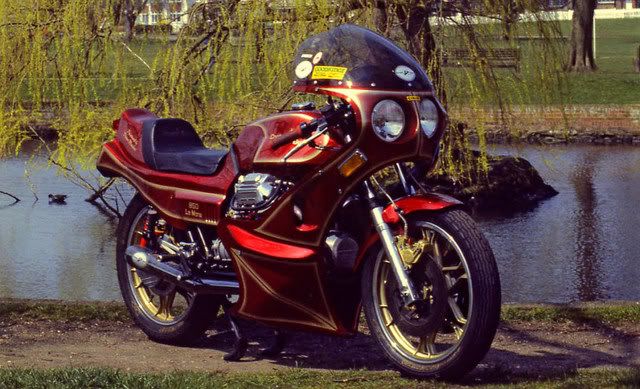 Winthrope didn't elaborate concerning mechanical modifications to the Guzzi twin, so we'll assume the engine (performance tuned at the factory) was untouched. You might notice a change to the exhaust however, as the stock configuration was a 2-into-2 steel header sprayed flat black. "We called it the Crossbow PR" John noted. "It was available in chrome and black chrome, the latter proving to be the most popular." Sharp eyes might detect the Crossbow PR has more than a passing resemblance to the factory race kit part, which exited in roughly the same location. Winthrope fondly remembers that "the exhaust note was gorgeous... you could remove the baffle with the turn of a key for track use, or simply to annoy your neighbours...."

Except for the fuel tank, all of the bodywork attached to Winthrope's Le Mans came from Crossbow, including the front mudguard that features a small spoiler on the top and a built in steel fork brace underneath. With tubes only 35mm in diameter, this was a useful feature to combat fork flexing. The Brembo brake calipers were painted gold and so were the wheels, with lovely polished edges. On the rear, Marzocchi shocks were fitted. "I did away with the linked braking system in favour of independent front and rear brakes," remembers Winthrope. "Combined with the Goodridge brake hoses the front discs had incredible stopping power." Winthrope fit Moto Tarozzi rear set footrests but doesn't recall who provided the small cylinder head protectors. "They were from Italy, that's all I remember." Showing well, it was important to Winthrope and his team at Crossbow that their flagship make a good impression, and it did. "I've always had a passion for polished engine parts, and if you look you will see the top yoke, rocker covers, front engine plate and many other bits were polished to a mirror finish. We also used to polish the brake and clutch levers as well." The scheme worked, and Winthrope remembers being flattered when customers would order an exact copy of the bike. "We built quite a few replicas of it."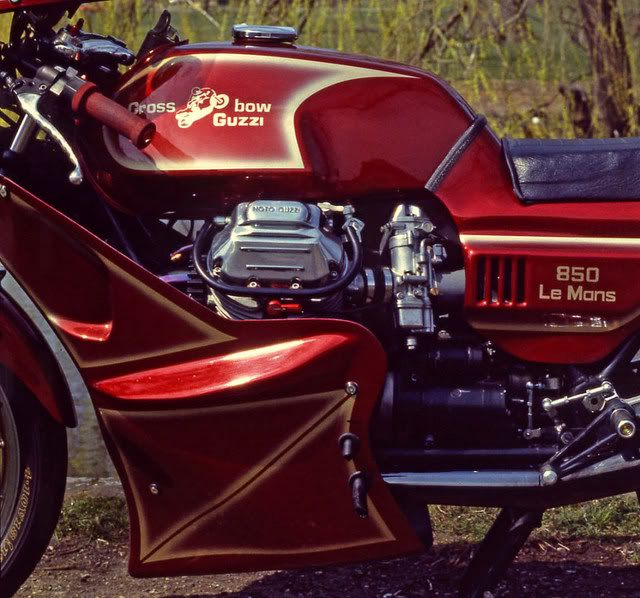 Speaking from the heart, I've always liked the Crossbow fairing but seeing the whole kit displayed on one bike -so lavishly detailed- has got me pining for a copy of my own. It's been a long time since any motorcycle has captured my imagination so completely, but I confess to being hypnotized by the Crossbow Guzzi's burnt burgundy, gleaming alloy vibe. Wanting to share, I sent some photos of the Crossbow to my friend (and VMOL consultant) Ivar de Gier in Holland. Probably the world's most knowledgeable Moto Guzzi historian, Ivar was impressed. "Very interesting" Ivar replied. "I remember seeing a Dutch Guzzi with that kit equipped, and during Guzzi meetings in England the 'Bol d Or' theme was not uncommon. Endurance racing was the craze during the 1970s."
Feeling slightly nostalgic Winthrope, who sold the Le Mans years ago is beginning to get the itch to build another. "I must admit, all this attention has gotten me thinking of someday finding another Le Mans and building a replica. Perhaps when I'm retired, I'll do just that."

Nolan Woodbury

Special thanks to:
John Winthrope Crossbow Calendars
THE CROSSBOW CALENDAR: Celebrating its 23nd year of publication! Order at:
Very Special thanks to Lou Collodetti!!