Before Moto Guzzi and after Victoria...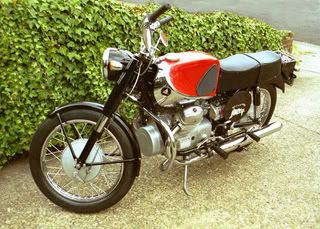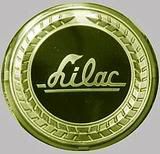 The Marusho Motorcycle Industrial Co., Ltd. produced about 30 models between 1951 and 1967. A third of them were transverse, shaft-driven V-twins built for the 1959-61 model years. I will refer to the company simply as 'Lilac', since that was the name of most of their models.
2009 is the 50th anniversary of the introduction of the Lilac Vs. The bikes were advanced and sold well. Perhaps as many as 10,000 of all models were built. But due to cash-flow problems and the rise of Honda, the company sunk into bankruptcy and ceased production in 1961.
Here I will give an overview of the V models, with commentary on their significance. Detailed specs and more photos can be found at www.MarushoLilac.com.
All Lilac V-twins were OHV and had electric start and shaft drive. All except the C-81/C-82 were 66°, that series being a 90° configuration.
All used a rotary 4-speed transmission with shift pattern of Neutral - 1 - 2 - 3 - 4 - Neutral. All had telescopic front suspension and swing arm rear. The can on the front of a Lilac V-twin motor is the dynastarter, a combination starter/generator whose windings change their function after the motor fires. Since the dynastarter is connected directly to the front of the crankshaft, there are no gears or chains in the starting system. When you press the starter the motor simply begins running. All V-twins require 2 batteries to provide the amperage needed.
The majority of the V-twins produced were a single carb, decidedly utilitarian model known as the LS-18. The first batch, known to collectors as the LS-18/1, had a tool box in the top of the tank.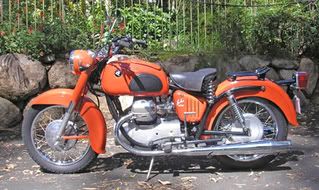 The 250cc motor used a 1-piece crankcase. The entire bike was soon redesigned with an unattractive tank, different side covers and frame, and 2-piece crankcase, plus other mods too numerous to mention.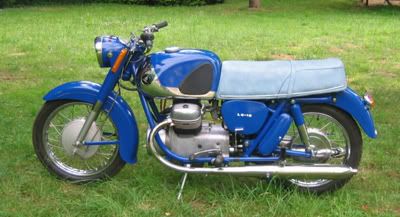 This model LS-18/2 or 'Improved' was the largest-selling V-model. Most of these 250s were sold in Japan but a number of /1s were exported to Australia, while as many as 1000 of the /2s were exported to the US, the Netherlands and other countries. These are not the most desirable of the Lilac Vs and a typical selling price for a restorable one is $1500.
For export, Lilac planned to make a 300cc (stroked) single-carb version of the LS-18, to be called the MF-19. It apears that only a few were built and most of these in 1964, after Lilac had declared bankruptcy. In the 34 years I have been collecting information on Lilacs and Marushos, I have heard of only one MF-19 built in 1960.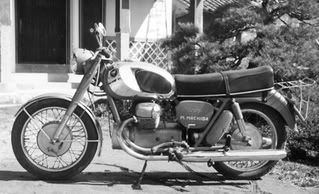 And since we are discussing bikes that were assembled from left-over Lilac parts, I should mention the LS-18/3, which is a catch-all and unofficial designation for LS-18s assembled 1962-64. These had the same attractive tank as the MF-19. Since Lilac had no distribution network during these years, these had to be bought at the factory. Today they can be found in the Pacific nations.
By far the most desirable Lilac V model was the LS-38 sport bike with dual carbs. It was sold in Japan, with a stroked but identical-appearing 300cc version, the MF-39, built for export to the US and Australia. (See photo at top of this article). These had 18" wheels, a sculpted tank which would later be used on the 500cc Marushos, chromed sport front fender, oval sidecovers reminiscent of racing plates, and a unique tool box/luggage rack on the rear. These are a handsome bike in any era. A restorable LS-38/MF-39 is worth $2500-$3000, and of course a restored one can command several thousand dollars more.
In 1960-61, Lilac produced three entirely different 125cc V-twins.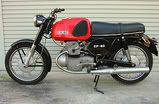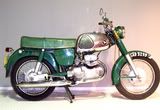 The first was the CS-28, with Honda sheet-metal design touches and boxy mofflers. Next was the best-selling 125, the CF-40. The design cues for this bike were derived from a 2-cycle racer, with valve covers made to resemble 2-cycle heads, low bars and oval side covers. The seat was secured with 2 big aluminum wing nuts. Once removed a hidden tool box in the bottom rear of the tank was revealed. This bike was somewhat heavy, slow and expensive, being only $100 cheaper than a 250. Finally the beautiful C-81 was developed, with a classy polished aluminum motor and the above-mentioned 90 degree configuration. This Lilac reminds me of later Bridgestones.
The CF-40 was an export model and can be found in the US. The CS-28 and C-81 were sold in Japan, though a few made their way to other countries. A CF-40 is in the collection of the Barber Vintage Motorsports Museum in Alabama (as are other Lilac and Marusho models). There are so few of the 125s coming to the market that there is no solid information on value. With all Marusho and Lilac products, completeness and restorability are paramount, due to the scarcity of spares. And in my opinion, the CF-40 would be the least expensive of these three models.
Just as Honda produced 305s from stroked 250 motors, Lilac took this cost-effective route to make larger bikes for export. The intended to do the same with the CF-40, making a 150cc FF-40; and with the C-81, making a C-82. I have no knowledge of this having ever been done. But for completeness I include these two models, giving 10 distinct V-twin models.
An eleventh model was anticipated, the M-330, which would have been a bored and stroked MF-39 sport model. It was never produced, even in prototype form.
Cosmetically restoring any Lilac model is straightforward. They come apart easily. There are no pot-metal phillips-head screws to drill out. The V-twins do have oiling deficiences. Otherwise they are well-built machinery.
I believe the early 1950s Victoria Bergmeister 350 was the inspiration for the Lilac V models. Moto Guzzi built a V-twin motor in 1966 and their first production V motorcycle in 1967, 8 years after Lilac. Eventually Honda followed with the CX500.
A discussion of Lilac V-twins would not be complete without mentioning Eiji Hayashi, the chief designer at Lilac during their development. After Lilac's bankruptcy in 1961 Hayashi san went to Bridgestone and was instrumental in developing that company's line of motorcycles. Today he still works for the Bridgestone corporation, and turns 78 this month.
If you should decide to purchase and restore a Lilac or Marusho I recommend that you contact me for an evaluation of the bike you are considering. Often I have detailed records about the history, maintenance and modifications done to a particular bike, and I can advise you on your chances of completing an incomplete bike.
Ralph Walker
www.MarushoLilac.com
VMOL would like to thank Ralph for penning this special feature for our readers to enjoy and learn from. Ralph's Marusho/Lilac site is without a doubt the best, most concise resource for images and information on these unusual and entertaining Japanese twins. Be sure to check back often for more special features, prepared and presented especially for you, the VMOL reader! John Cerilli & Nolan Woodbury