The Classic Italian Single; revised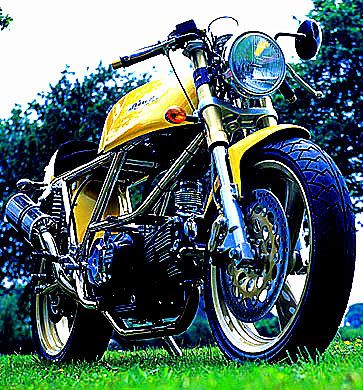 Best remembered here as 'The Italian Harley' (due to an import-and-rebadge deal made with the Varese-based firm during the 1970s) Aermacchi's motorcycle production ran from the late 1940s until 1978. Like many during the post-war period Aermacchi cashed in on the need for affordable transportation, necessary since the firm's pre-war aviation operations were henceforth grounded.

Unorthadox best describes Aermacchi's designs, but with a rich racing history the firm was able to transpose that success into a line of nimble, lightweight sporting machines that found the favor of enthusiasts all over the world. Aermacchi benefitted greatly from lead engineer Lino Tonti, who would achieve more greatness later at Moto Guzzi. If handling and style is the benchmark of any Italian design, then Aermacchi's low, low and nimble horizontal single certainly fit the bill.

One firm keeping the Aermacchi flame alive is Holland's Aermacchi-
Racing; which is under the direction of Jan Kampen Jr. The son of legendary Dutch tuner Jan Kampen (Aermacchi,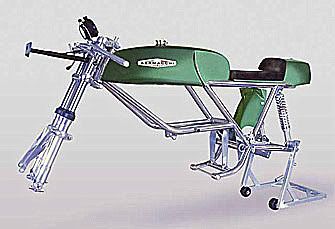 Moto Guzzi and others) Kampen Jr has carved his own 'niche in the industry by offering everything from restoration parts, sporting kit specials, racing bikes and turn-key specials made to order. Some of
Kampen's achievements include a specially developed a DOHC head, frames, and the ability to graft modern chassis/suspension technology for racing. The firm rides and races what they sell, and since 1984 has become a leading source for Aermacchi motorcycles worldwide.

Visit http://www.aermacchi-racing.com/ for more details and a complete look at their catalog. Nolan Woodbury